RGBW cable 4x0,35mm² + 1x1,0mm² - white, halogen free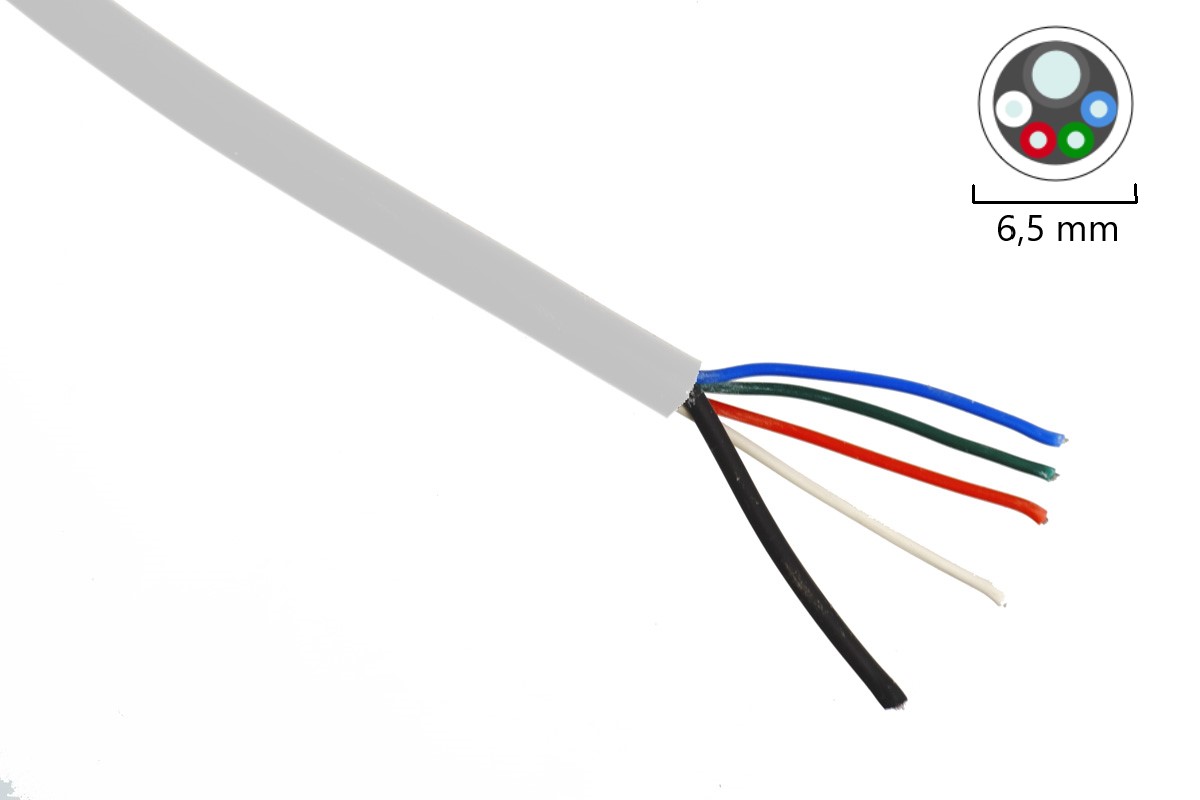 Available, delivery time 3-5 days
This cable is optimal suitable for our 4in1 RGBW LED strips. All color line power (RGB and white) have a diameter of 0.35mm². For the common voltage supply (common plus) 1.0mm² is available. This cable has a halogen-free jacket and is therefore quite rigid.


---

Scope of delivery: RGBW cable - length according to your quantity specification


---

Note
It can be difficult to solder the common positive wire with 1.0mm² cross-section to the sometimes quite narrow solder pads of the LED strip. 2 solutions are available here:
1. after you have stripped the 1.0mm² wire, cut off about half of the individual copper wires again at this end. The now significantly reduced cross-section of the wire is much easier to solder to the LED strip.
2. take a short piece (10cm) of wire with a smaller cross-section, e.g. 0.5mm². Solder this to the LED strip and then connect it to the 1.0mm² positive wire of the RGBW cable. For the connection, you can use a WAGO clamp or you lead both cables into a wire end sleeve, crimp them and (before!) slide a heat shrink tube over them for insulation.

---

Technical data:
Max. Current load: 10A total, 3.5A per channel
Temperature range: -5° to +70°C
outer diameter: 7mm
halogen free
Properties "RGBW cable 4x0,35mm² + 1x1,0mm² - white, halogen free"
Data according to manufacturer. Errors and changes reserved.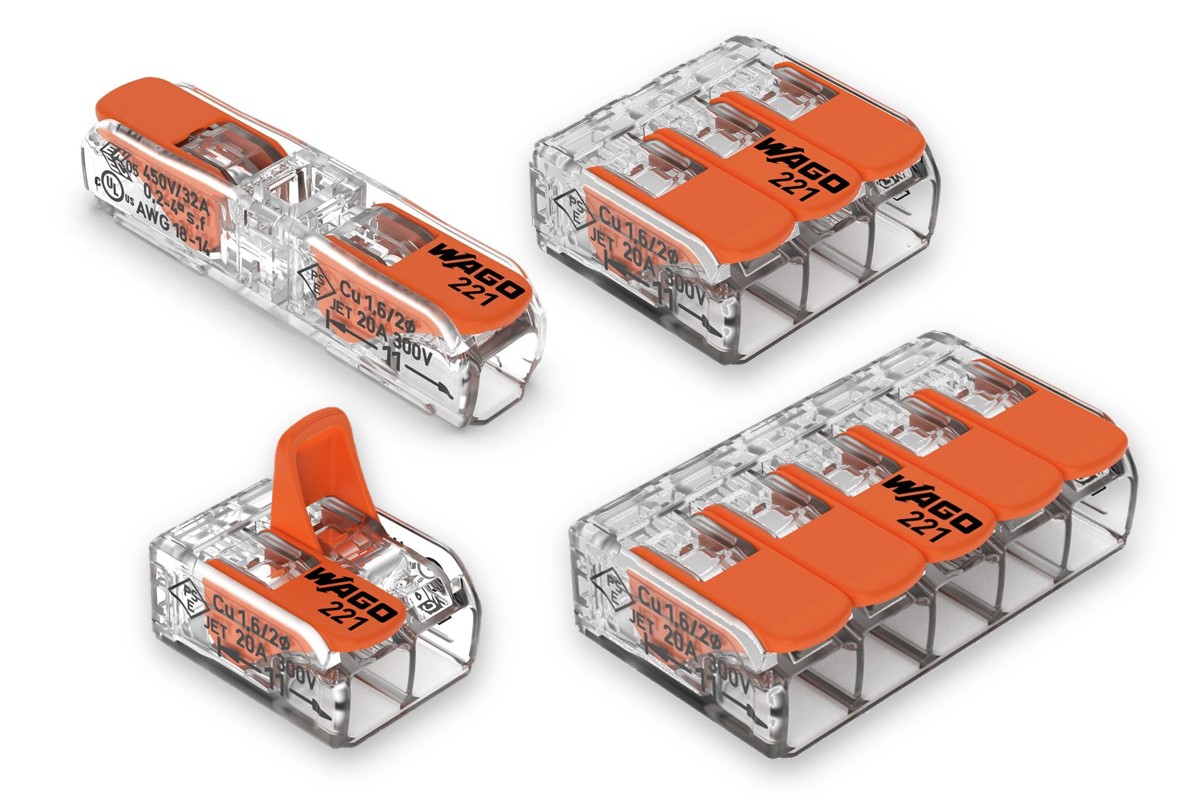 WAGO terminal 221 2 cored
WAGO's new COMPACT connection terminal 221 is suitable for all types of conductors. The operating levers move smoothly, yet you have a wide range for the cross-section and a secure connection. Technical data: Total number of potentials 1 Color transparent Design data according to 1 EN 60664 Rated voltage EN (1) [V] 450 Rated surge voltage (1) [kV] 4 Rated current (1) [A] 32 Connection technology (1) CAGE CLAMP® Ladder type 1 solid + stranded Cross section from 0.2 mm² / 24AWG Cross section until 4 mm² / 12 AWG Ladder type 2 finely stranded Cross section from 0.14 mm² / 24 AWG Cross section until 4 mm² /12 AWG Stripping length from 11 mm Wiring type Side wiring Flammability class according to UL 94 V2 Weight [g] 2,5 Width 2/3/5 pole 13.1/18.7/29.9 mm Height 8.3 mm Depth 18.6 mm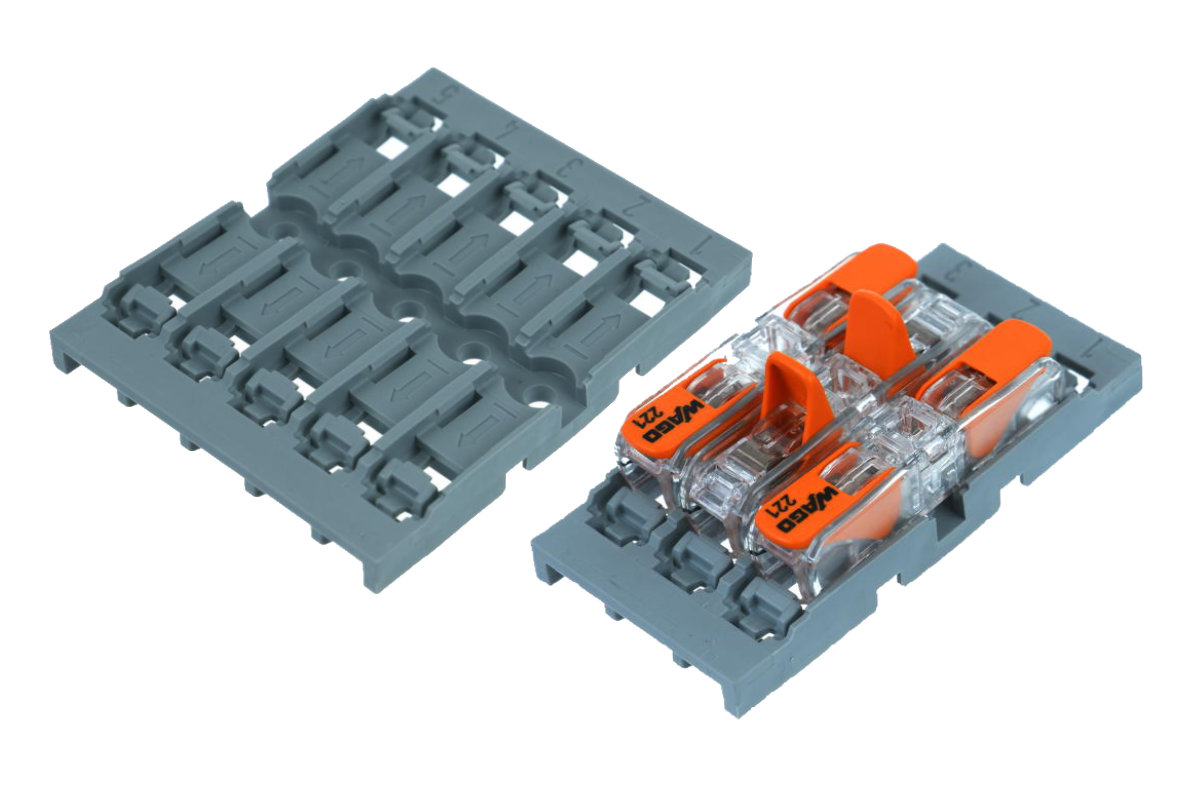 WAGO D2411 holders
Compact holders for the narrow D2411 feed-through connectors from WAGO. In each case, 3 or 5 terminals fit next to each other, thus enabling clean installation, e.g., in the control cabinet or in a light cove.
Product number:
W221-Halterungen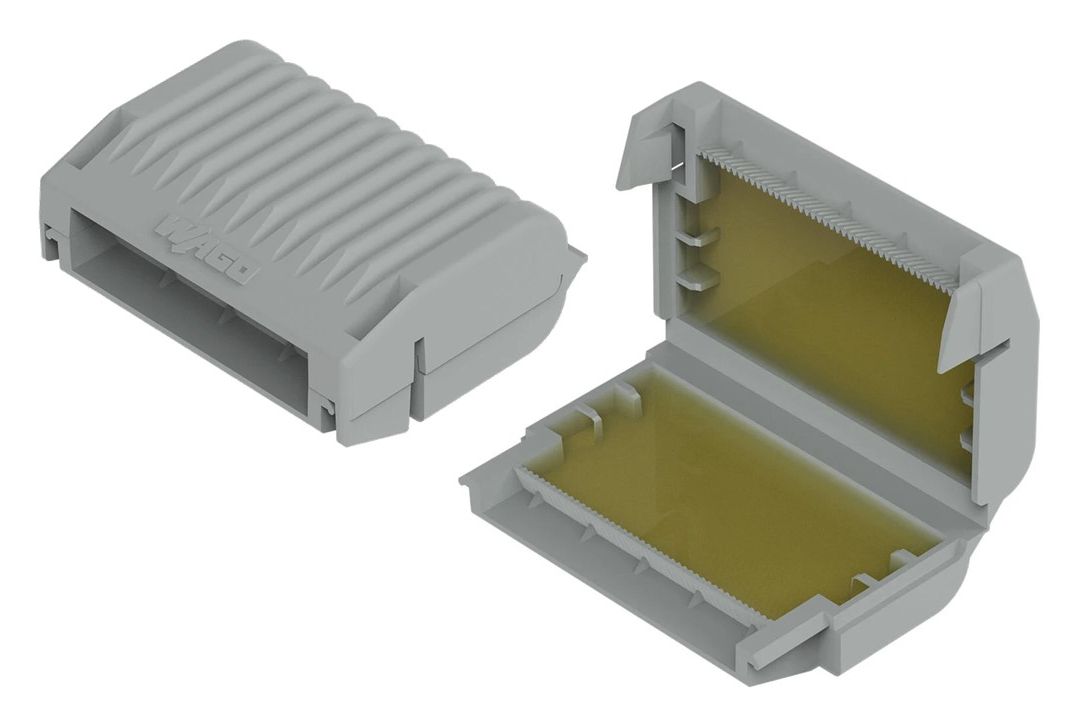 WAGO IP68 gel box
Waterproof gel box for WAGO terminals. Simple, fast and safe handling Immediately ready for use and accessible again Silicone-free Label-free Can be stored indefinitely Complete system consisting of gel boxes and WAGO terminal blocks is VDE-tested and IPX8-certified Dimensions: W 46 x H 18 x D 34mm, width inside 35mmSuitable for: 2 x W221-2 or 1 x W221-5