LED home automation
Smarthome systems for home automation are becoming increasingly popular. Especially for lighting control they are perfectly suitable. In this category you will find professional LED dimmers, tunable white and RGBW LED drivers for various established systems for:
Wireless solutions: ZigBee (Philips HUE, Amazon ECHO / ALEXA), Z-Wave, EnOcean
Wired solutions: DALI, KNX, 1-10V
So you can control any LED strips from our program, for example, also via PHILIS HUE, IKEA TRADRI or AMAZON ECHO PLUS / ALEXA. ZigBee LED controllers make it possible. Radio standards such as Z-Wave or EnOcean are also served. If you have a wired home automation via KNX or DALI, you will also find the right controller for it. The simplest solution for a wired remote control is still the 1-10V standard.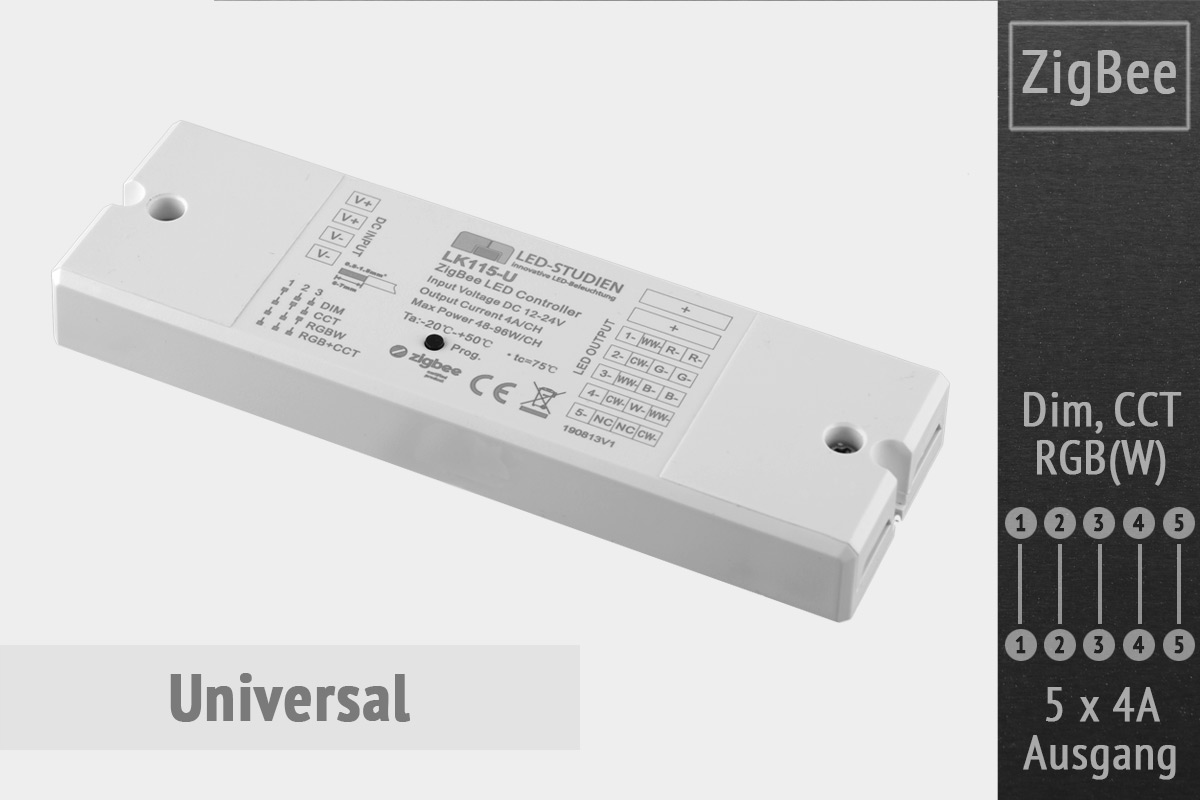 ZigBee universal LED driver | 5 x 4A
ZigBee universal LED driver for PHILIPS HUE, OSRAM LIGHTIFY, IKEA TRADFRI oder AMAZON ALEXA. The LK115-U can be used for all LED applications. Depending on the setting, it works as: ZigBee LED dimmer for white and single color LEDs ZigBee CCT driver for LED lighting with adjustable color temperature ZigBee RGB driver for color effects ZigBee RGBW driver for solutions with color effects and extra white ZigBee RGB+CCT driver The respective function can be set at the beginning via a DIP switch. The LK115 series works with the ZigBee 3.0 standard. This makes it compatible with established systems such as Philips HUE or Ikea TRADFRI. LED strips with 12V or 24V can be connected to the driver. Also LED spots, LED panels and other components with this function and constant voltage can be operated. Video instructions for integration with PHILIPS HUE Voice control via AMAZON ALEXA Also the control via voice assistant like AMAZON ALEXA / ECHO is possible. The simplest option here is AMAZON ECHO PLUS or ECHO SHOW with which you can directly control the ZigBee LED driver by voice. For other ALEXA systems you can realize voice control via a gateway. Since there are already corresponding ALEXA Skills for the established gateways of Philips HUE or Ikea TRADFRI, all LED strips connected to the ZigBee driver can also be controlled by voice here. You can find detailed instructions on this in our blog post "Lighting control with Amazon Alexa". Other ZigBee components, such as ZigBee light switches, ZigBee remote controls, etc., which comply with the ZigBee 3.0 standard, can of course also be integrated. Scope of delivery: 1 x ZigBee Universal LED driver LK115-U Technical data: Modes: Dim | CCT | RGBW | RGB+CCTVoltage: 12V-24V DCPower: Power supply via external switching power supply (not included)Outputs: 5 x 4A Connection: Input (V+ | Ground) Output (5 channels | V+)IP class: IP 20Dimensions (L*W*H): 145*47*16mm ​Note: The driver has double voltage inputs (++--). For high connected load (> 200 Watt), use our special connection cables for high connected loads (> 200 watts) in order to divide the current load between the two inputs. The large power supplies HLG-480 and HLG-600 already have double voltage outputs, so that both voltage inputs of the driver can be used directly here. The driver is integrated as 1 luminaire in all modes. In RGBW mode, for example, the options for setting color effects and controlling white light are then available for 1 luminaire. See also our instruction videos above. Dimensions: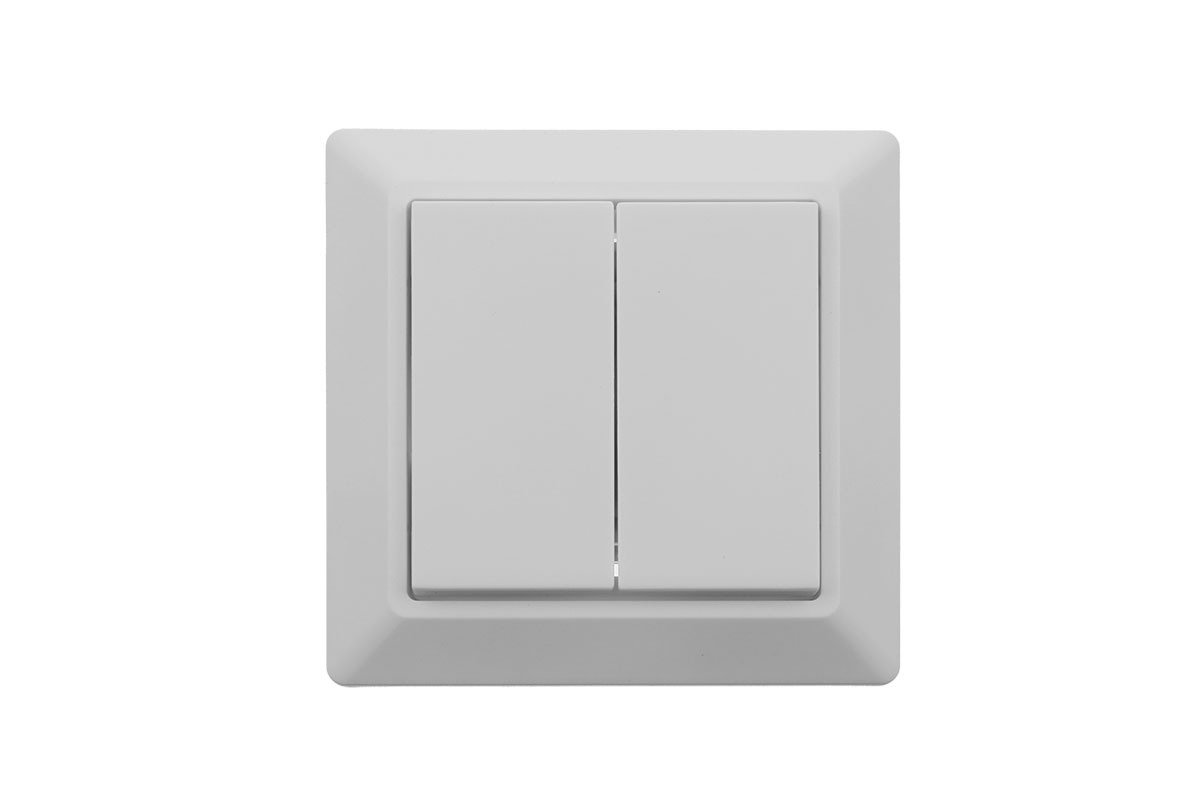 ZigBee remote with 4 pushbuttons (battery powered)
ZigBee remote with 4 freely assignable buttons. The function of the individual buttons can be set in the ZigBee app (e.g. PHILIPS HUE). A distinction is also made between long and short presses. For example, the 2 left buttons can switch the light on and off with a short press and dim up and down with a long press. The 2 right buttons can then be assigned individual light scenes and color moods. The pushbutton has an absolutely flat design and can be simply glued to the wall, for example. The button is powered by a 3V coin cell with several years runtime. Videotutorial to integrate the ZigBee remote into PHILIPS HUE Technical data: Keypads: 4 (2 double buttons) Radio technology: ZigBee, 2,4Ghz Range: max. 30m with clear view Power supply: 3V button cell CR2430 Moisture protection: IP20, not waterproof Dimensions: 81x81mm, depth: 15mm
Product number:
LK115-K2w
The solutions in detail
The selection of home automation systems is very large. Almost all smart home solutions offer the option of lighting control. While some manufacturers build purely proprietary networks that limit the choice of possible components and options, various standards have been established that allow controllers, luminaires and sensors from a wide range of suppliers to be combined with each other.
We offer suitable LED controllers for the following established home automation standards.
Smarthome solutions via radio
Wireless solutions simplify the installation and especially the expandability of your home automation. No extra cables need to be pulled and new components such as lights, switches, LED strips, etc. can be added very easily at any point. For modern installations, wireless solutions are therefore mostly preferred over traditional wired smarthome systems. These are the best known representatives:
ZigBee
The ZigBee standard is increasingly becoming the leading standard for home automation. One reason for this is that the major luminaire and component suppliers in particular, such as PHILIPS and OSRAM, are relying on this technology and offering numerous solutions for it. The PHILIPS HUE and OSRAM LIGHTIFY systems are now very widely used. There are very intuitive app solutions for both, so that you can conveniently control your lighting via smartphone. Of course, classic wall switches (of course also via radio) and remote controls are also available.
Another major supplier of ZigBee lighting components is the world's largest furniture store chain IKEA. The IKEA TRADFRI system is very similar to PHILIPS HUE and OSRAM LIGHTIFY and the ZigBee standard enables compatibility with each other.
A brand new supplier of lighting controls is the internet retailer AMAZON. The voice assistance system AMAZON ALEXA is spreading rapidly and the latest variant of the corresponding AMAZON ALEXA voice computers, the ECHO PLUS can directly control your lights and LED strips by voice command. AMAZON ECHO PLUS is also based on ZigBee!
Somewhat problematic with ZigBee currently is that there are different user profiles (e.g. ZigBee Light Link, ZigBee Home Automation, ZigBee Building Automation) that are not necessarily compatible with each other. So you may end up with two ZigBee devices that can't communicate with each other after all. Therefore, be sure to check beforehand which profile the devices use and whether the manufacturer provides a compatibility list.
Z-Wave
Z-Wave is another widely used standard for home automation via radio. It is slightly older than ZigBee and has, at least currently, some advantages. For example, Z-Wave is somewhat more secure in terms of data transmission and offers - at least for the time being - a higher guarantee of compatibility between individual manufacturers. Up to 231 devices can be managed in a Z-Wave network.
EnOcean
Both ZigBee and Z-Wave use extremely little energy, which allows long-term supply with small button batteries and the like. The EnOcean standard goes one step further, in that its components operate completely WITHOUT battery or mains power. This works e.g. in such a way that light switches have a mini dynamo inserted and by bare key pressure sufficient river for the radio transmission is developed. Sensors generate their minimal power requirements through solar cells or from temperature differences.
It should be mentioned that, for example, the concept of dynamo switches has also been implemented in the PHILIPS HUE LIGHT TAP (ZigBee). This also does not require batteries.
Smarthome solutions via cable
Various reasons may lead to a wired solution being preferred over a more modern wireless option. The most common reason may be that a wired system is already in place and now needs to be supplemented with additional lighting components. Some people reject radio because of suspected susceptibility to interference or adverse health effects.
1-10V
This is the oldest and simplest solution to control light remotely. A simple DC voltage signal between 1-10V tells the light how bright it should shine. All that is needed is a 2-wire connection between the light switch or potentiometer and the luminaire or LED controller. ATTENTION: With 1-10V the control voltage is provided by the end device, i.e. the luminaire or the LED controller. Do not confuse 1-10V with the industry standard 0-10V! With the latter, the control voltage is provided by the controller.
1-10V is a pure analog signal and it does not provide multiplexing. I.e. only one luminaire or group of luminaires can be controlled via a 1-10V line. Multi-zone setups require complex wiring with a corresponding number of 1-10V lines.
DALI
DALI is a widely used, quite old, but proven control protocol for lighting. It allows the integration of up to 64 separate devices, which can be organized in groups and scenes. DALI works as a digital BUS system, i.e. different luminaires and luminaire groups can be controlled separately via one DALI line. For this purpose, the individual components are addressed at DALI. Especially in building control, DALI has therefore found widespread use. Also because it can be easily integrated into larger building control systems such as KNX, EIB, LOC, MODBUS or BACnet.
KNX
KNX is the successor of the EIB system and one of the most frequently used protocols in building automation. While DALI is still a rather straightforward protocol that is primarily used for pure lighting control in manageable buildings, KNX is a very complex protocol that is used for the entire building automation. Air conditioning and heating control, ventilation, windows and doors, alarm systems and more are controlled via KNX. It is correspondingly complex to integrate LED and lighting controls into KNX networks. KNX is therefore not for the layman and when it comes to the mere light control, yet oversized.