LED Pixel Components & Driver
Individually controllable LED pixels in the form of pixel LED strips, single pixels and pixel chains as well as LED matrix, e.g. for display applications.
Furthermore you will find the suitable drivers in form of small standalone drivers or ArtNet systems for larger installations. Our own developed SEDU pixel drivers have their own subcategory.
Finally, in the category DMX controllers you will find DMX controllable controllers also for normal LED strips, as well as DMX pixel converters.

In 4 or 5m length with individually controllable LEDs as 5V or 12V version. WS2812, SK6812, APA102, WS2815, DirectDMX and more.

RGB single pixels and chains, either for SPI control (e.g. WS2812) or DirectDMX based on the well-known MySemi chips.

LED matrix solutions in different matrix sizes and pixel densities with WS2812 and APA LEDs. Of course cascadable.

For controlling normal LED strips (without pixels) via DMX. Different variants with up to 24 DMX channels available.

Small standalone drivers for up to 1,000 pixels and large ArtNet pixel drivers for up to 5,000 pixels (cascadable).

Our own developed standalone pixel driver with SD card. Flexible use with various software tools.
LED tape digital WS2815 - RGB-Pixel - IP20 - 12V
Pixel LED strips with 12V supply voltage are especially suitable for larger installations over several meters. While normal pixel LED strips with 5V require a new voltage supply every 2m at the latest due to the intensive voltage drop, with 12V strips 5m can also be realized without a new supply. In contrast to other 12V pixel solutions, with the WS2815 each LED is also a separately controllable pixel. So narrow resolutions with e.g. 30, 60, 72, 96 or even 144 pixels/m can be realized. Another advantage of the WS2815 is that the data line is doubled. This leads to a significantly increased reliability. If one pixel fails, the following pixels remain unaffected. Furthermore, the WS2815s offer a comparatively high PWM frequency of 2,000Hz, which reduces flickering effects. WS2815 are compatible to the widely used WS2811 protocol (also WS2812) and therefore controllable with very many pixel controllers.
Content: 5 Meter (€9.80* / 1 Meter)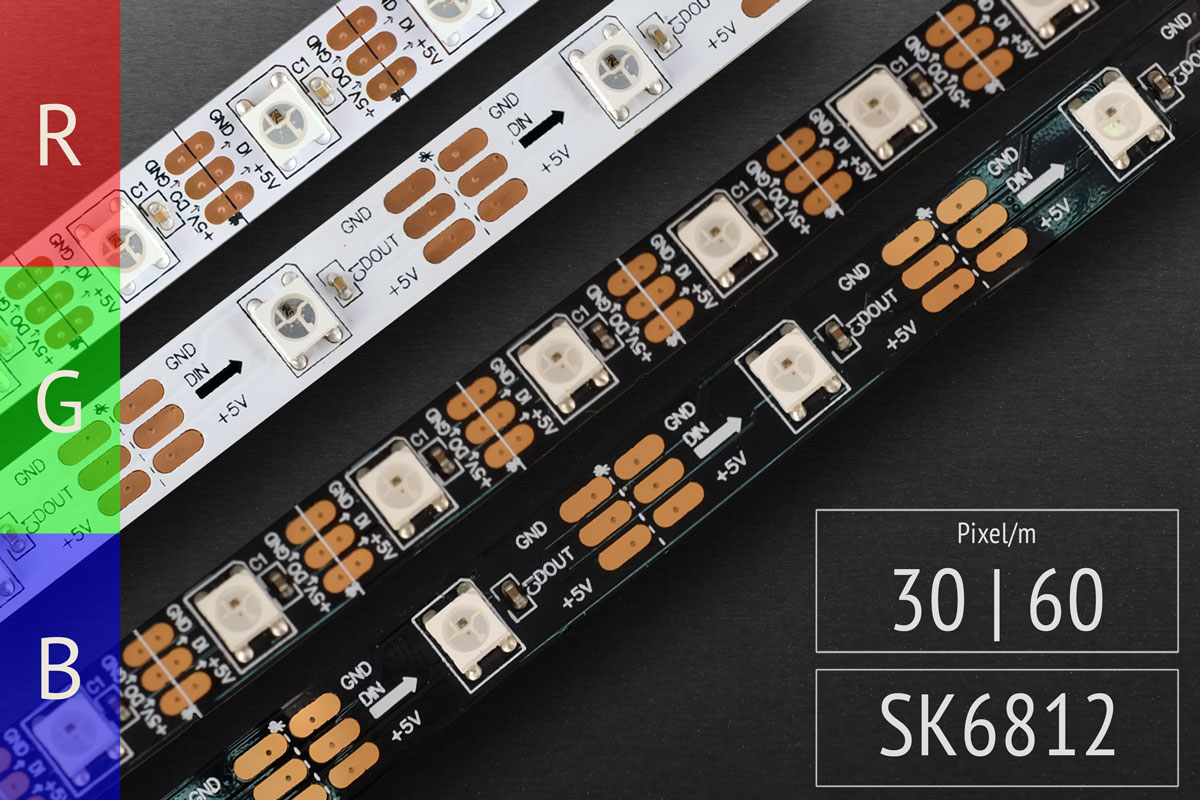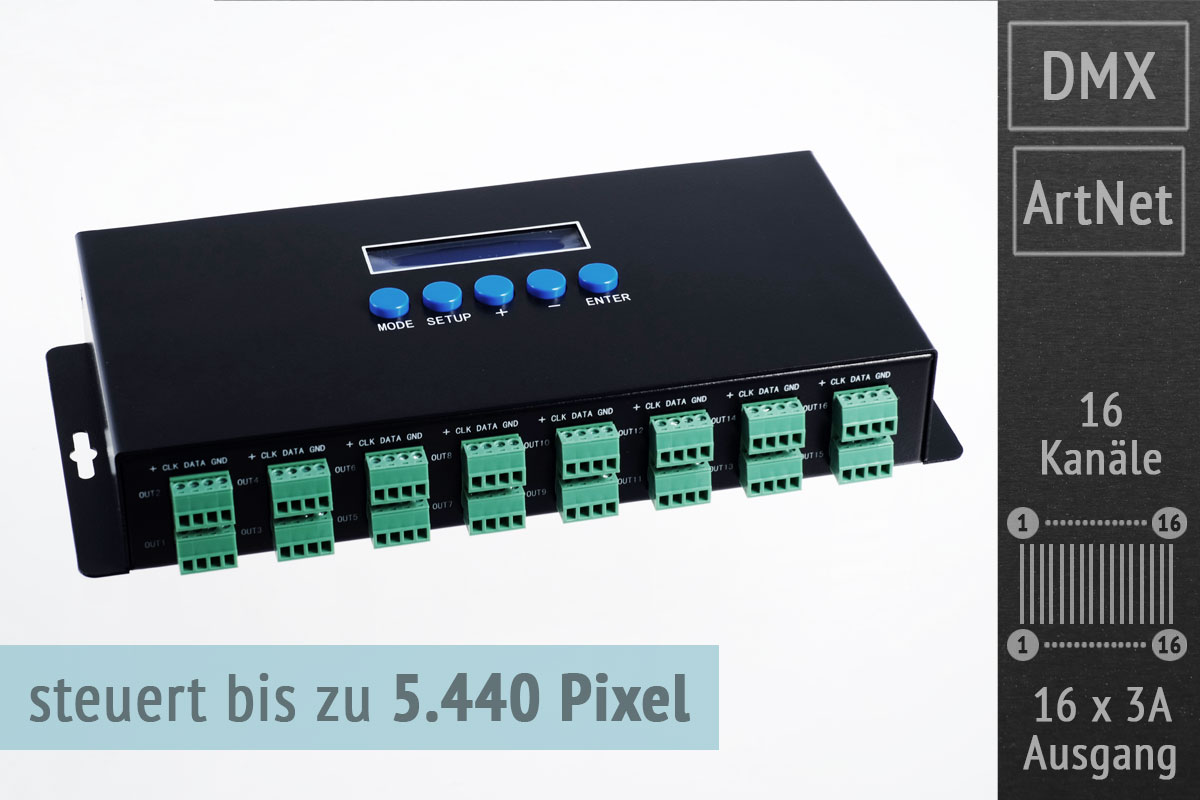 Artnet LED Pixel driver for up to 5,440 pixels
The drivers for digital LED strips are specially designed to control as many RGB pixels as possible individually. With the LK63, up to 5.440 pixels are possible, divided into 16 channels with 340 RGB pixels each. This corresponds to a total of 32 DMX universes, which are transmitted via LAN/ArtNet. The 16 pixel outputs can be loaded with max. 3 amps per channel. For larger installations, the pixels can and should be powered separately. The controller then supplies only the data signal (DATA). Pixels with and without CLOCK signal (CLK) can be controlled. Pixel types with CLK are e.g. WS2801 or APA102. The controller can be controlled via ArtNet and offers 2 additional DMX-OUT ports with 512 channels each. For configuration, the controller has an integrated web interface as an alternative to direct input on the display. The configuration options are very extensive: selection of pixel type and color sequence (RGB, RGB, GRB etc.) flexible addressing (DMX-Universe and start address individually for each of the 4 outputs) number of pixels to control per channel (0-340 pixels - e.g. to save DMX universes) number of zero pixels to skip first unused pixels in an installation Zig-zag or backward addressing of pixels for matrix applications Brightness limitation per channel In addition, the controller offers a test mode to test the installation with various effects (Chase, Dots, Rainbow, ...) and static programs (all pixels red, all pixels white, ...) even without an applied ArtNet signal. The speed of the effects can be varied. Technical data: Item no. LK63 Output spots 16 x 3 Ampere (Multi SPI) Controllable pixels 16 x 340 = 5,440 Controllable ICs WS2801, 2803, 2811, 2812, 2813, 2815 SK6812 (RGBW) TM1803, 1804, 1809, 1812, 1814 (RGBW) UCS1903, 1909, 1912, 2903, 2909, 2912, 5603UCS6909, 6912 9812, 2904 (RGBW), 8904 (RGBW)LPD6803, 1101, 8803, 8806 TLS3001, 3002 APA102 P9813 Voltage input 5 - 24VDC DMX outputs 2 x 512 Channels Dimensions L258×W145×H41(mm) Weight 1,100g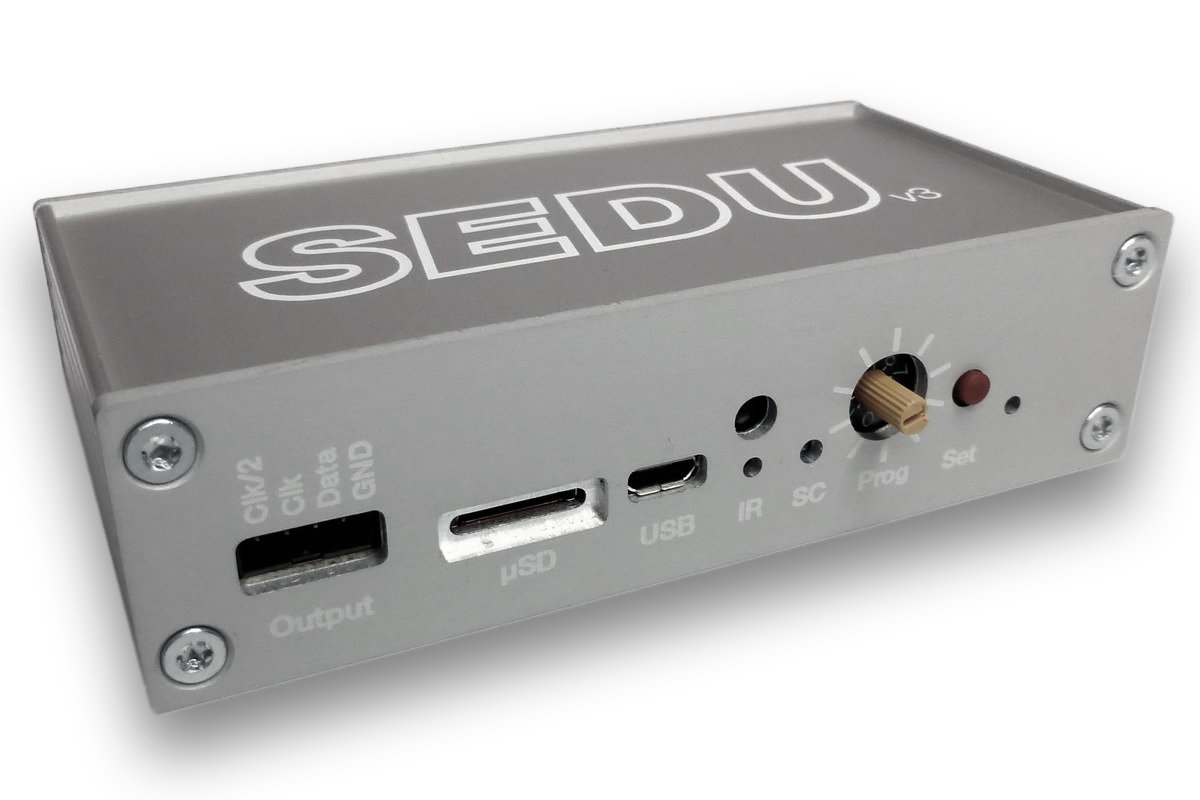 SEDU-Board v3 - Standalone Player for tpm2, miniDMX, ArtNet
The SEDUv3 is a universal driver for digital LED pixels. It can be used to control an ambient light system as well as for an LED matrix. In contrast to the SEDUv2 additional pixels like the WS2811/12 or MY9221 are supported. The firmware is still being extended to support even more pixel types. In addition, it is possible to choose between different input protocols within one firmware. Supported are: miniDMX tpm2 DMX (future) tpm2.net / Artnet in connection with WLAN Up to 3000 pixels WS2801 and 1024 pixels WS2811/12 are supported. With a µSD card created sequences can be played back offline. You can switch between the programs with a button (in the future also via IR remote control). Scope of delivery: 1x SEDU board v3 according to version 1x connector data port Technical data: Parameter Value Power supply: 5V DC via µUSB port,max. current consumption approx. 300mA Housing: Aluminum housing, screwed Dimensions: 105 x 50 x 28 mm Data sheet / Downloads SEDU-Board Downloads
Product number:
LED523mas