LED Pixel Components & Driver
Individually controllable LED pixels in the form of pixel LED strips, single pixels and pixel chains as well as LED matrix, e.g. for display applications.
Furthermore you will find the suitable drivers in form of small standalone drivers or ArtNet systems for larger installations. Our own developed SEDU pixel drivers have their own subcategory.
Finally, in the category DMX controllers you will find DMX controllable controllers also for normal LED strips, as well as DMX pixel converters.

In 4 or 5m length with individually controllable LEDs as 5V or 12V version. WS2812, SK6812, APA102, WS2815, DirectDMX and more.

RGB single pixels and chains, either for SPI control (e.g. WS2812) or DirectDMX based on the well-known MySemi chips.

LED matrix solutions in different matrix sizes and pixel densities with WS2812 and APA LEDs. Of course cascadable.

For controlling normal LED strips (without pixels) via DMX. Different variants with up to 24 DMX channels available.

Small standalone drivers for up to 1,000 pixels and large ArtNet pixel drivers for up to 5,000 pixels (cascadable).

Our own developed standalone pixel driver with SD card. Flexible use with various software tools.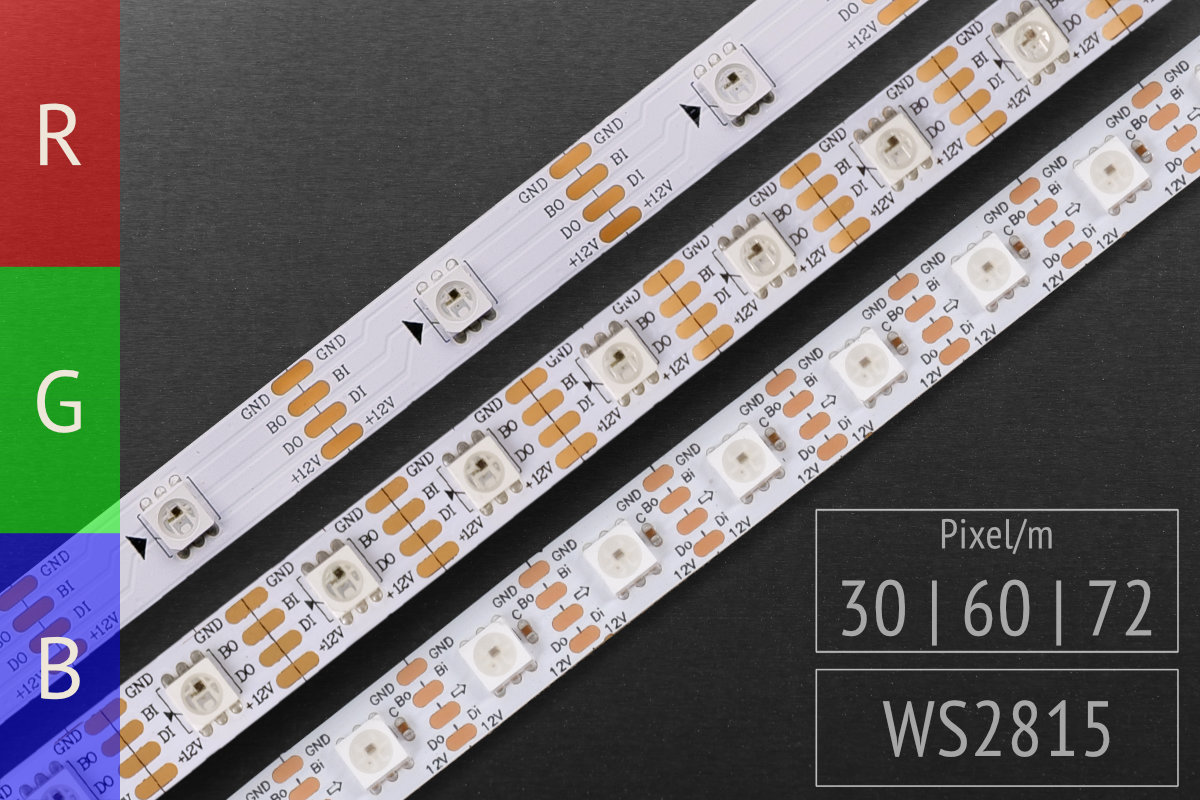 LED tape digital WS2815 - RGB-Pixel - IP20 - 12V
Pixel-LED-Bänder mit 12V Versorgungsspannung sind besonders für größere Installationen über mehrere Meter geeignet. Während normale Pixel-LED-Streifen mit 5V aufgrund des intensiven Spannungsabfalls spätestens alle 2m eine neue Spannungseinspeisung benötigen, sind bei 12V Streifen auch 5m ohne neue Einspeisung realisierbar. Im Gegensatz zu anderen 12V-Pixel Lösungen ist bei den WS2815 jede LED auch ein separat ansteuerbares Pixel. So sind enge Auflösungen mit z.B. 30, 60 oder 72 Pixel/m realisierbar. Ein weiterer Vorteil der WS2815 ist, dass die Datenleitung doppelt geführt ist. Dies führt zu einer deutlich erhöhten Ausfallsicherheit. Sollte ein Pixel ausfallen, bleiben die nachfolgenden Pixel davon unberührt. Weiterhin bieten die WS2815 mit 2.000Hz eine vergleichsweise hohe PWM-Frequenz, was Flackereffekte reduziert. WS2815 sind kompatibel zum weit verbreiteten WS2811-Protokoll (auch WS2812) und daher mit sehr vielen Pixel-Controllern steuerbar.
Content: 5 Meter (€9.80* / 1 Meter)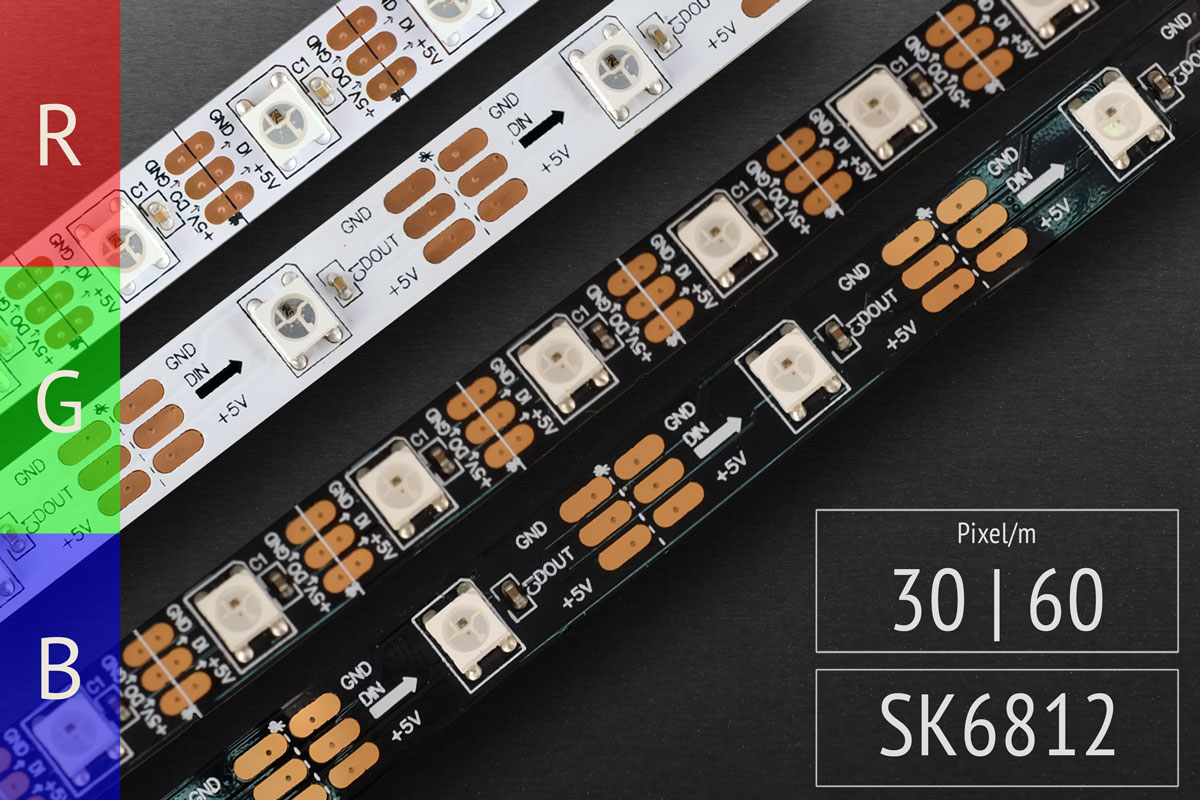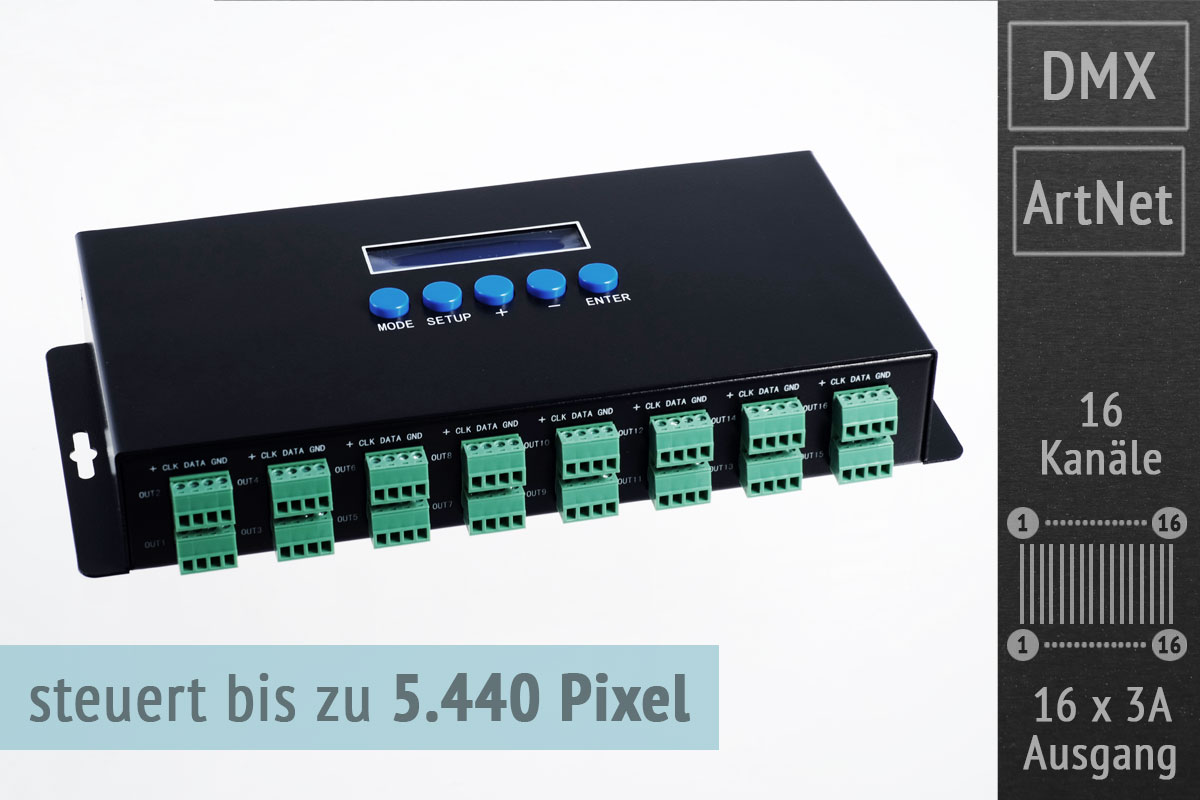 Artnet LED Pixel driver for up to 5,440 pixels
The drivers for digital LED strips are specially designed to control as many RGB pixels as possible individually. With the LK63, up to 5,440 pixels are possible, divided into 16 channels (340 RGB pixels each). This corresponds to a total of 32 DMX universes, which are transmitted via LAN/ArtNet. The 16 outputs can be loaded with max. 3 amps per channel. The driver can be controlled via ArtNet and offers 2 additional DMX ports with 512 channels on the output side. For configuration, the driver has an integrated web interface. Technical data: Item no. LK63 Output spots 16 x 3 Ampere (Multi SPI) Controllable pixels 16 x 340 = 5,440 Controllable ICs 2811 / 2801 / 6803 / 3001 / 8806 / 9813 / SK6812 Series Voltage input 5 - 24VDC DMX outputs 2 x 512 Channels Dimensions L258×W145×H41(mm) Weight 1,100g
SEDU-Board v3 - Standalone Player for tpm2, miniDMX, ArtNet
The SEDUv3 is a universal driver for digital LED pixels. It can be used to control an ambient light system as well as for an LED matrix. In contrast to the SEDUv2 additional pixels like the WS2811/12 or MY9221 are supported. The firmware is still being extended to support even more pixel types. In addition, it is possible to choose between different input protocols within one firmware. Supported are: miniDMX tpm2 DMX (future) tpm2.net / Artnet in connection with WLAN Up to 3000 pixels WS2801 and 1024 pixels WS2811/12 are supported. With a µSD card created sequences can be played back offline. You can switch between the programs with a button (in the future also via IR remote control). Scope of delivery: 1x SEDU board v3 according to version 1x connector data port Technical data: Parameter Value Power supply: 5V DC via µUSB port,max. current consumption approx. 300mA Housing: Aluminum housing, screwed Dimensions: 105 x 50 x 28 mm Data sheet / Downloads SEDU-Board Downloads
Product number:
LED523mas