Novelty: COB LED-Strip - no LEDs visible - 1,300 lm/m - 2,700K warm white - IP20 5m roll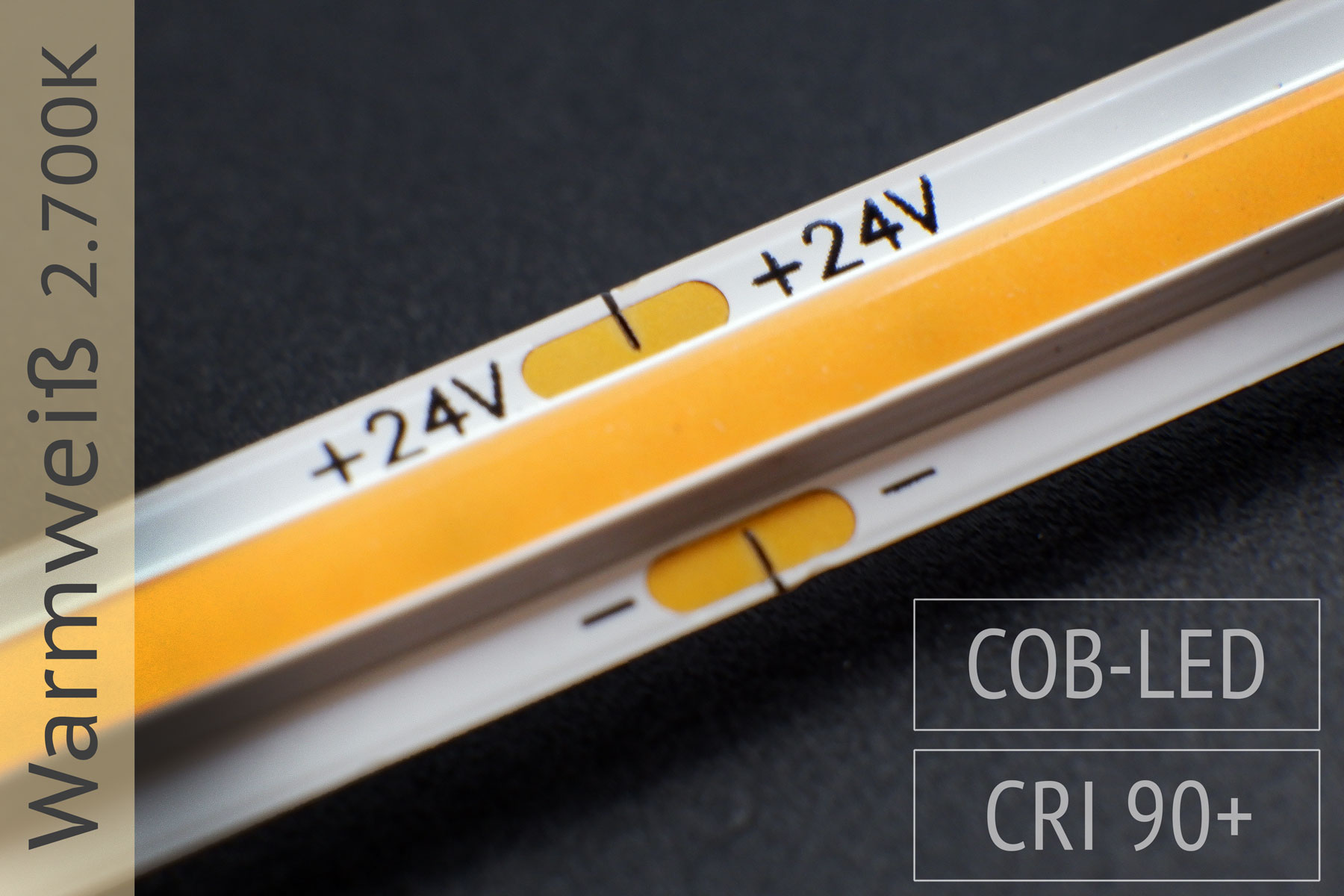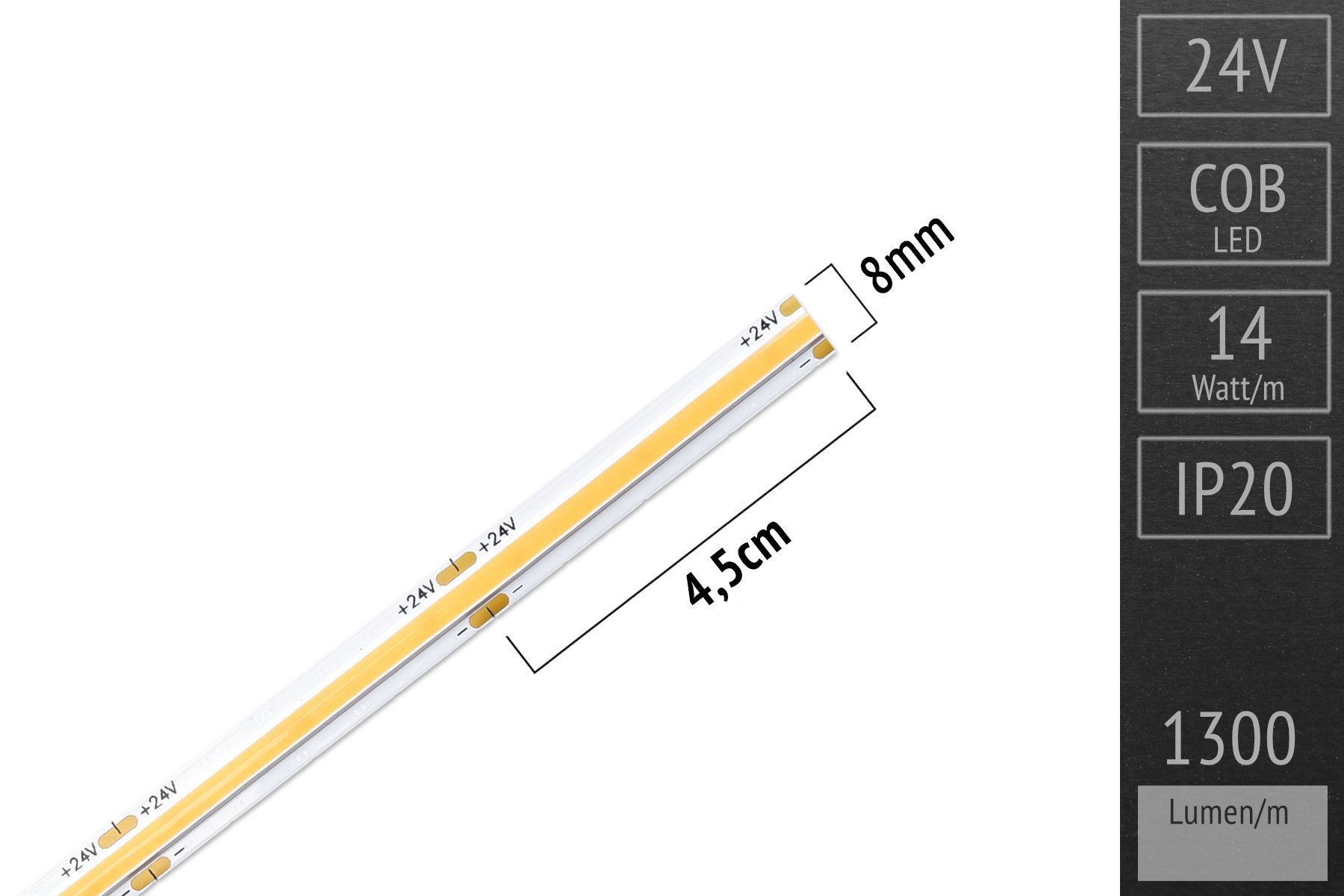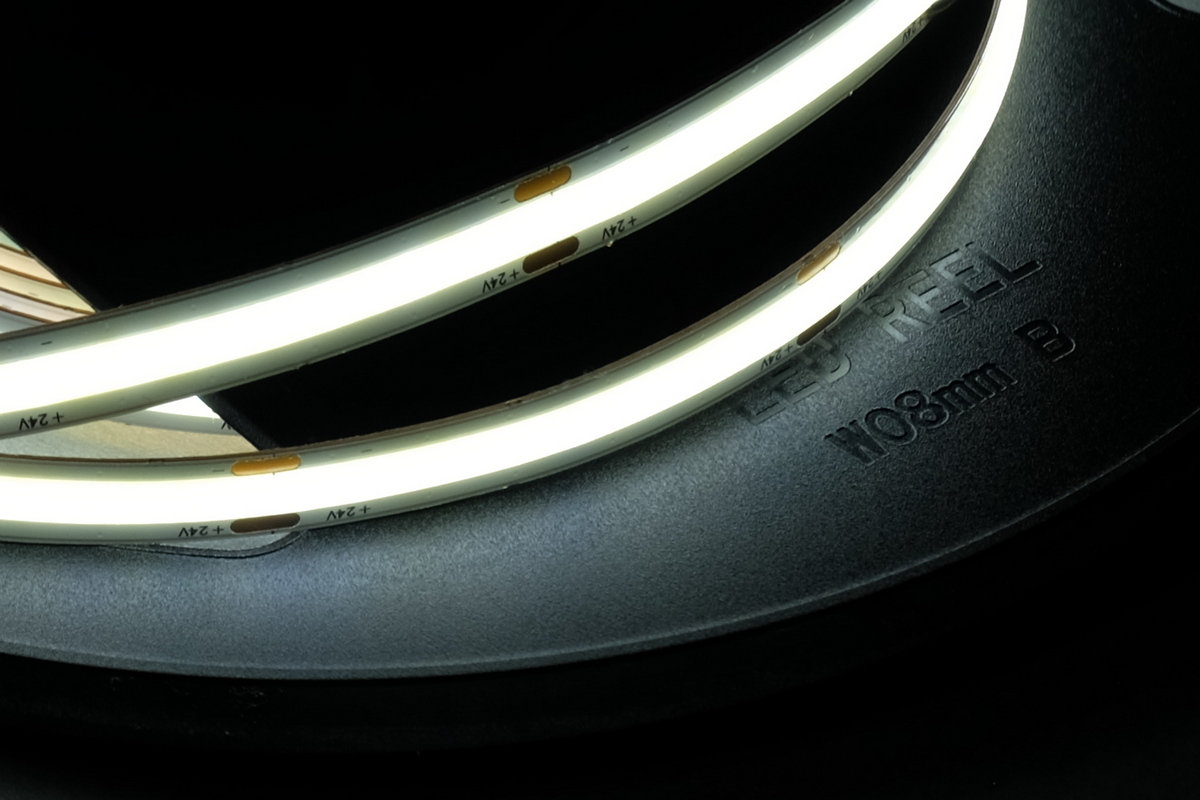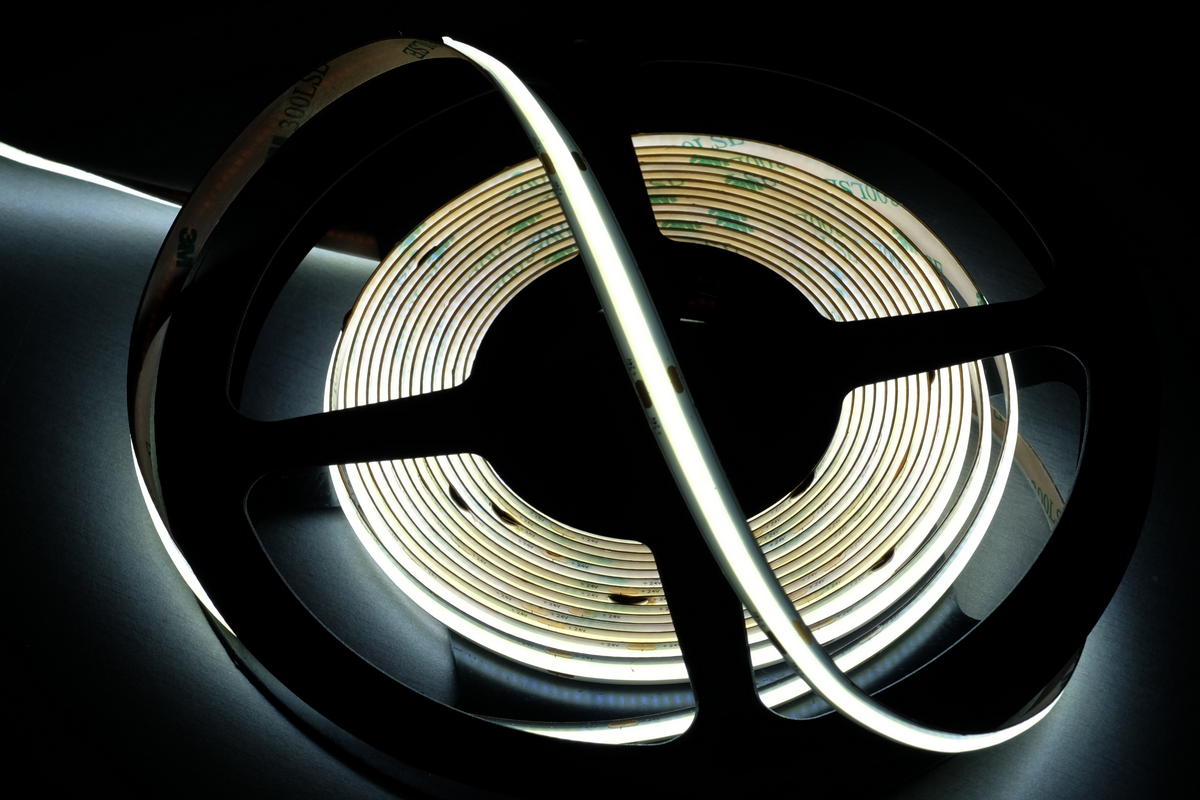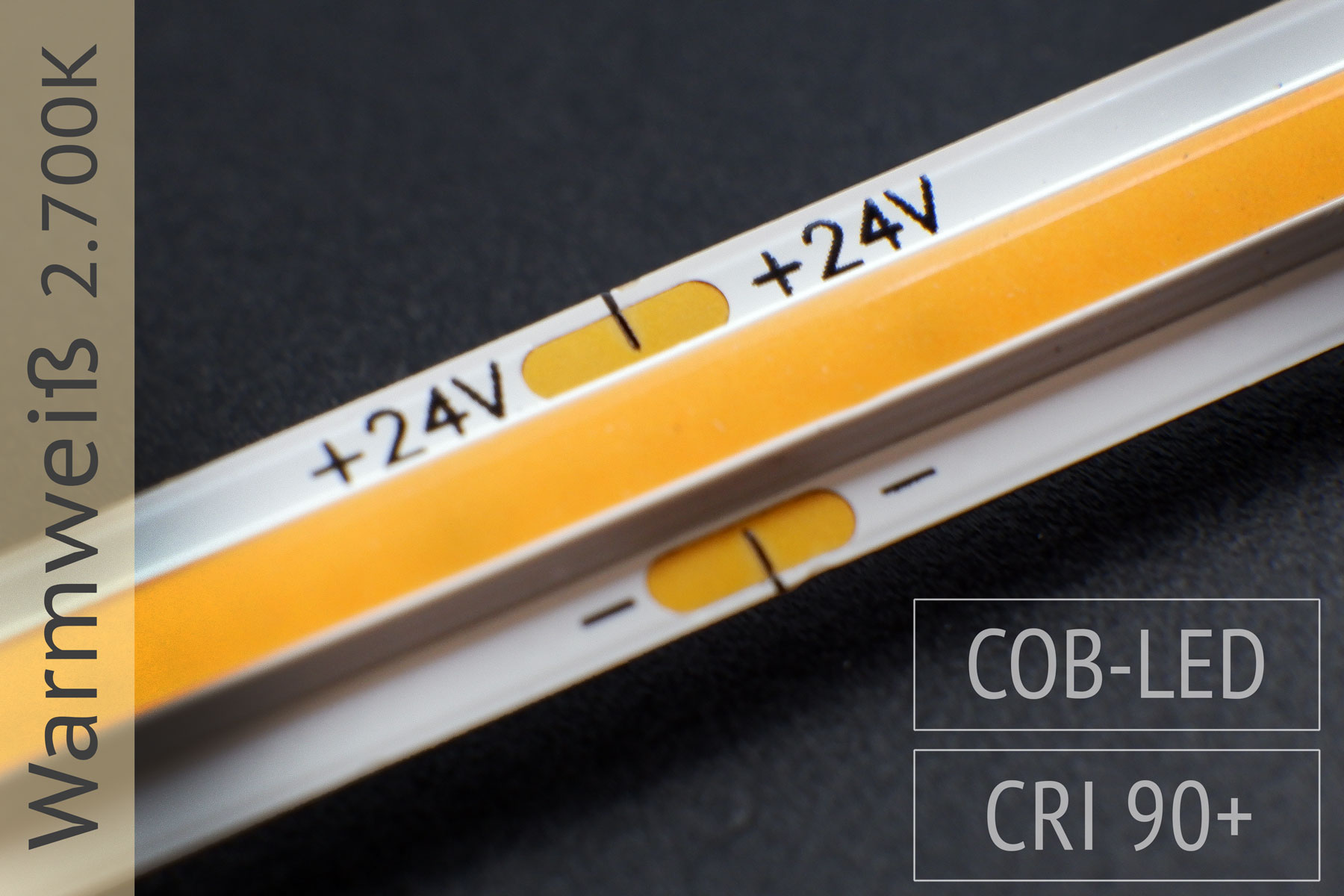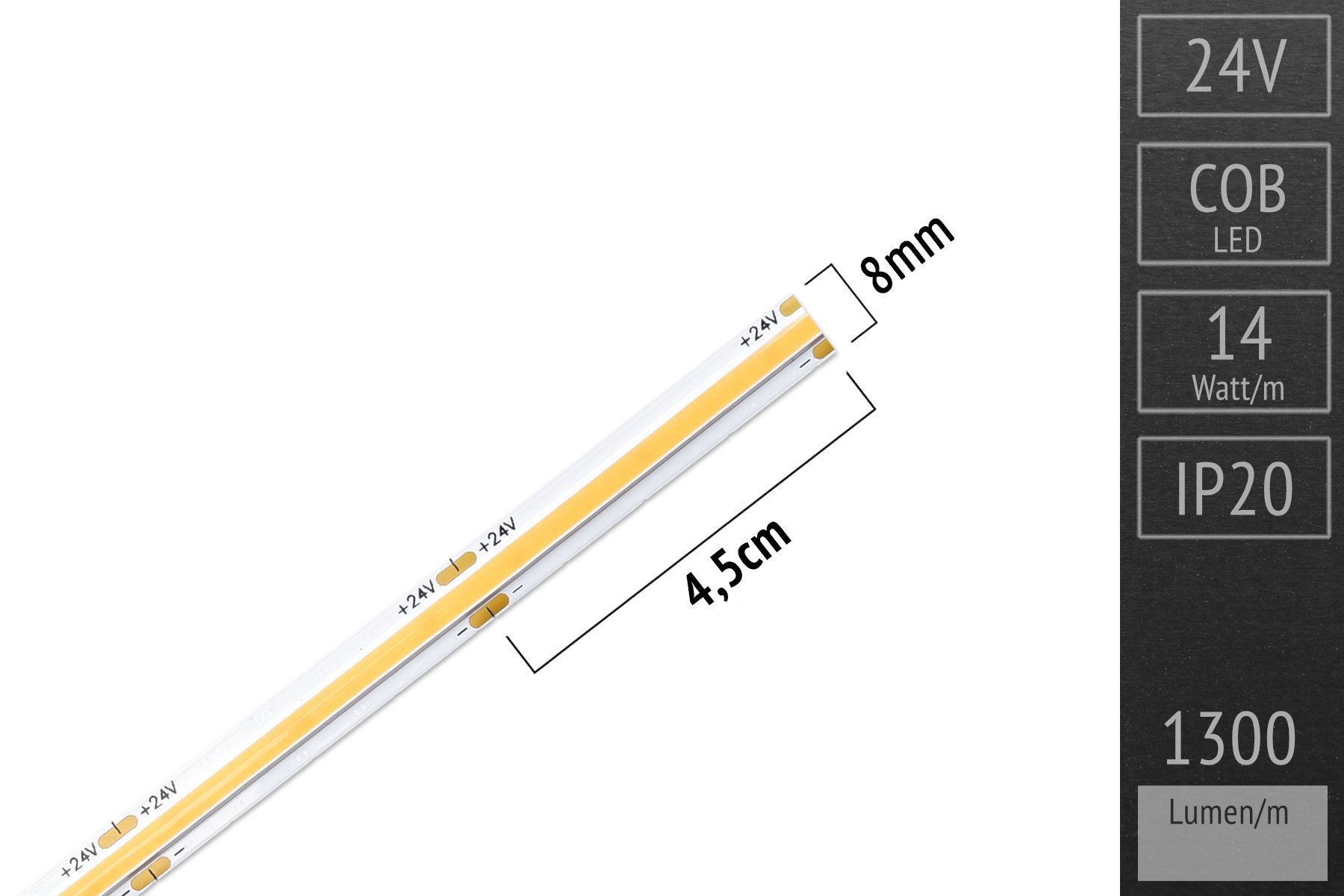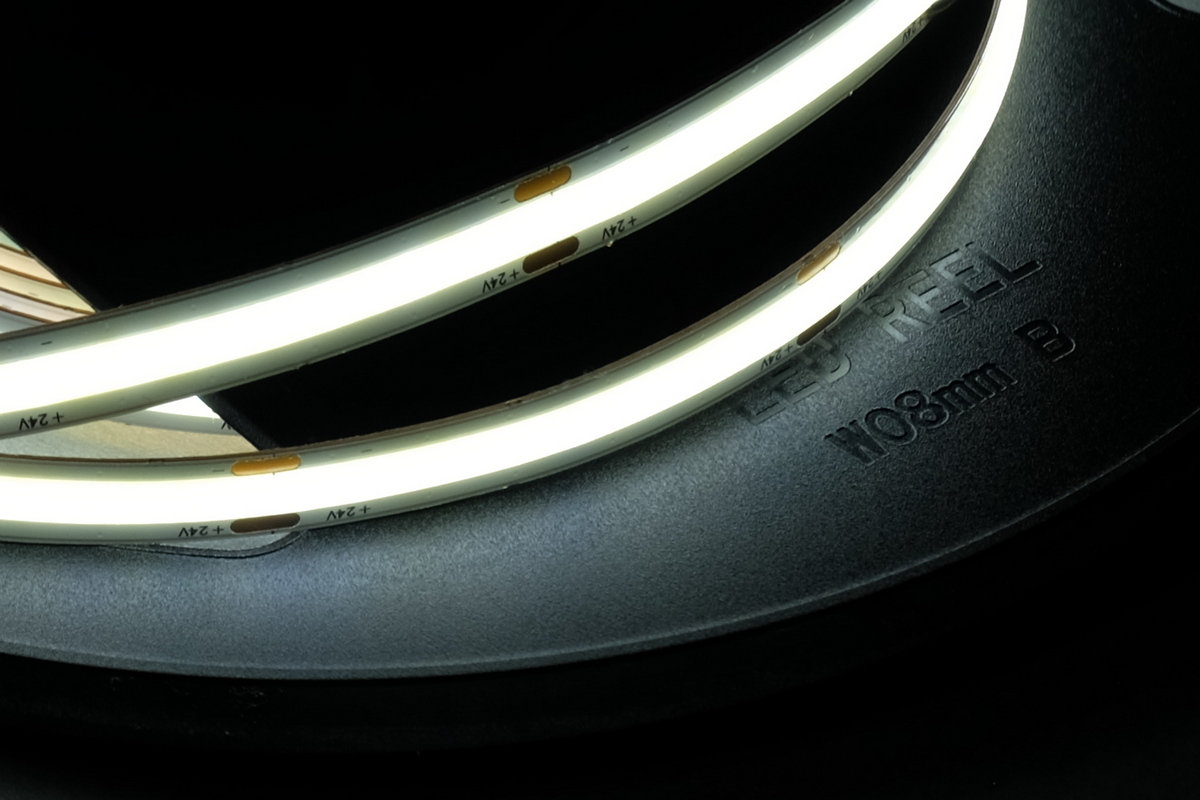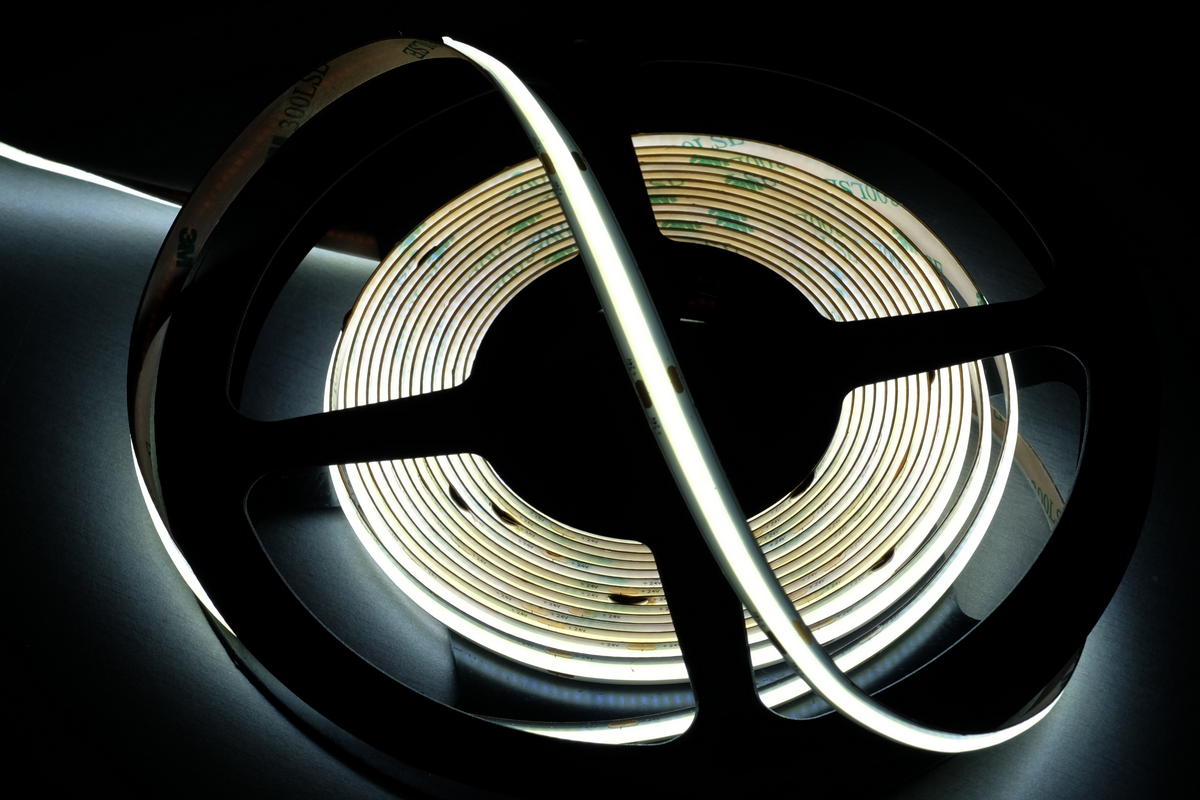 €89.00*
Content:
5 Meter
(€17.80* / 1 Meter)
Available, delivery time: 3-5 days
Product number:
LK04-32b-27
---
LED type: COB - no single LEDs visible
Beam angle: 120°
Brightness: 1,300 lm/m
Color rendering: High CRI>90
Voltage: 24 Volt
Power: 14 Watt/m
Price for 1 roll = 5 meters -Buy by the meter -
---

New type of LED tape where no individual LEDs are visible! A continuous bright, uniform light band is created.
This has advantages for various applications:
Homogeneous line light, even in very flat aluminum profiles.
Continuous, narrow accent or orientation light
Absolutely uniform indirect lighting at very short distances
The COB LED-Strips are also very efficient - approx. 100 lumens / watt - and can be processed just as flexibly as normal LED strips. Short pitch distances (only 4.5cm) allow the adjustment to desired dimensions and due to the double-sided adhesive tape on the back, the COB LED-Strips are very easy to install.
The continuous light effect without visible individual LEDs in the COB LED-Strip is achieved by a new process. With white LEDs, the light has always been generated by a converting phosphor layer. Now, instead of applying a separate, tiny phosphor layer to each LED chip - as it is usually the case - COB LED-Strips cover the entire 5m strip in one piece with a continuous phosphor. The result is a uniformly homogeneous band of light, as in color, so in brightness.
---
Available Variants
5m-roll IP20 without water protection, incl. 10cm connection cable
5m-roll IP67 water protection in silicone tube, incl. 10cm connection cable
Furthermore, the LED tape is sold by meter IP20 in 1 - 30m length.
All variants have a 3M adhesive tape on the back for mounting, can be divided every 4.5cm and are available in various color temperatures (e.g. 3.000K warm white).
---
Notes on accessories:
To operate 5m (1 roll) of LED strips, a 24V power supply with min. 75 Watt is required. 5m x 14W/m = 70 Watt.

https://shop.led-studien.de/de/zubehor/netzteile/24v-netzteile
For brightness controll of 5m a controller with min. 3,2 Ampere is needed. 75W / 24V = 3,2 Ampere.
https://shop.led-studien.de/de/controller/dimmer-1-2-kanal
---
Frequently asked questions:
Can COB LED-Strips be used like normal LED Strips?
Yes. COB-LED-Strips can be laid, cut and connected just as flexibly as normal LED-Strips. The solder contacts for connecting cables are also exposed.
What is the height of the COB LED-Strips?
Only 1.5mm. COB LED-Strips are not significantly higher than normal LED strips and therefore fit, for example, in all standard aluminum profiles. The IP67 versions have the typical height of 4mm due to the surrounding silicone tube.
Does the phosphor coating reduce the lifetime of the LEDs?
No. COB technology has been used for many years in numerous high-power LED modules (up to 100 Watt output), where the temperature input into the phosphor coating is immensely high. There is no known reduction in lifetime here.
Are COB-LED-Stips water-protected, e.g. suitable for outdoor use?
For this purpose, choose the variants with IP67 water protection.
You can find more answers to frequently asked questions about LED strips in our FAQ.
---
Properties "Novelty: COB LED-Strip - no LEDs visible - 1,300 lm/m - 2,700K warm white - IP20 5m roll"
Brightness lm/m:

1300

Colour rendering:

CRI>90

Colour temperature:

2.700K warm

Energy efficiency class (EEK):

F

Power:

14

Seperatable every (cm):

4,5 cm

Strip width in mm:

8

Voltage:

24V

Water protection:

IP20 without waterprotection

LED/m:

528

, COB
Data according to manufacturer. Errors and changes reserved.