Novelty: COB LED strips with adjustable color temperature (CCT): 24 volts - CRI>90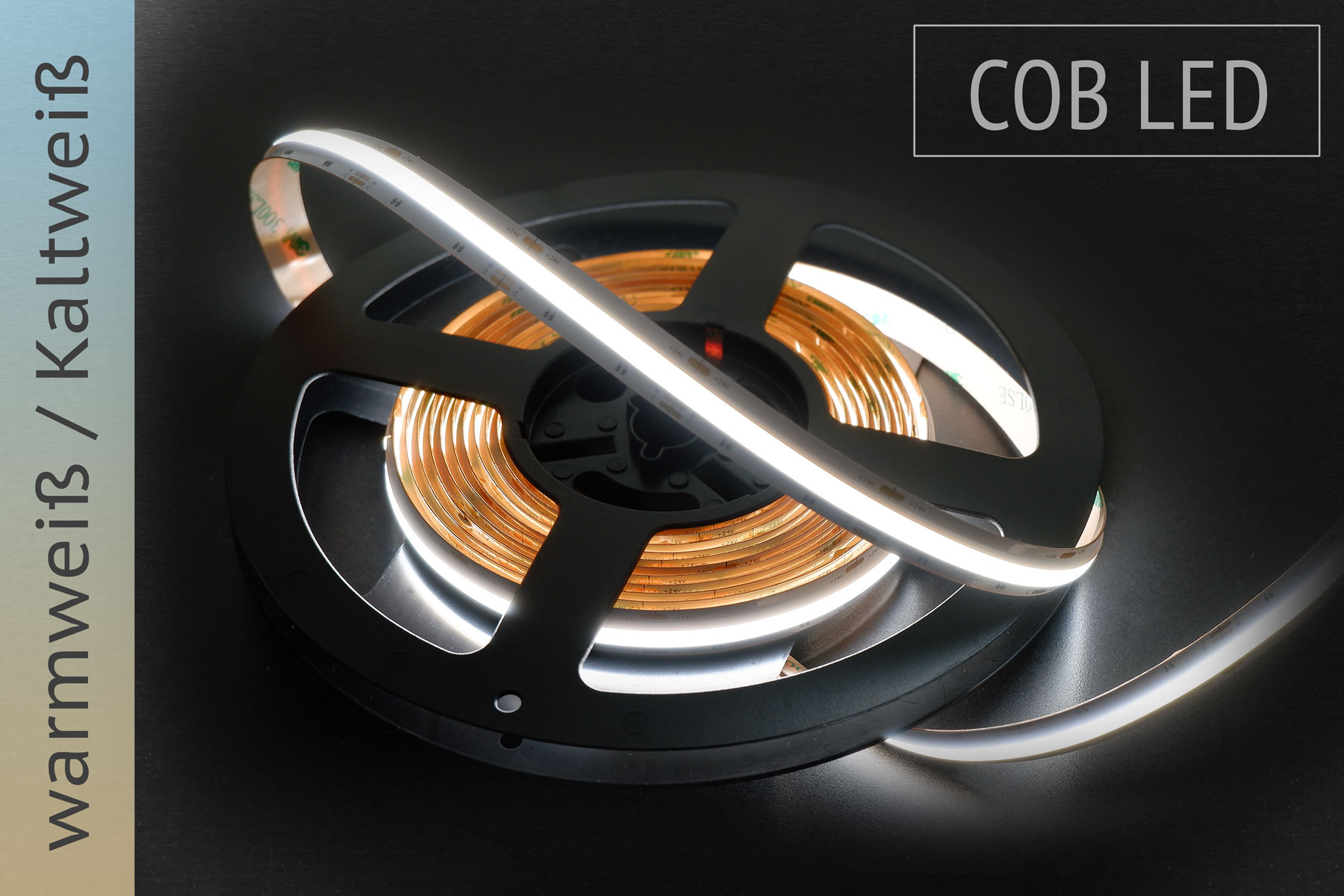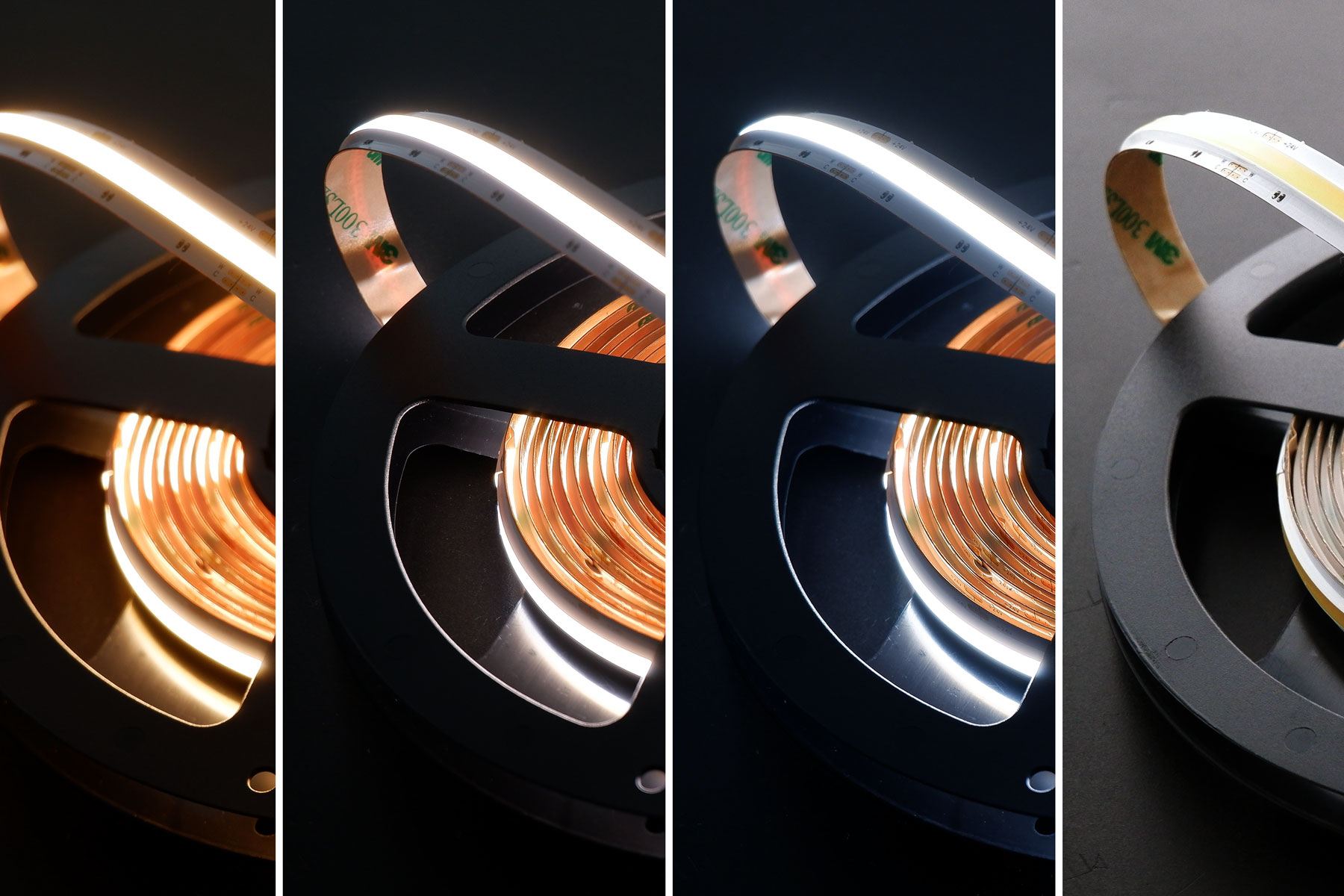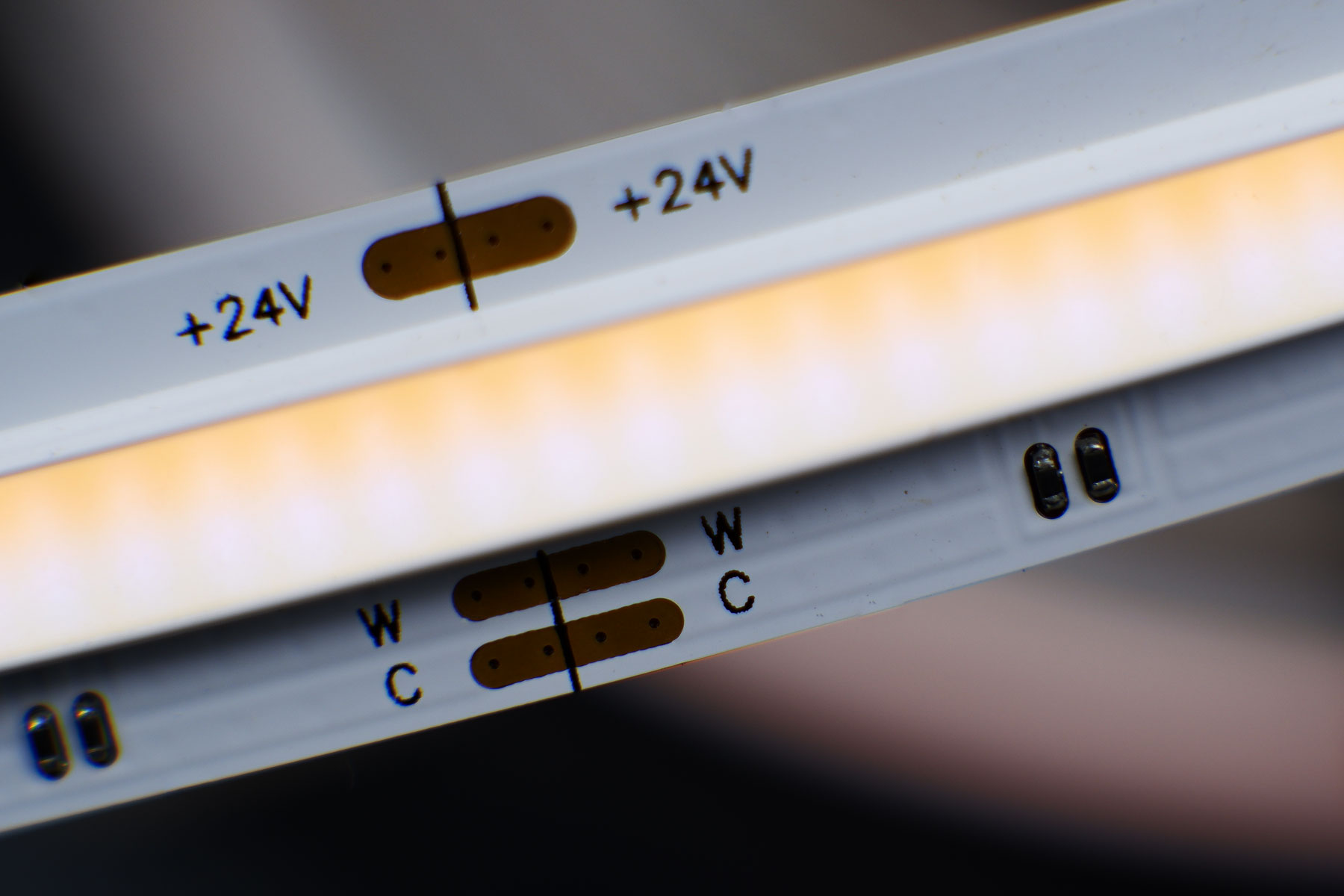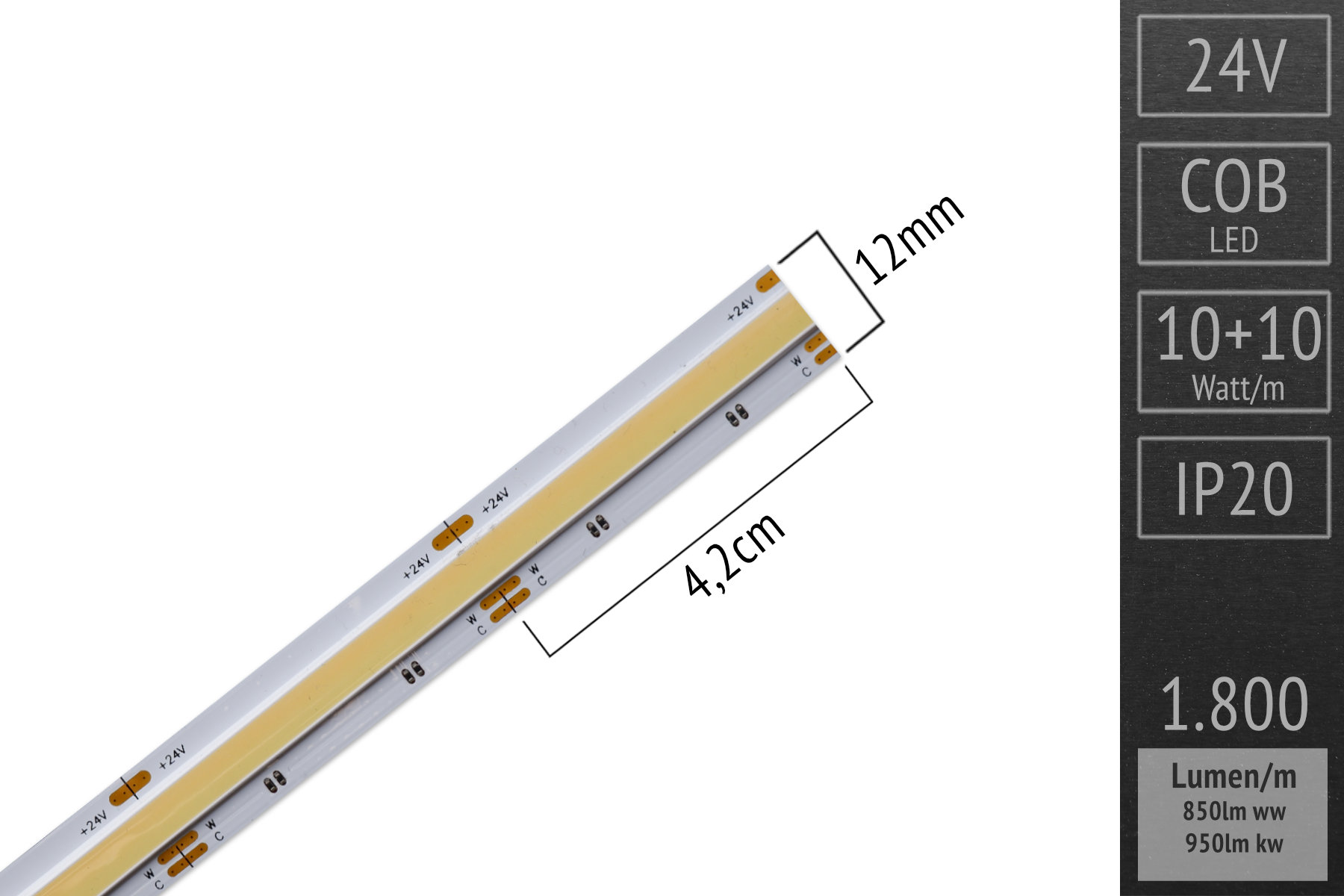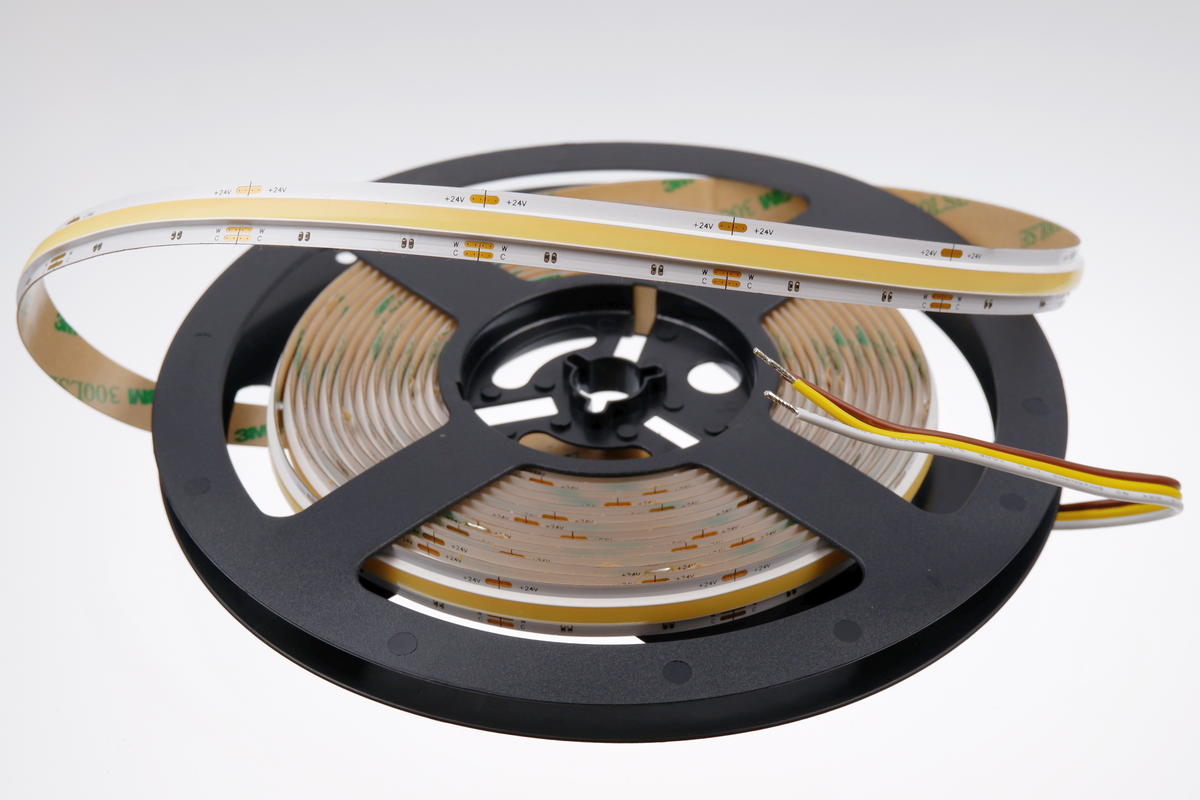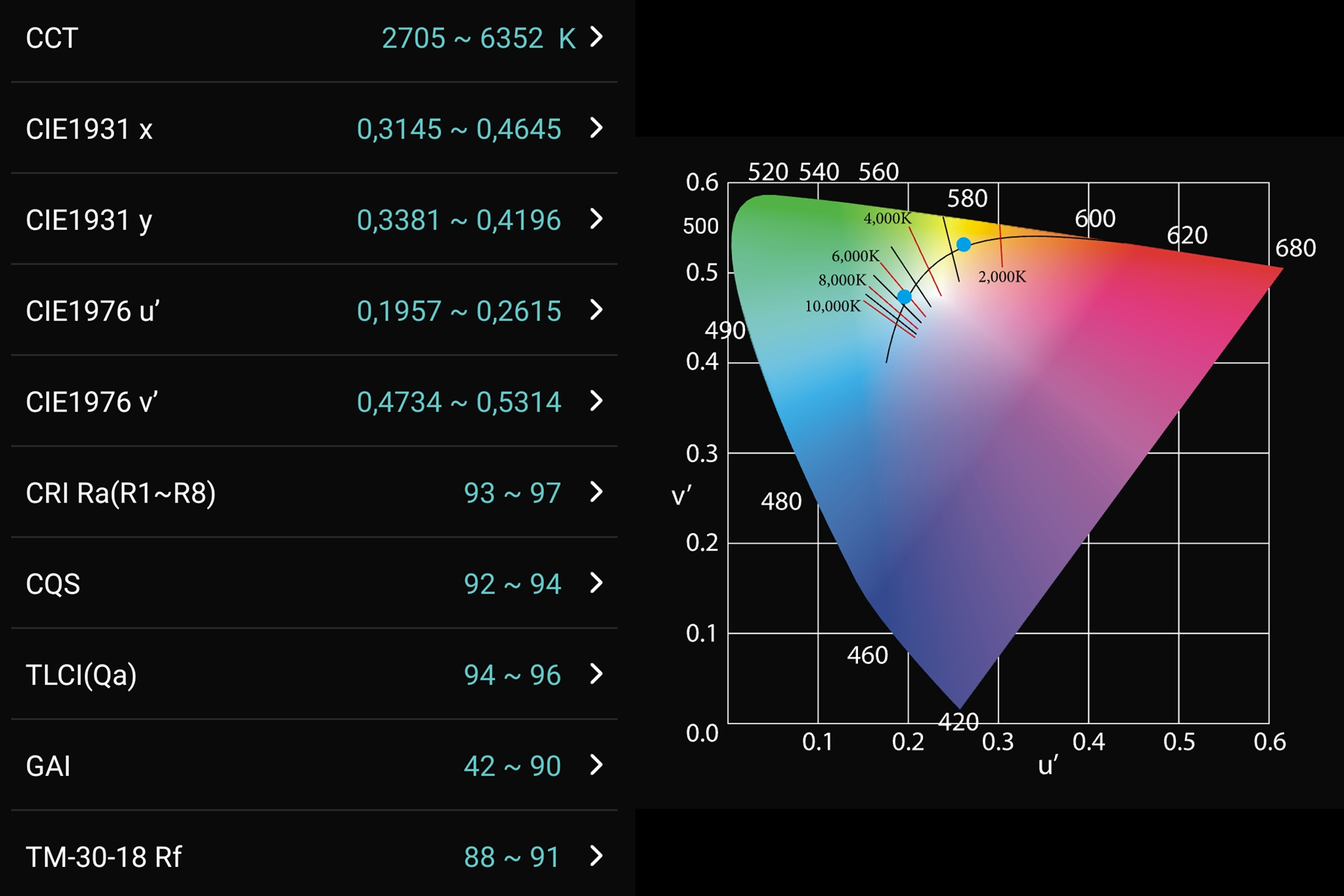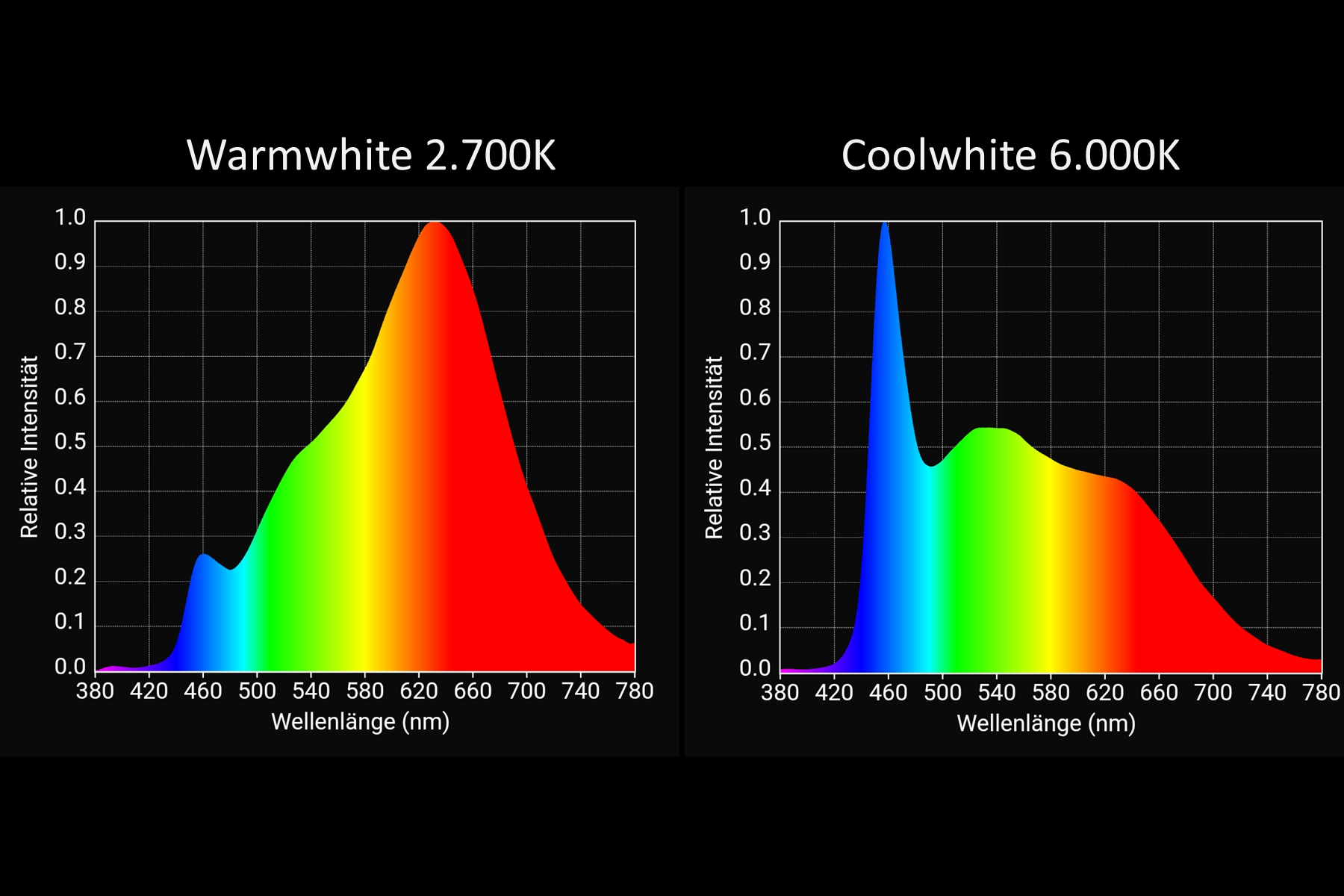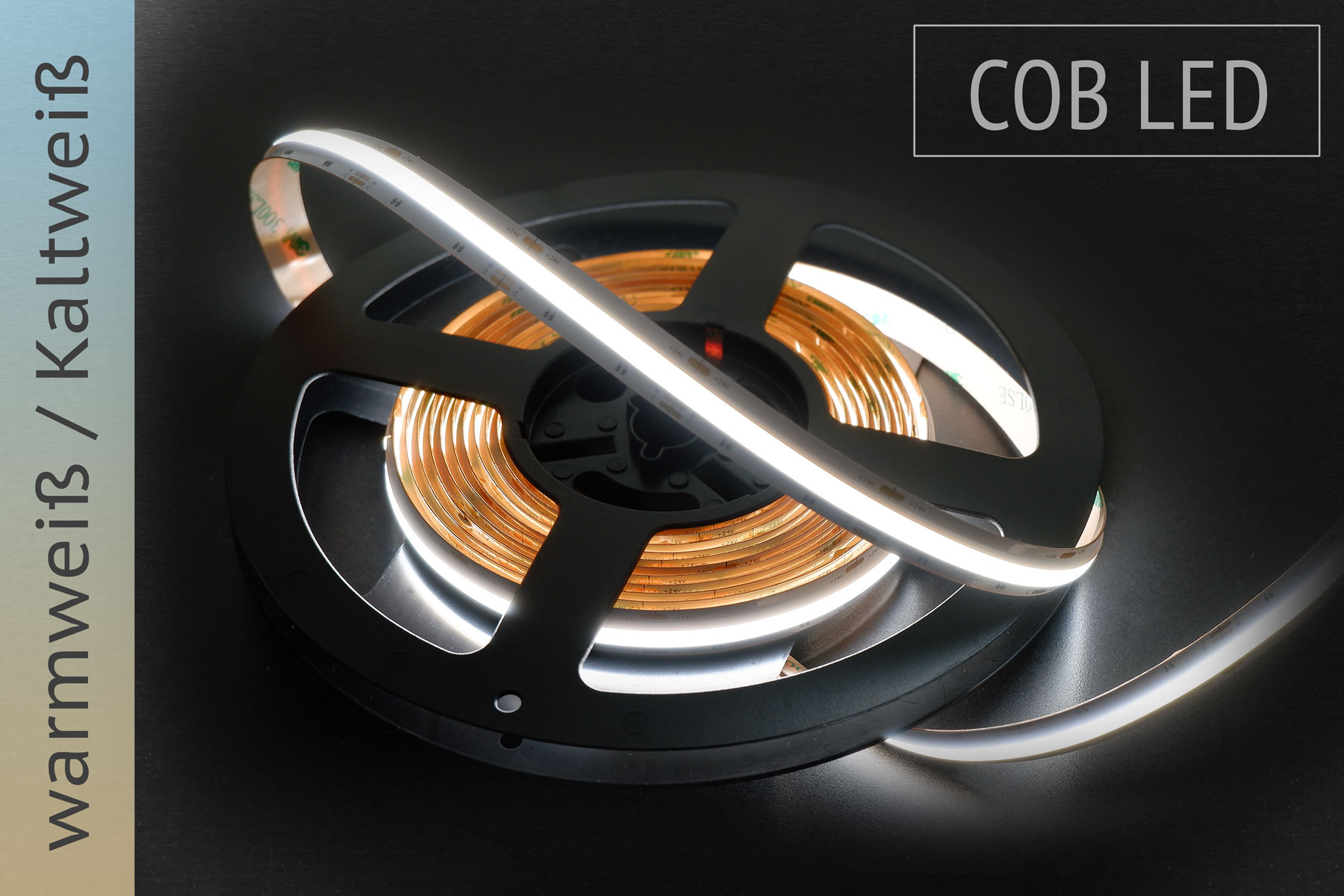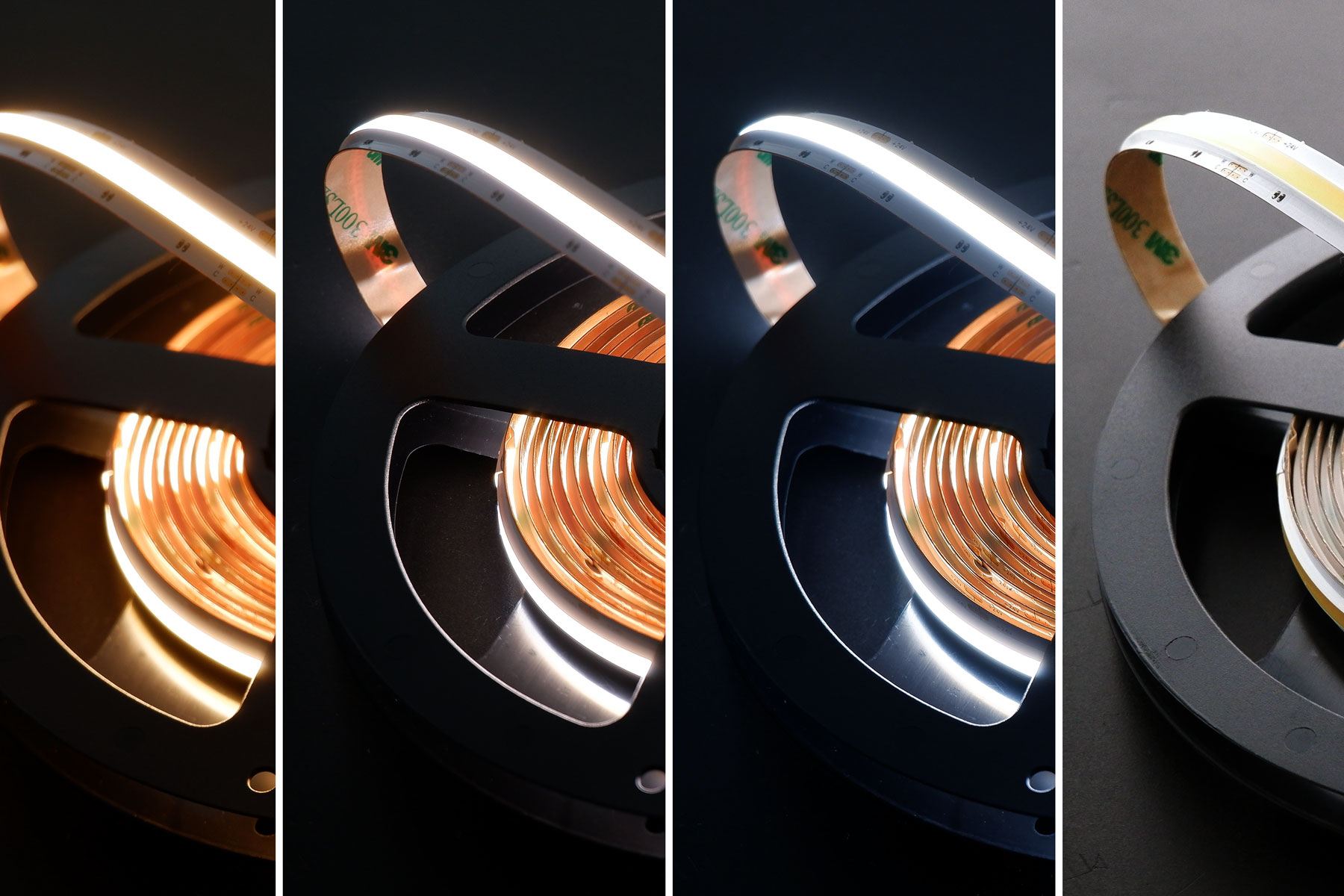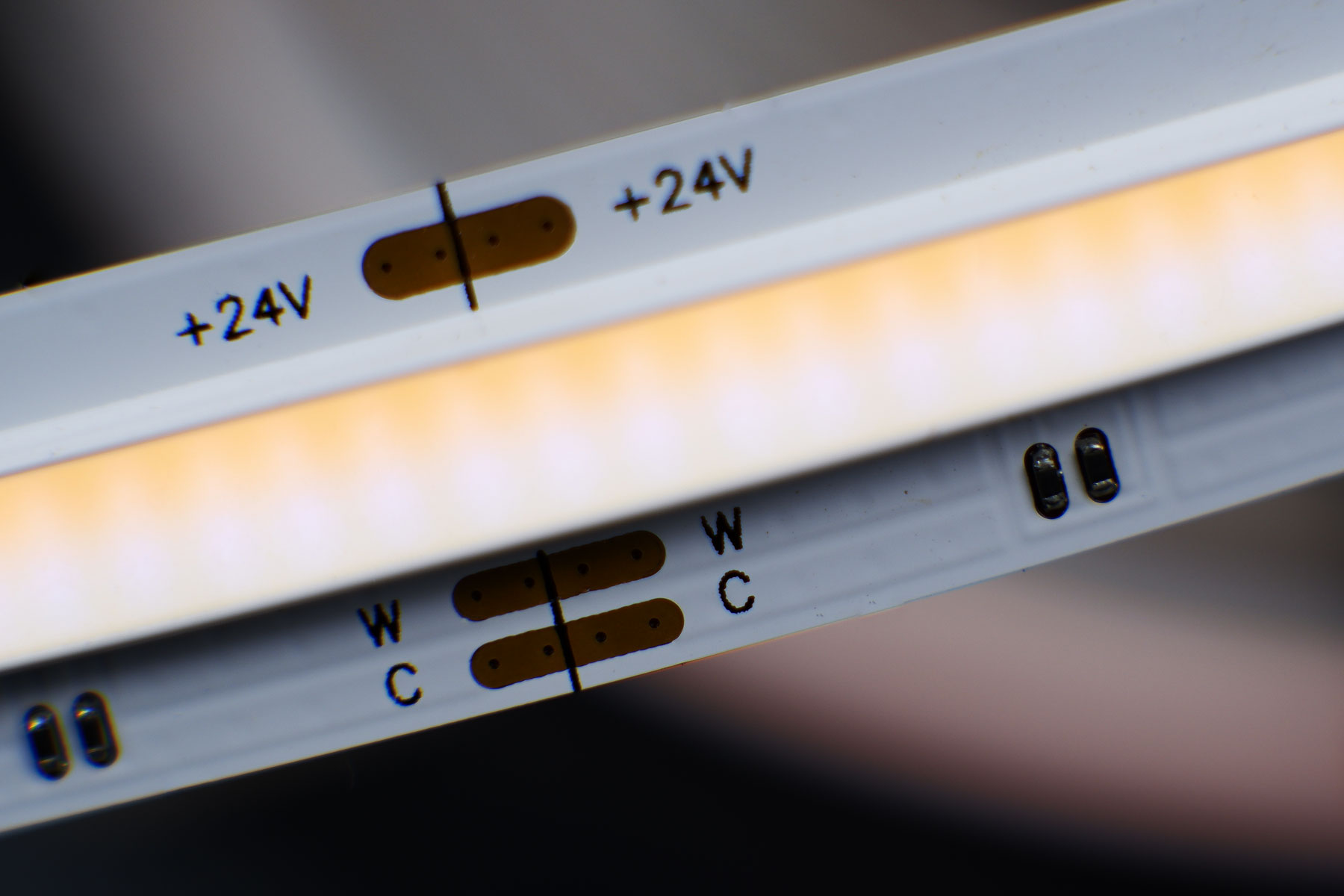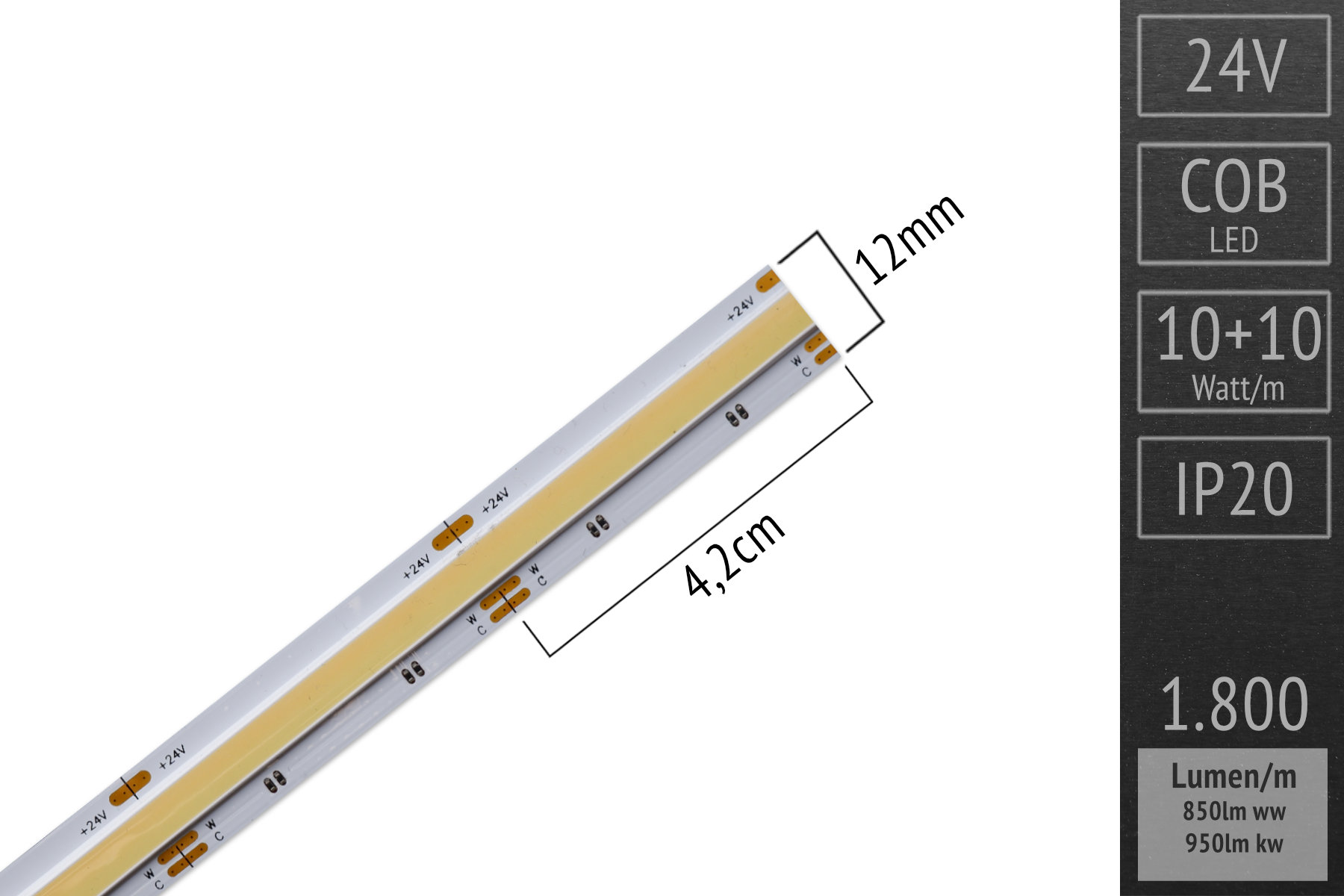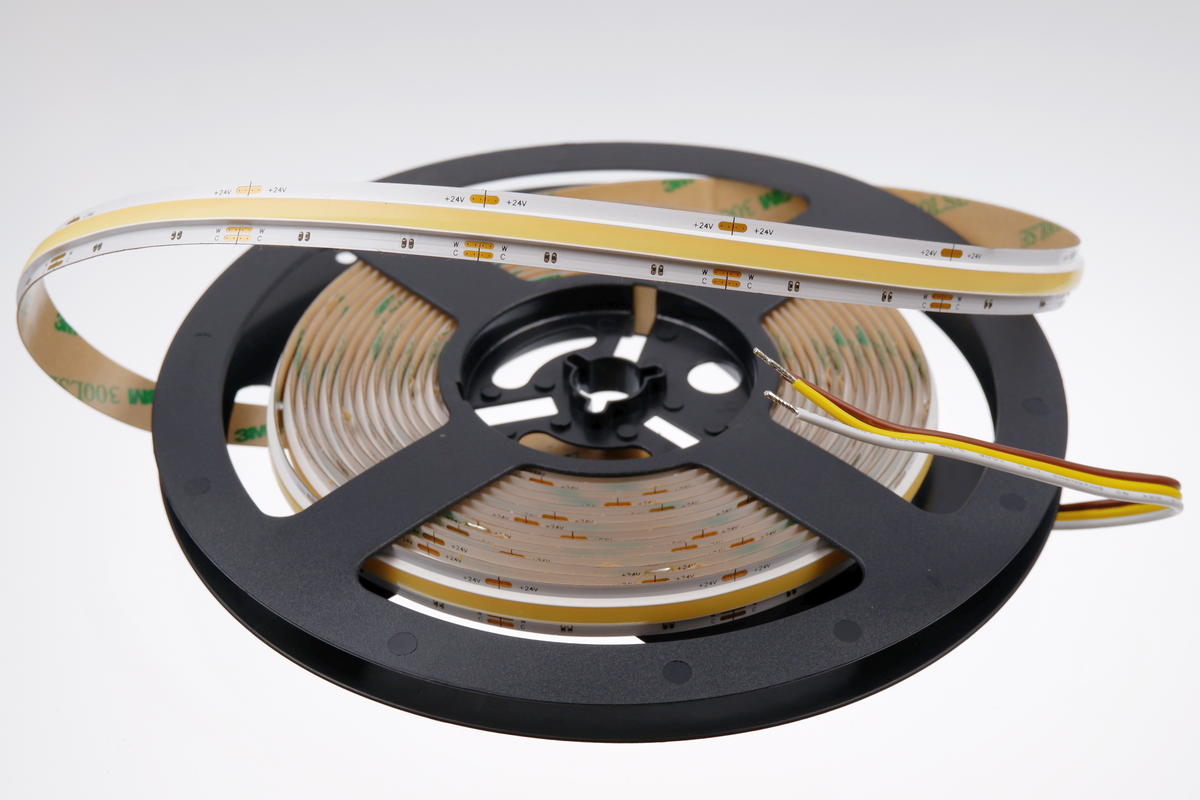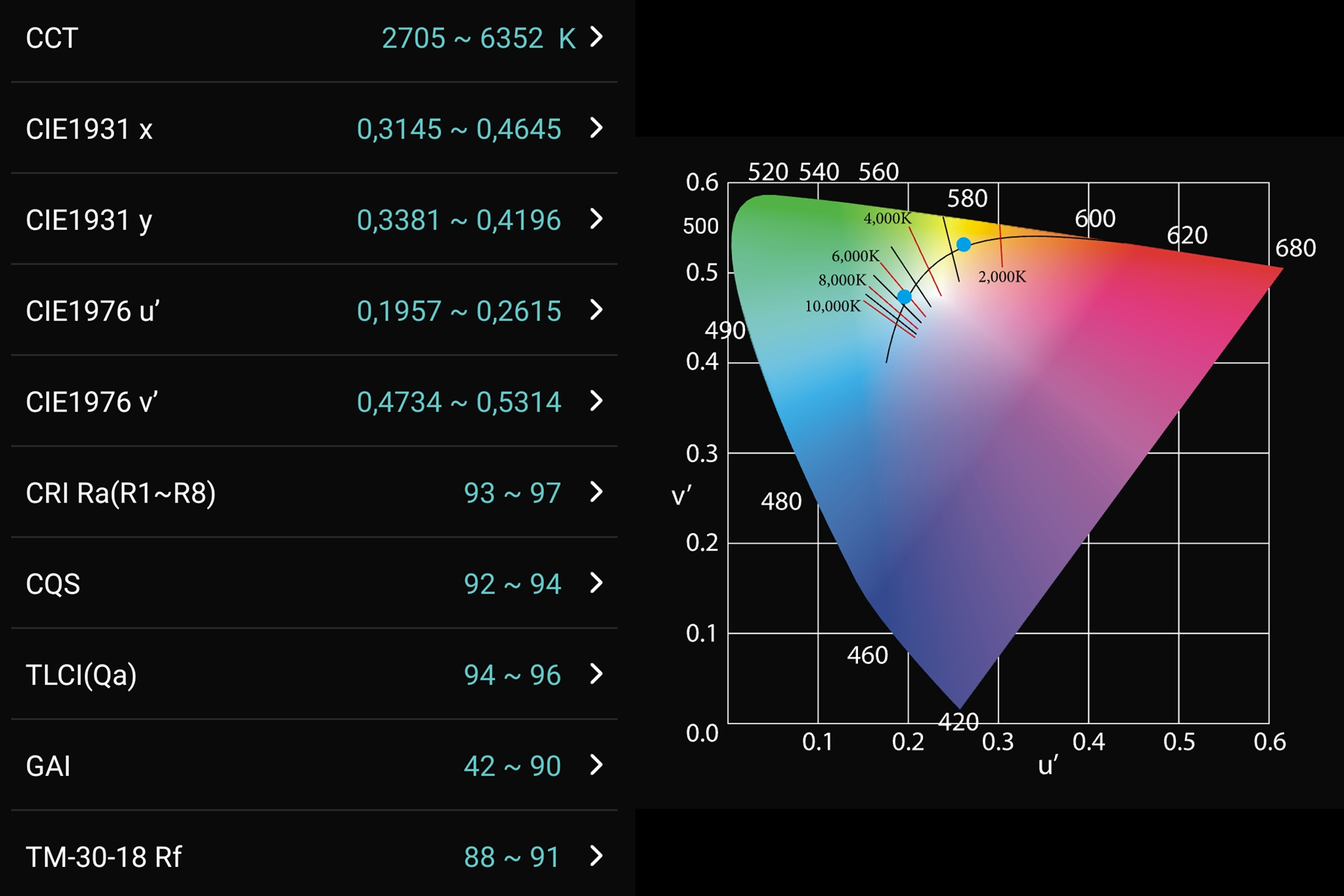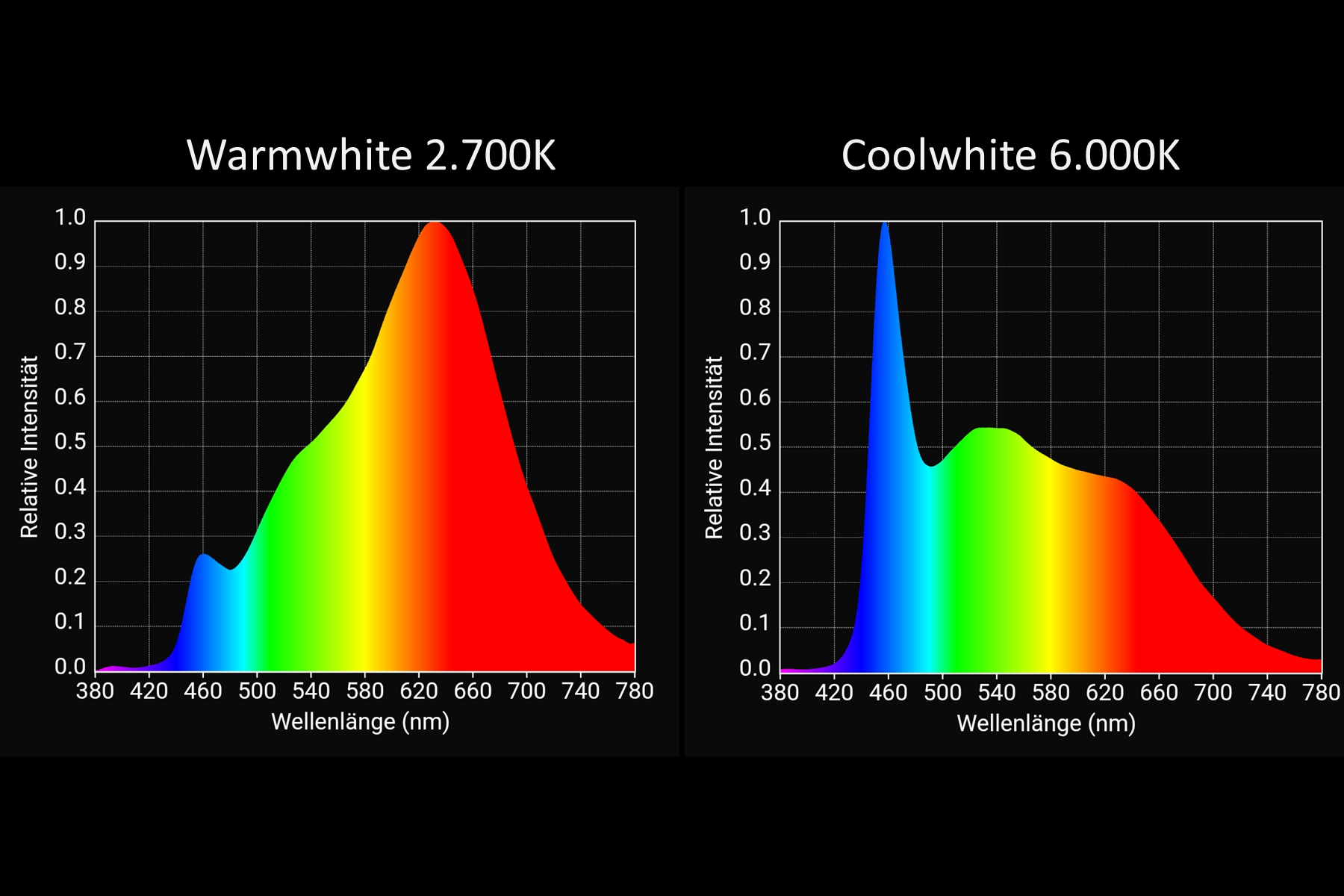 €120.00*
Content:
5 Meter
(€24.00* / 1 Meter)
Available, delivery time 3-5 days
---
LED type: COB
warm white & cool white mixed
2,700 - 6,000 Kelvin
Brightness: max. 850 + 950 lm/m*
Colour rendering: High CRI>90
Voltage: 24V
Power: 19,2 Watt/m (real approx. 10W/m)
Width: 12mm
Price for 1 roll = 5 meters - Buy by the meter -


---

Innovative CCT LED strip where no individual LEDs are visible! A continuously bright, uniform light band is produced.
This has advantages for various applications:
Homogeneous line light, even in very flat aluminium profiles
Continuous, narrow accent or orientation light
Absolutely uniform indirect lighting at very short distances
In this COB LED strip, warm white and cool white LEDs are mixed. This allows the colour temperature to be adjusted flexibly. From warm light similar to incandescent lamps to neutral tones to cool daylight.

*Many LED drivers, such as our LK55 series, keep the brightness of CCT LED strips constant, regardless of the selected color temperature. This means that at a medium color temperature like 4,000 Kelvin, warm white and cool white LEDs are not controlled with 100% each (which would mean 19.2W/m power consumption), but only with approx. 50% each. Thus, the LED strips are always equally bright, no matter which color temperature is set and also the power consumption remains constant at only about 10W/m.


---
Available versions
5m roll IP20 without water protection, incl. 10cm connection cable
The LED tape is also available by the meter in IP20 in lengths of 1 - 30m.
All versions have a 3M adhesive tape on the back for mounting and can be divided every 4.2cm.


---

Notes on accessories:
To operate 5m (1 roll) of LED strips, a 24V power supply with min. 75 Watt is required. 5m x 14W/m = 70 Watt.

https://shop.led-studien.de/de/zubehor/netzteile/24v-netzteile
For brightness controll of 5m a driver with min. 3,2 Ampere is needed. 75W / 24V = 3,2 Ampere.
https://shop.led-studien.de/de/controller/dimmer-1-2-kanal
It is best to use the LED strip with a suitable aluminum profile or other solution for cooling. Due to the high power, the LEDs would lose brightness and lifetime very quickly without an aluminum profile. We recommend aluminum profiles with cover to protect the LEDs like our PL1.
Answers to frequently asked questions can be found in our FAQ.


---
Properties "Novelty: COB LED strips with adjustable color temperature (CCT): 24 volts - CRI>90"
Brightness lm/m:

800

, 900

Colour rendering:

CRI>90

Colour temperature:

einstellbar

Energy efficiency class (EEK):

E

Power:

20

Seperatable every (cm):

4,2 cm

Strip width in mm:

12

Voltage:

24V

Water protection:

IP20 without waterprotection

LED/m:

COB
Data according to manufacturer. Errors and changes reserved.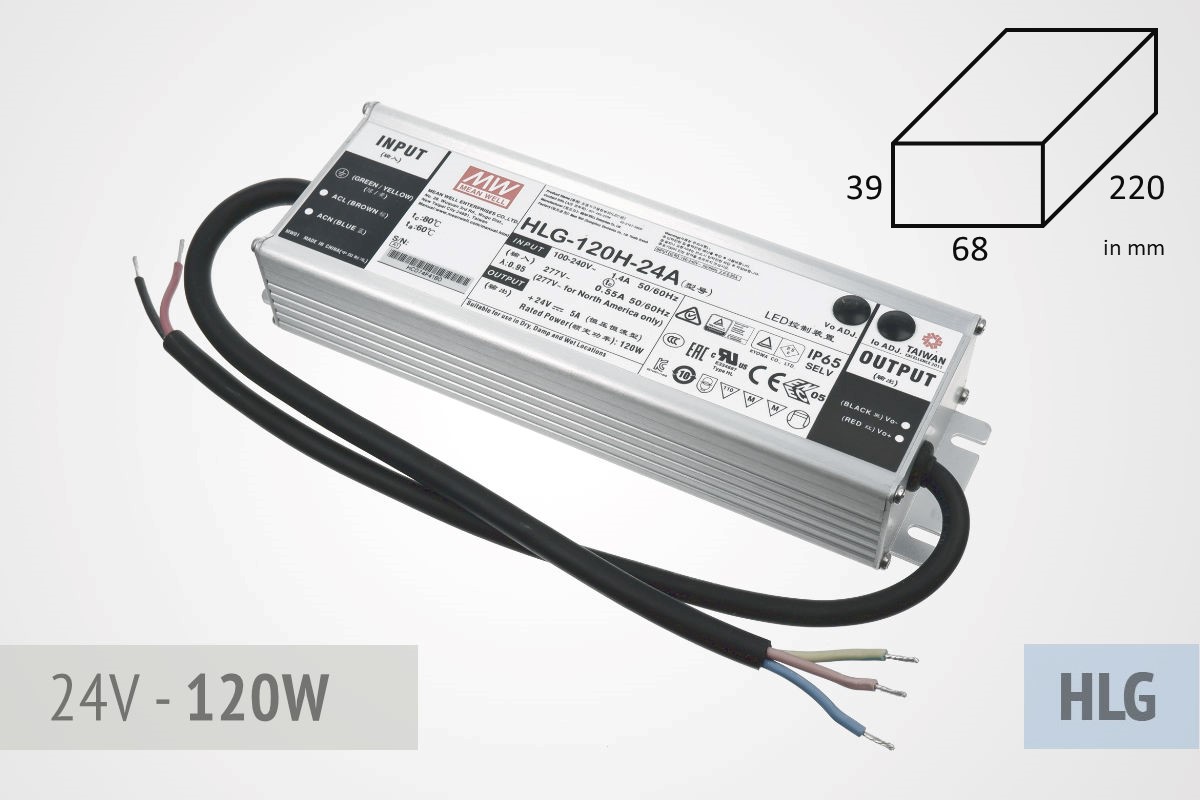 Power supply HLG 24V - 5A - 120 Watt, extremely quiet
Switching power supply Meanwell HLG-120-24, 24 Volt, 5 Ampere, 120W Overload protection by current limitation, auto recovery protected against short circuit, overload, overvoltage built-in PFC circuit for indoor and outdoor use (IP65) adjustable output voltage adjustable current limitation Technical data: Model HLG-120-24 Voltage 24V Maximum power 120W Current 5A Adjustable voltage range 22 ~ 27V Overcurrent protection 95...108% Inrush current, max. 65A Voltage input 90...264V AC (47...63Hz), 127...370V DC Power factor 0,95 Working temperature -40...+70°C Dimensions 2220x68x38.8mm (LxWxH) Weight 1,120g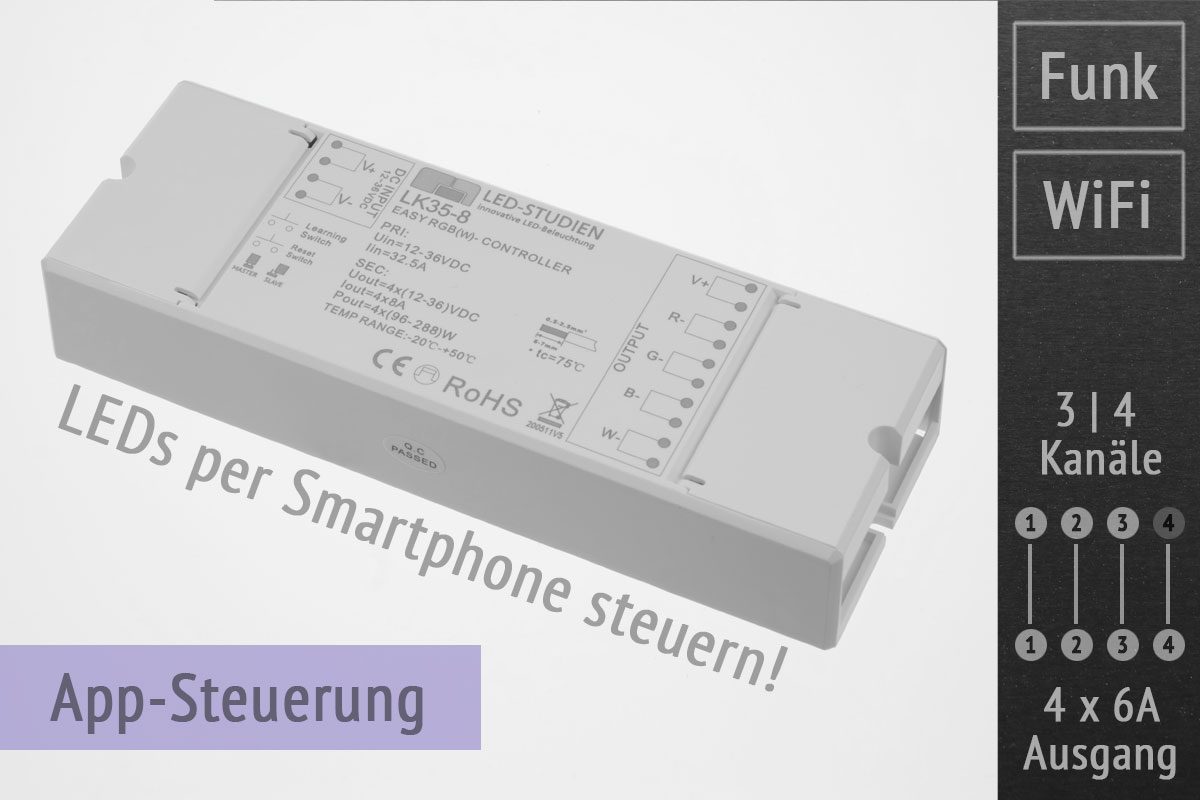 Control via app with the WLAN variant of the LK55 | 4 x 6A
The combined radio/WiFi driver is a classic LK55 with built-in WLAN receiver and sets standards in this field. It can be operated with a radio remote control (LK55 series) or also via smartphone with iOS or Android. Corresponding apps are available: EasyLighting App for Android / für IOS RealColor App for Android / für IOS In the standard version, the receiver has its own integrated access point for WLAN control. However, the receiver can also be set as a WLAN client via an integrated configuration page. This connects the receiver to an existing WLAN at home and provides its services without changing the network. If several cell phones or tablets are used, a simple share function can be used to transfer the learned drivers from one app to another. This means that it is not necessary to retrain the drivers, even if the cell phone is changed, for example. The driver can additionally be operated with remote controls. The hand- and wall controls of the LK55 series are suitable for this purpose. Notes: All drivers of our LK35/55 series remember the last setting even in case of power loss. If you want to operate several light zones independently of each other, several drivers are always necessary. drivers with several outputs (like here 4 x 6A) are not suitable to operate several zones, because the outputs can only be controlled together (parallel). Technical data: Channels: 3/4 (e.g. RGBW) switchableVoltage: 12V-36V DCPower: up to 24A power supply via external switching power supply (not included), max. 6A per channelConnection: input: V+/ground; output: Ch.1-4 (R,G,B,W) ,V+IP class: IP 20 Dimensions (L*W*H): 171x58x28mm Note: The driver has double voltage inputs (++--). For high connected load (> 200 Watt), use our special connection cables for high connected loads (> 200 watts) in order to divide the current load between the two inputs. The large power supplies HLG-480 and HLG-600 already have double voltage outputs, so that both voltage inputs of the driver can be used directly here. Instruction video for the installation of the LK35-8
Suitable remote control for driver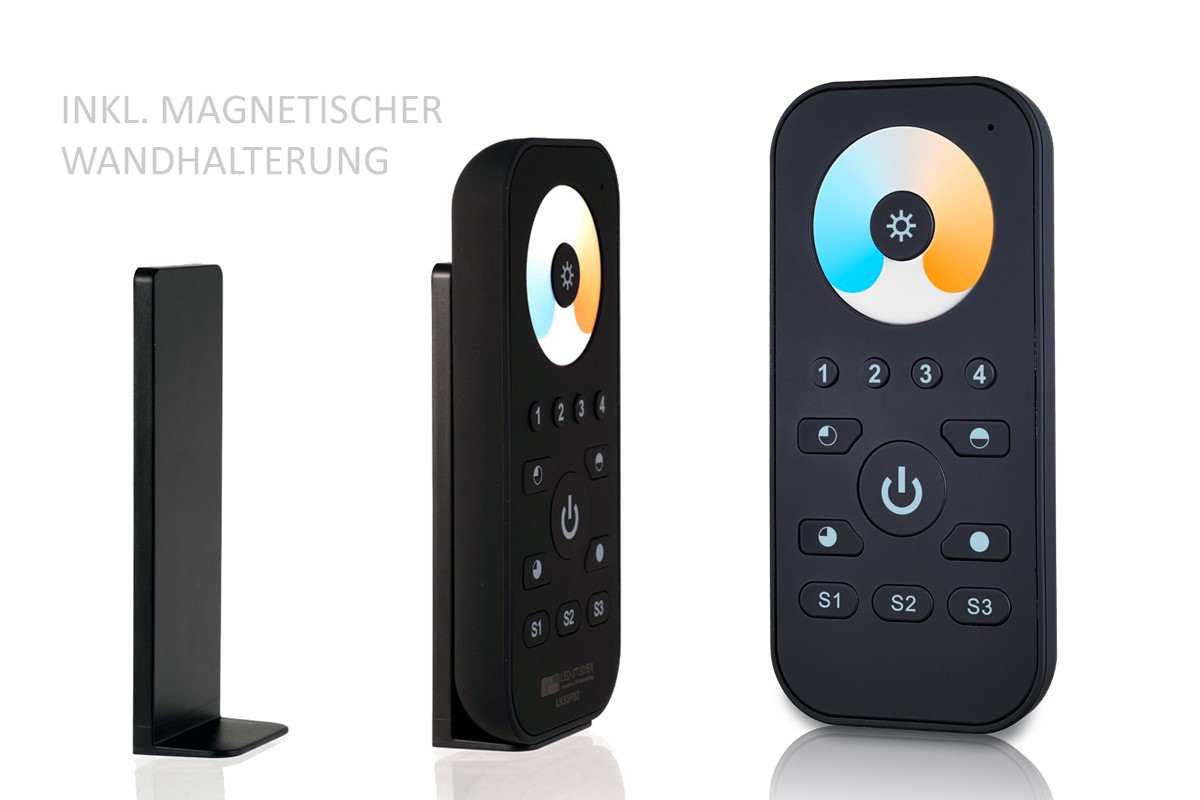 CCT remote control with touch wheel | 4 zones
Color temperature & brightness control, up to 4 light zones controllable Touch wheel for color temperature selection 3 memory buttons for individual settings All remote controls can operate all drivers / receivers of the LK55 series and, if required, also the WiFi driver LK35. It is also possible for several remote controls to operate one driver. E.g. a handheld remote control and an additional wireless wall panel or several wireless wall panels at different positions in the room. If required, up to 8 remote controls can operate 1 driver. Technical data: Item no. LK55FB2 Power supply 3 x 1,5V AAA batteries Dimensions (LxWxH) 120x55x17mm Operation: Note: The brightness always remains about the same when the color temperature is changed. With a medium color temperature, warm white and cool white LEDs are only controlled with about 50%, so that you can always set brightness and color temperature completely independently of each other.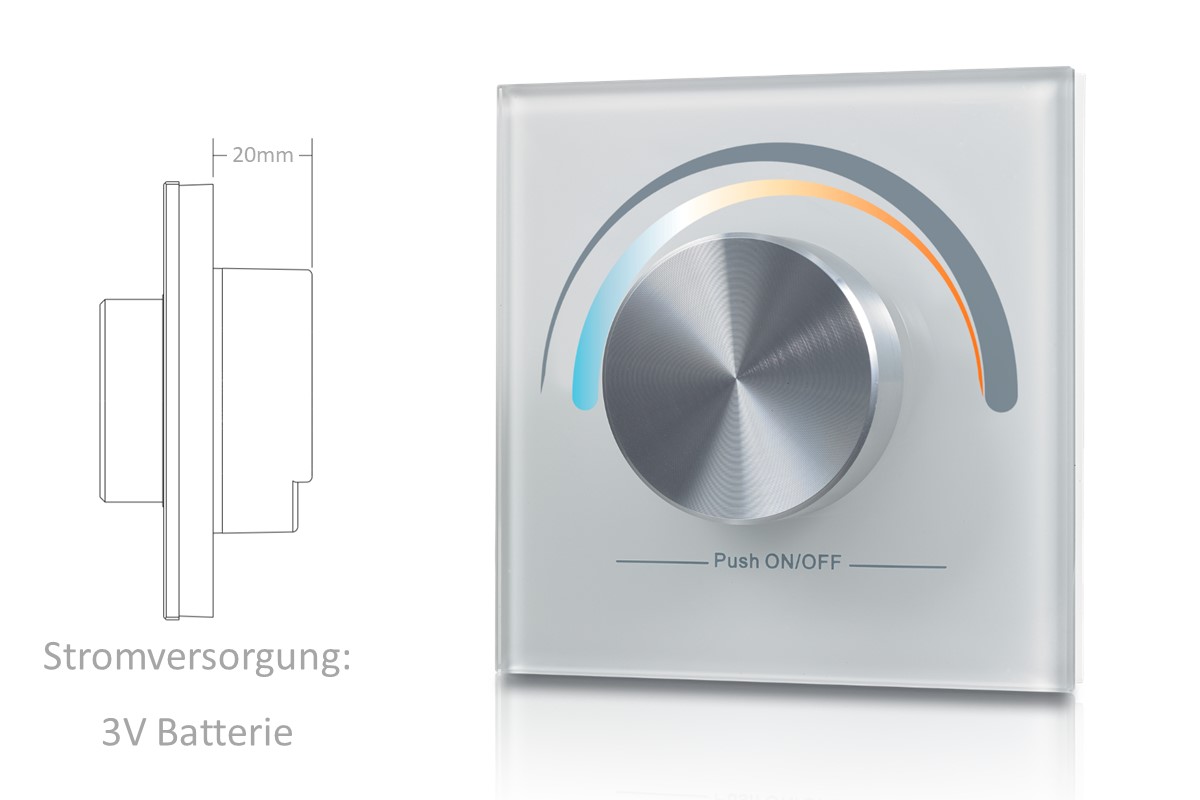 Wall control for brightness & color temperature | 1 zone
for LK55 series receivers Controllable zones: 1 This wall controller can be used to control the brightness and color temperature of an LED installation, e.g. for strips with mixed warm white and cool white LEDs. The RF radio version does not require direct visual contact between remote control and receiver. Suitable drivers/receivers can be found in our universal series LK55. The wall control works with a push-poti: Press once: light is switched on/off Press twice: Switch between brightness and color temperature control. The rotary control can then be used to set brighter/darker or warmer/cooler in each case. Note: The brightness always remains about the same when changing the color temperature. With a medium color temperature, warm white and cool white LEDs are only controlled with about 50%, so that you can always adjust brightness and color temperature completely independently. The range of the radio signal is up to 30m. Visual contact is not necessary. Solid walls made of concrete, brick or similar naturally weaken the radio signal. Combination with switch series of well-known manufacturers The housing frame of the controls measures 86x86mm with a depth of 12mm. In case you want to combine the wall control with light switches, sockets etc., the following switch series are similar in design and dimensions: MERTEN M-Plan GIRA E2 (flat installation) JUNG Serie A Creation KOPP HK i8 ROHDE+ROHDE Check the exact dimensions directly with the manufacturers. Combination of controls & drivers One controller can control any number of drivers and up to 8 wall controllers can address the same driver. Thus, for example, wall controllers can be placed at several locations in the room or, if necessary, combined with classic hand-held remote controls.
Product number:
LK55WCCTw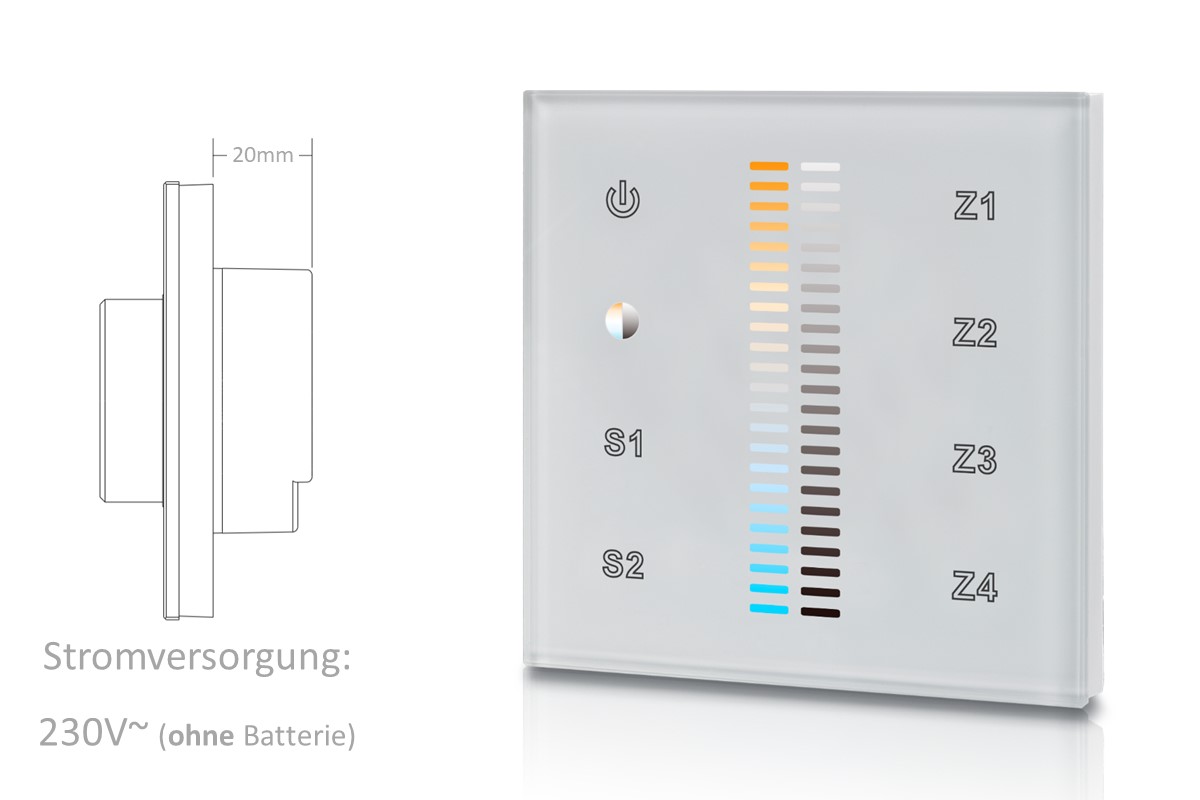 Wall-mounted touch remote control for CT & Diming | 4 zones
for LK55 series receivers Controllable zones: 4 Power supply: 230VAC This wall control in touch panel design can be used to control the brightness and color temperature of an LED installation, e.g. for strips with mixed warm white and cool white LEDs. The RF radio version does not require direct visual contact between remote control and receiver. Suitable controllers/receivers can be found in our universal series LK55. The touch control can control 4 different light zones separately. In addition, 2 frequently used color temperatures can be stored on quick selection buttons. Note: The brightness always remains about the same when changing the color temperature. With a medium color temperature, warm white and cool white LEDs are only controlled with about 50%, so that you can always adjust brightness and color temperature completely independently. The range of the radio signal is up to 30m. Visual contact is not necessary. Solid walls made of concrete, brick or similar naturally weaken the radio signal. Combination with switch series of well-known manufacturers The housing frame of the controls measures 86x86mm with a depth of 12mm. In case you want to combine the wall control with light switches, sockets etc., the following switch series are similar in design and dimensions: MERTEN M-Plan GIRA E2 (flat installation) JUNG Serie A Creation KOPP HK i8 ROHDE+ROHDE Check the exact dimensions directly with the manufacturers. Combination of controls & drivers One controller can control any number of drivers and up to 8 wall controllers can address the same driver. Thus, for example, wall controllers can be placed at several locations in the room or, if necessary, combined with classic hand-held remote controls. Technical data: Item no. LK55TACCTw Power supply 110-240VAC Dimensions (WxHxD) 86x86x12mm, Installation depth: 20mm Operation:
Product number:
LK55TACCTw