1m LED strip RGB 3in1 5 Volt: 60 LEDs/m - 18 W/m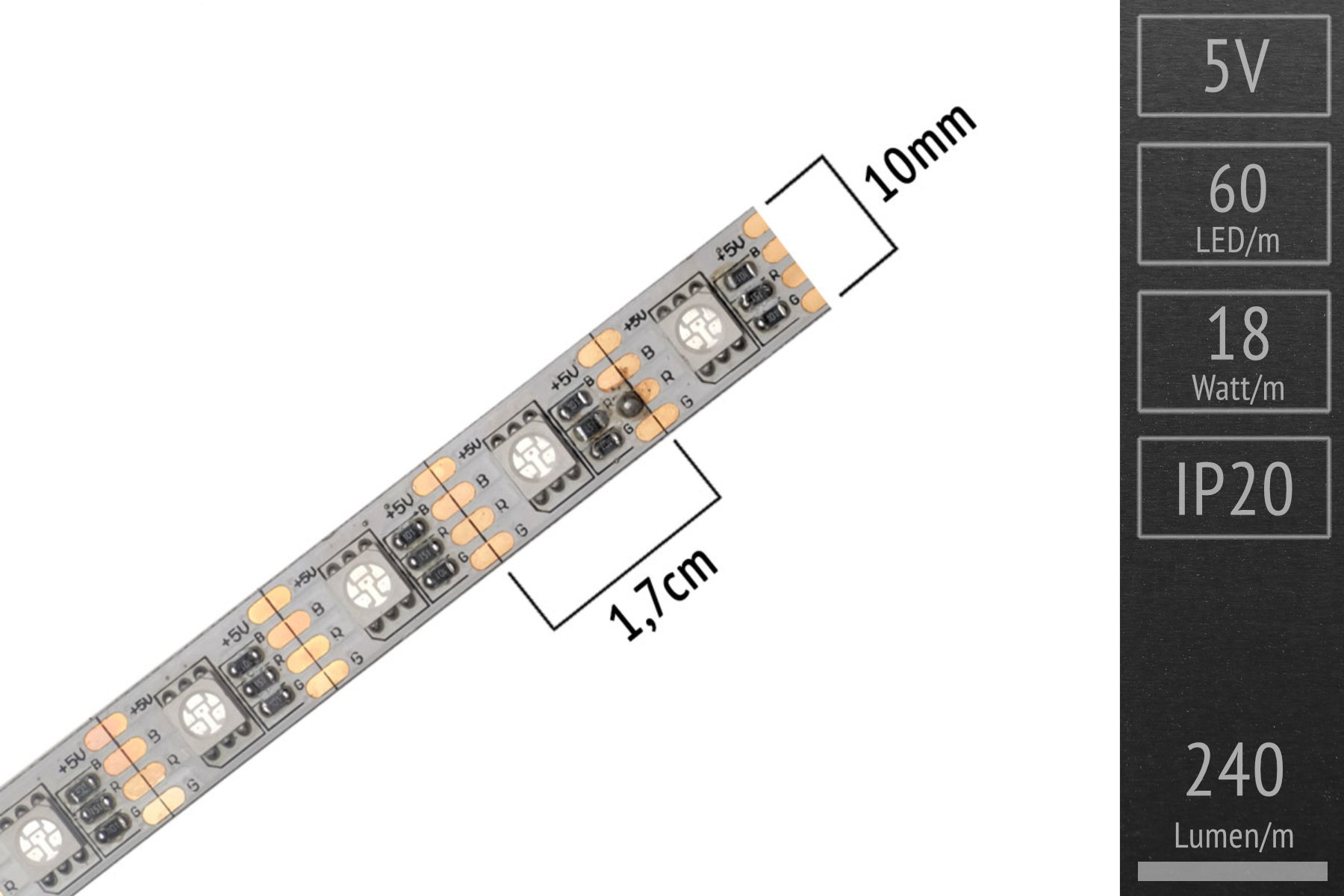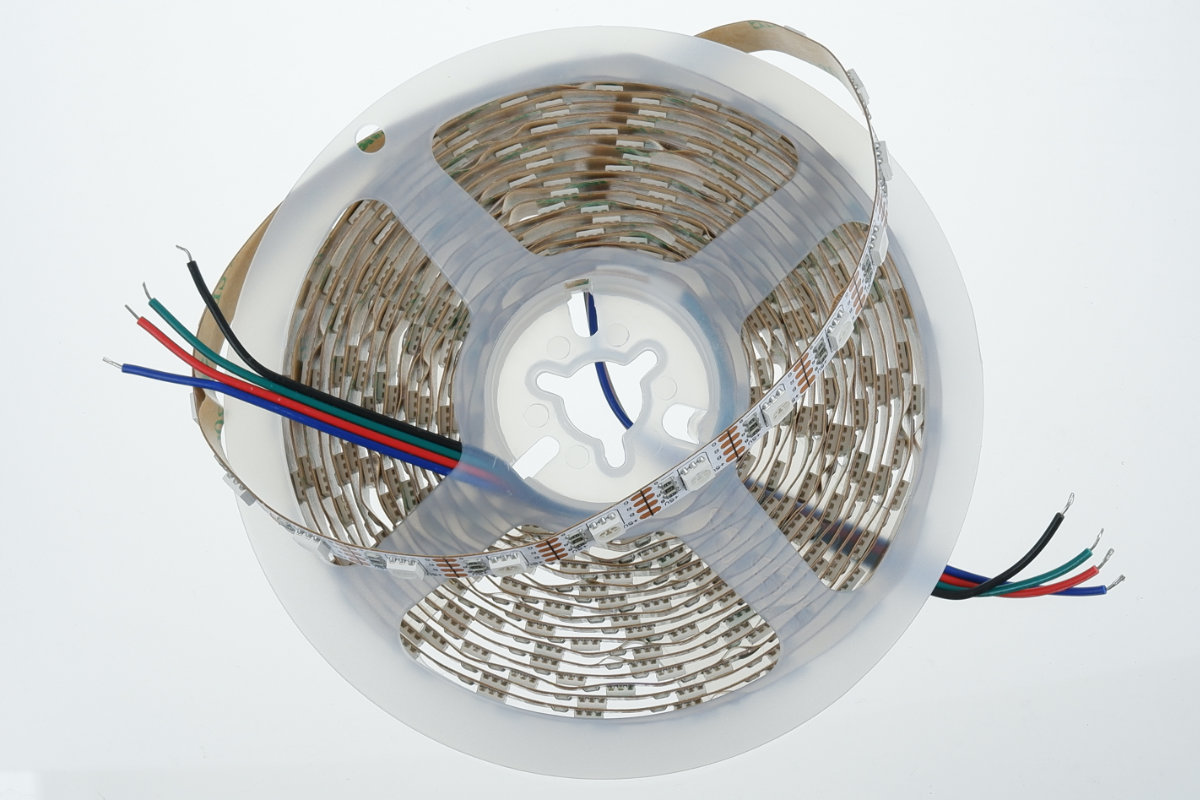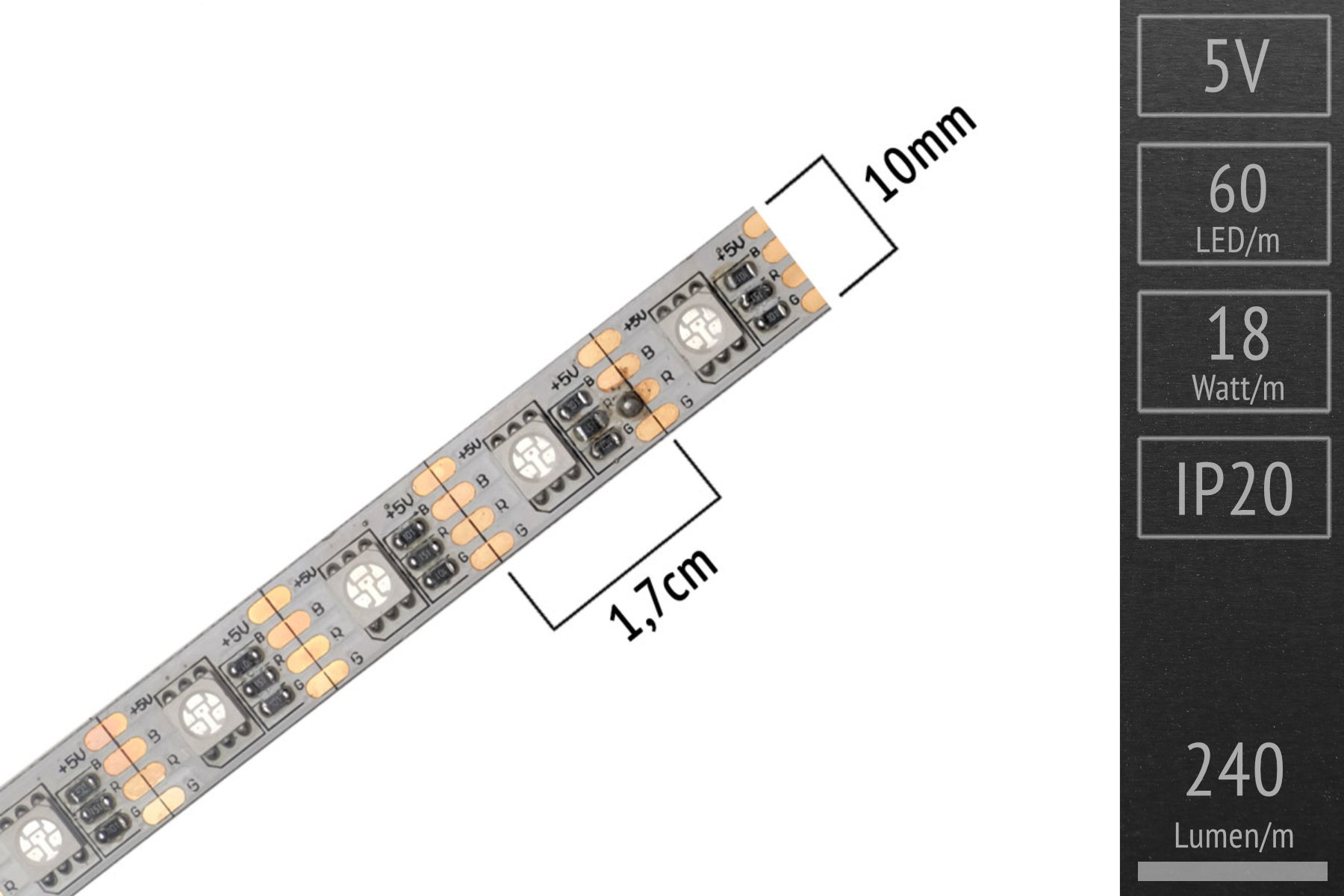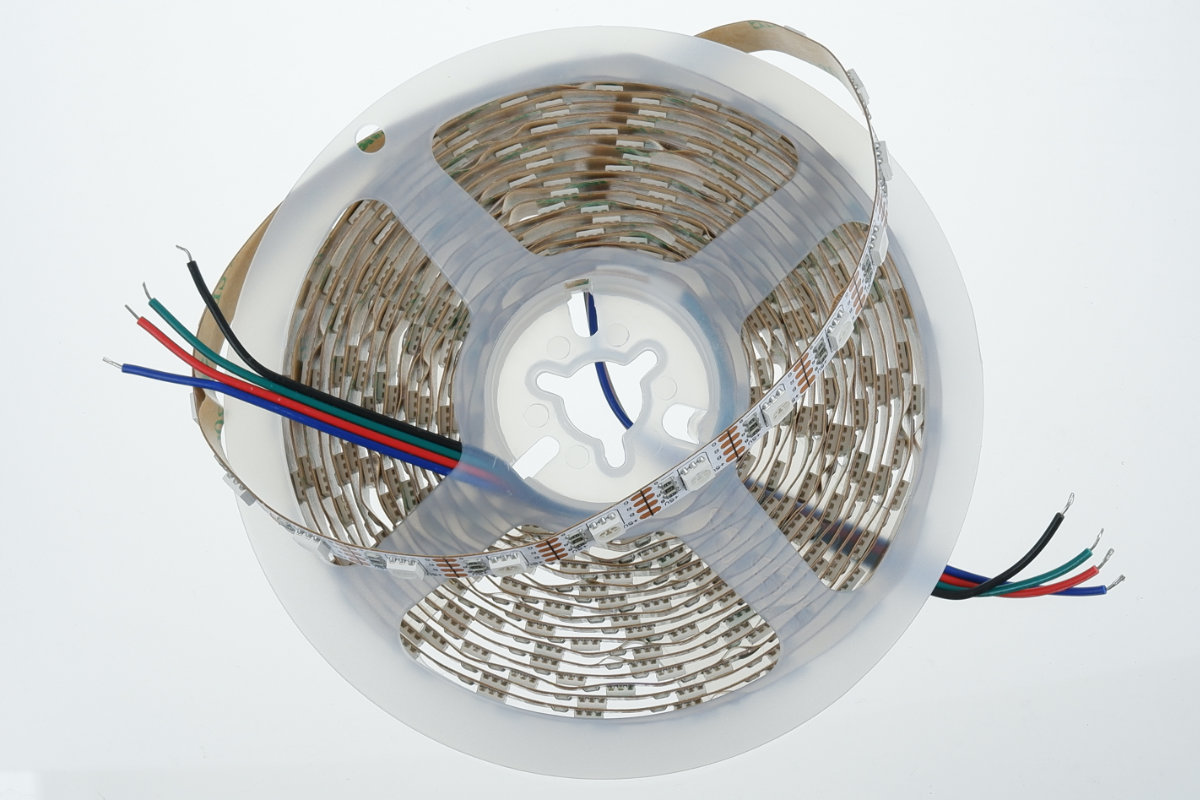 Available, delivery time 3-5 days
---
LED Typ: 5050 RGB-LEDs (3in1 -all colors in one LED)
60 RGB-LED/m
Brightness: total approx. 240 lm/m
Red: 30 lm/m
Green: 170 lm/m
Blue: 40 lm/m
Voltage: 5 Volt
Power: 18 Watt/m
Width: 10mm
divisible after each RGB LED (every 1,66cm)

---

RGB special LED strip with high brightness for 5 Volt operation.
Due to the low operating voltage of only 5V, this LED strip can even be operated directly via a USB power supply or on the laptop! However, note the high power of 18 watts/m or 3.6 amps/m! For example, only a maximum of 8 LEDs (13cm) can be operated at a USB port on the computer, since this USB output can only handle 0.5 amps.
Therefore please pay attention to our hints for accessories in any case! Power supplies that can operate up to 7m of this LED strip are available in the store.


---

Scope of delivery:
1m RGB strip 5V 60 pieces 5050 LEDs
- up to 5m available in one piece -


---

Notes on accessories:
To operate 1m LED strips a 5V power supply with min. 20 Watt is needed. 1m x 18W/m + 10% safety = 20 Watt.
https://shop.led-studien.de/de/zubehor/netzteile/5v-netzteile
For color control of the 1m strip, an RGB controller (min. 3-channel) with min. 3 x 1.35 Amps is required. 20W / 5V / 3 = 1.35 Amps.
https://shop.led-studien.de/de/controller/standard-rgbw
Answers to frequently asked questions can be found in our FAQ.


---
Properties "1m LED strip RGB 3in1 5 Volt: 60 LEDs/m - 18 W/m"
| | |
| --- | --- |
| Brightness lm/m: | 200 |
| Energy efficiency class (EEK): | G |
| Power: | 18 |
| Seperatable every (cm): | 1,7 cm |
| Strip width in mm: | 10 |
| Voltage: | 5V |
| Water protection: | IP20 without waterprotection |
| LED/m: | 60 |
Data according to manufacturer. Errors and changes reserved.
Accessories for 5V LED stip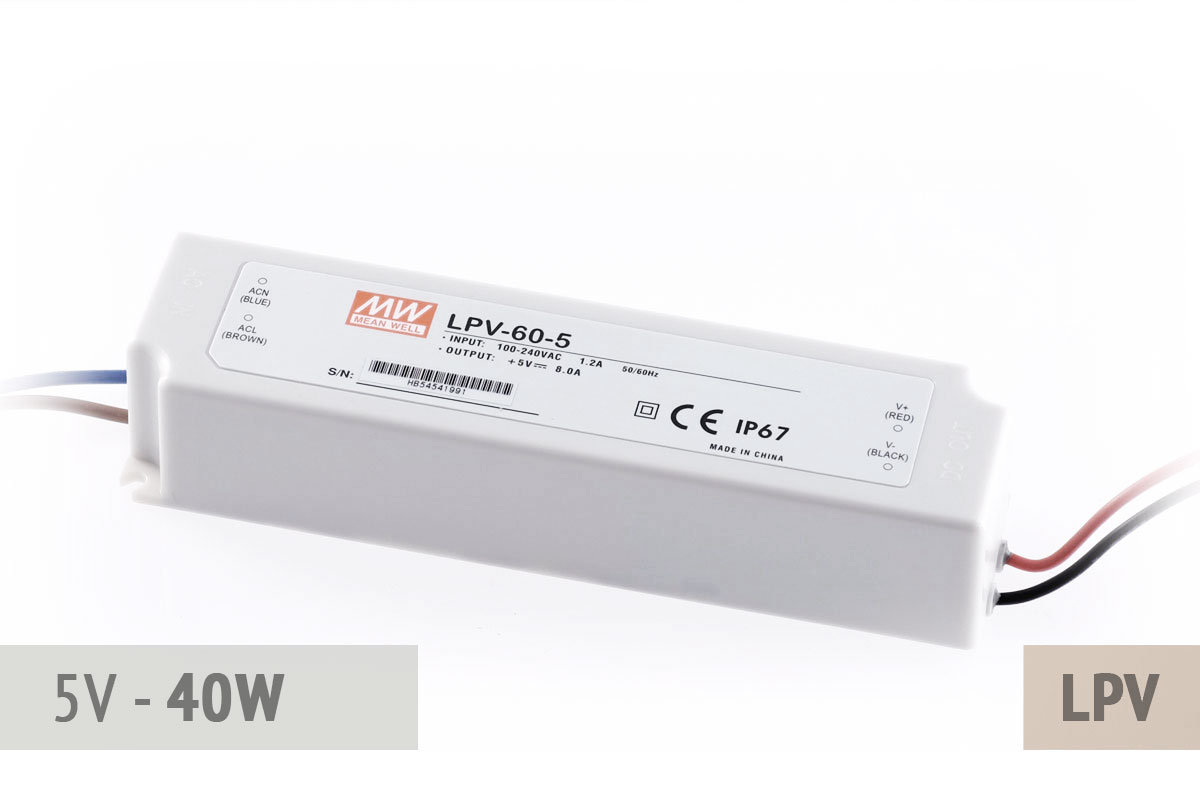 Power supply 5V - 8A - 40 Watt
Switching power supply LPV-60-5 5V/8A/40W (MW 60W class) Universal input overload protection by shutdown, auto recovery protected against short circuit, overload, overvoltage IP67, for indoor and outdoor applications for LED and lighting applications UL1310 Class 2 fixed output voltage Insulation voltage (I/P-O/P): 3000V AC Technical data: Model LPV-60-5 Voltage 5V Maximum power 40W Current 8A Overcurrent protection 110...150% Inrush current, max. 60A Voltage input 90...264V AC (47...63Hz) Working temperature -30...+70°C Dimensions 162x42,5x32mm (LxWxH) Weight 400g Note: The LPV60 offers only 40 watts maximum power in the 5V version.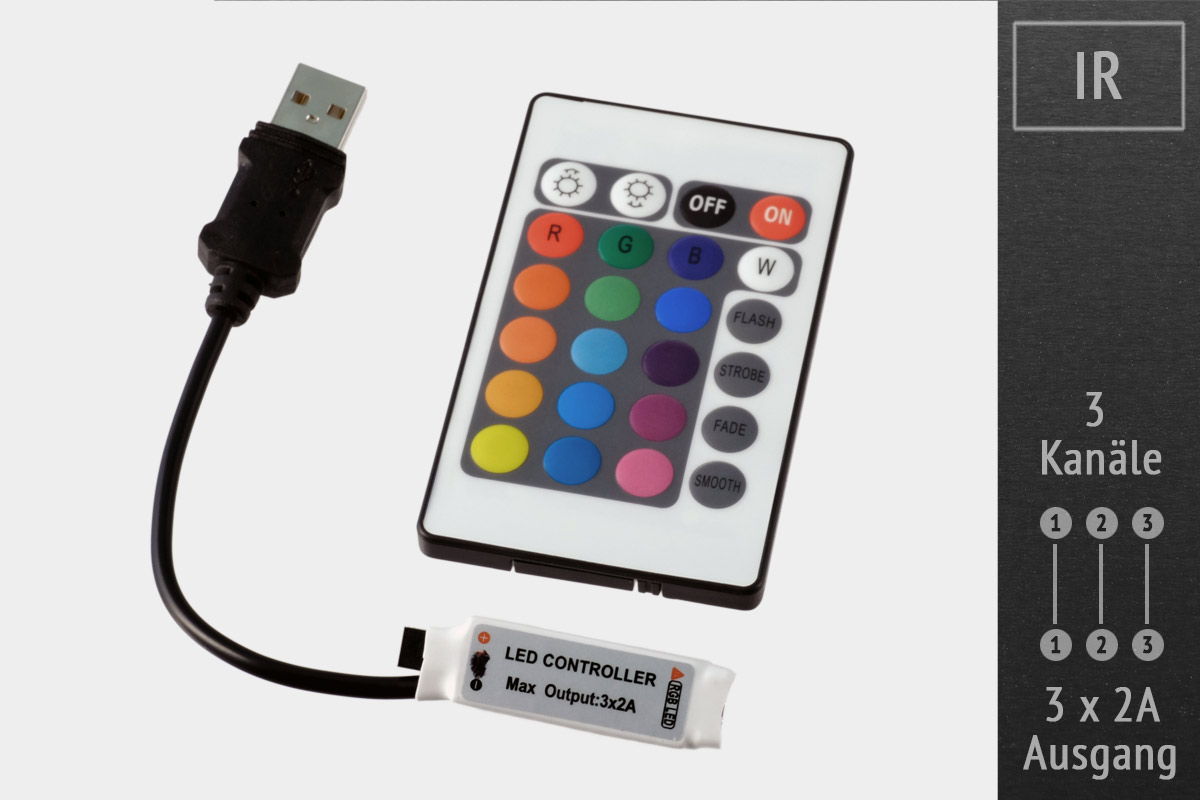 RGB-LED micro controller 5V, 3x2A, incl. IR remote control
This Set is an ultra compact solution to operate RGB LED systems. The receiver is smaller than most USB sticks and can therefore fit in many aluminium LED profiles. Nevertheless the controller offers 3x2 ampere output load which is more than enough for smaller RGB LED installations. Power is supplied by a typical USB-A Port with 5V.With the set comes a compact infrared remote control.