ZigBee remote with 4 pushbuttons (battery powered)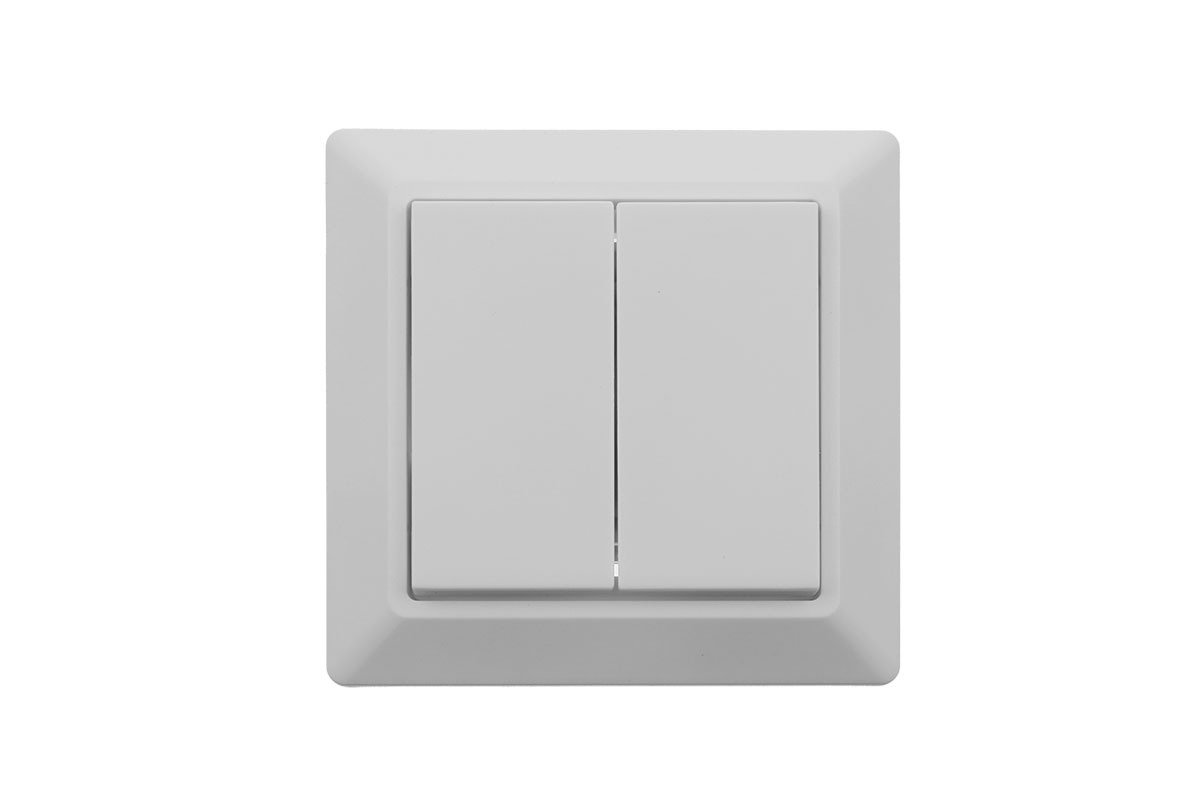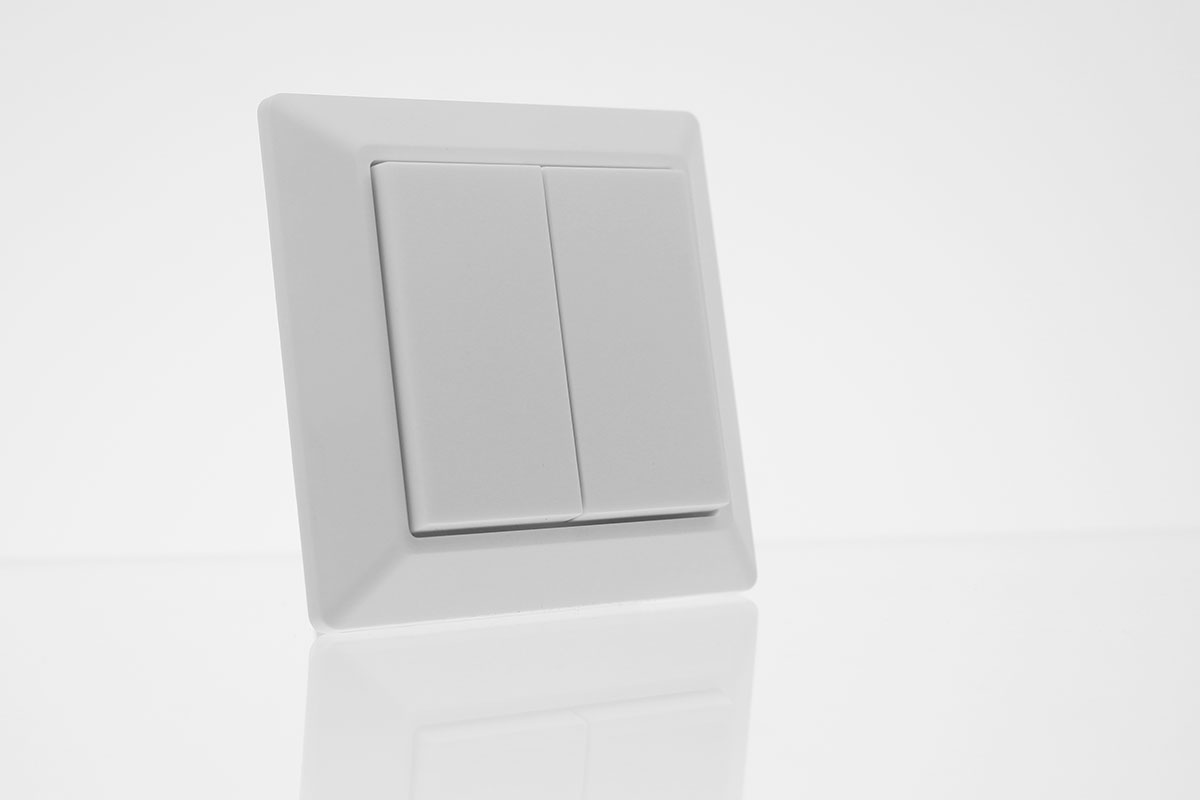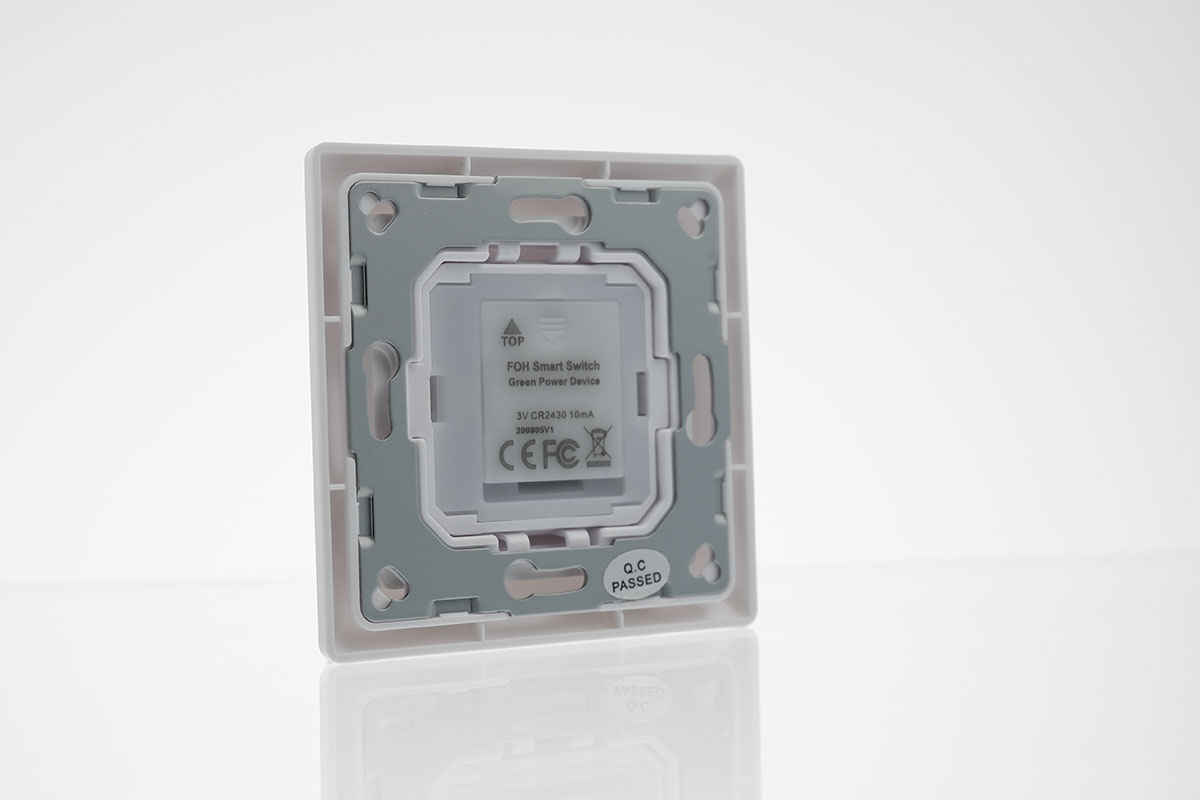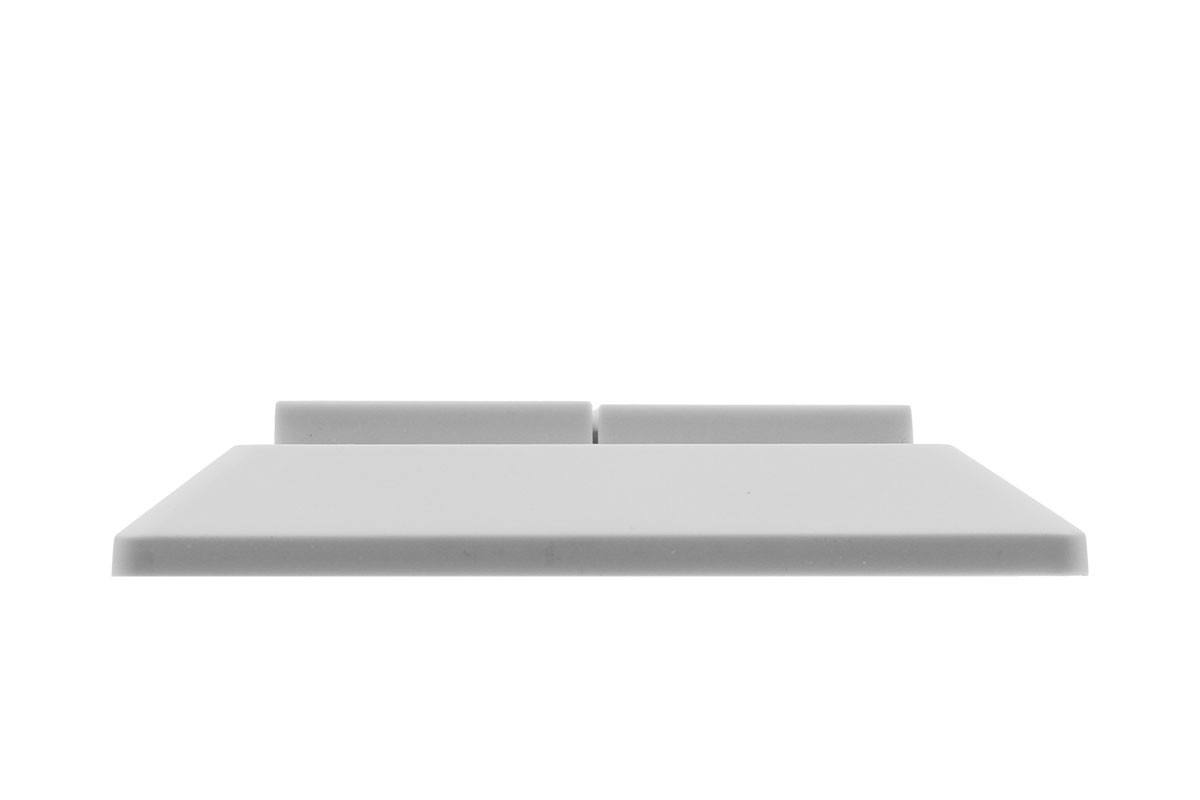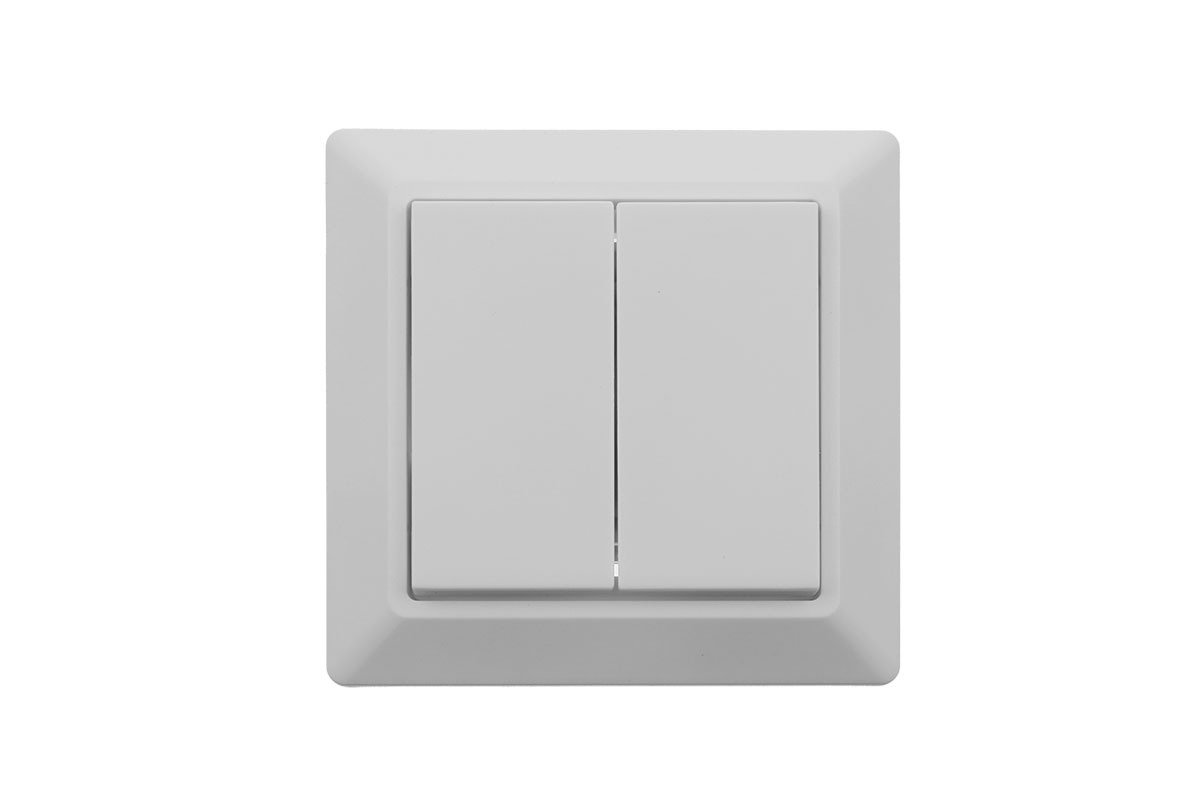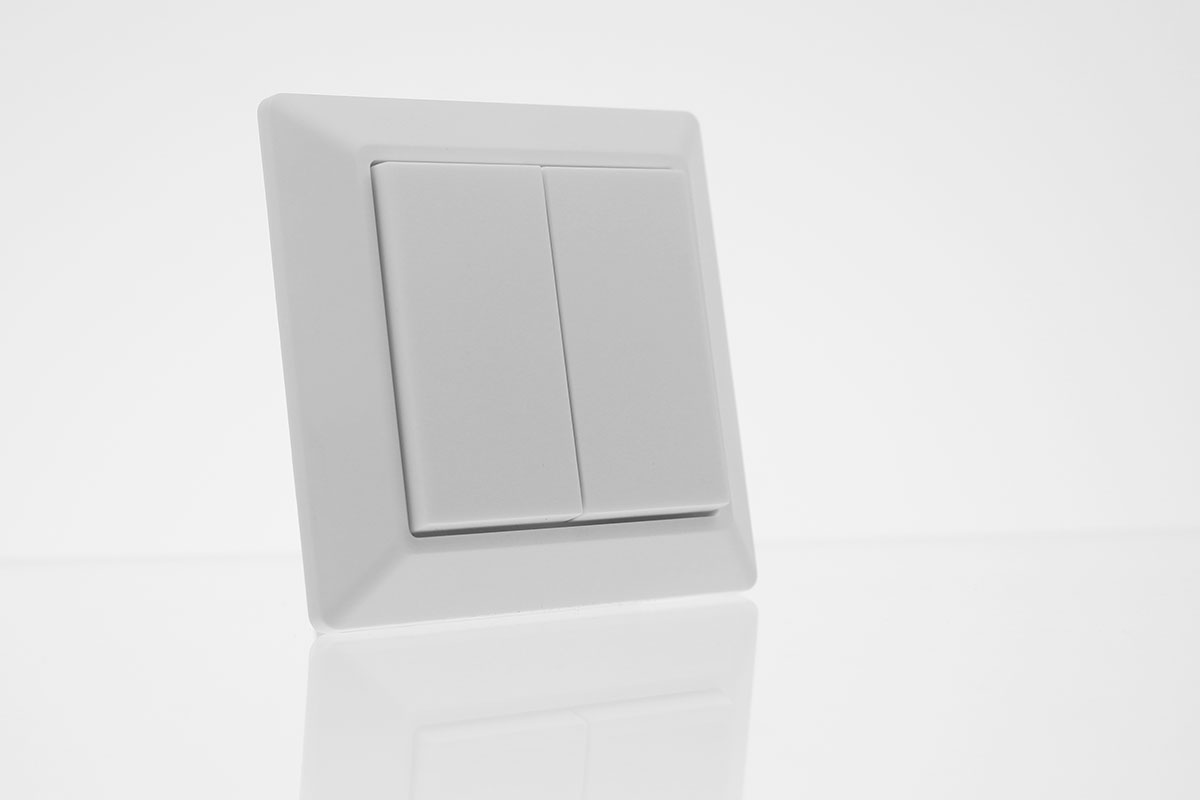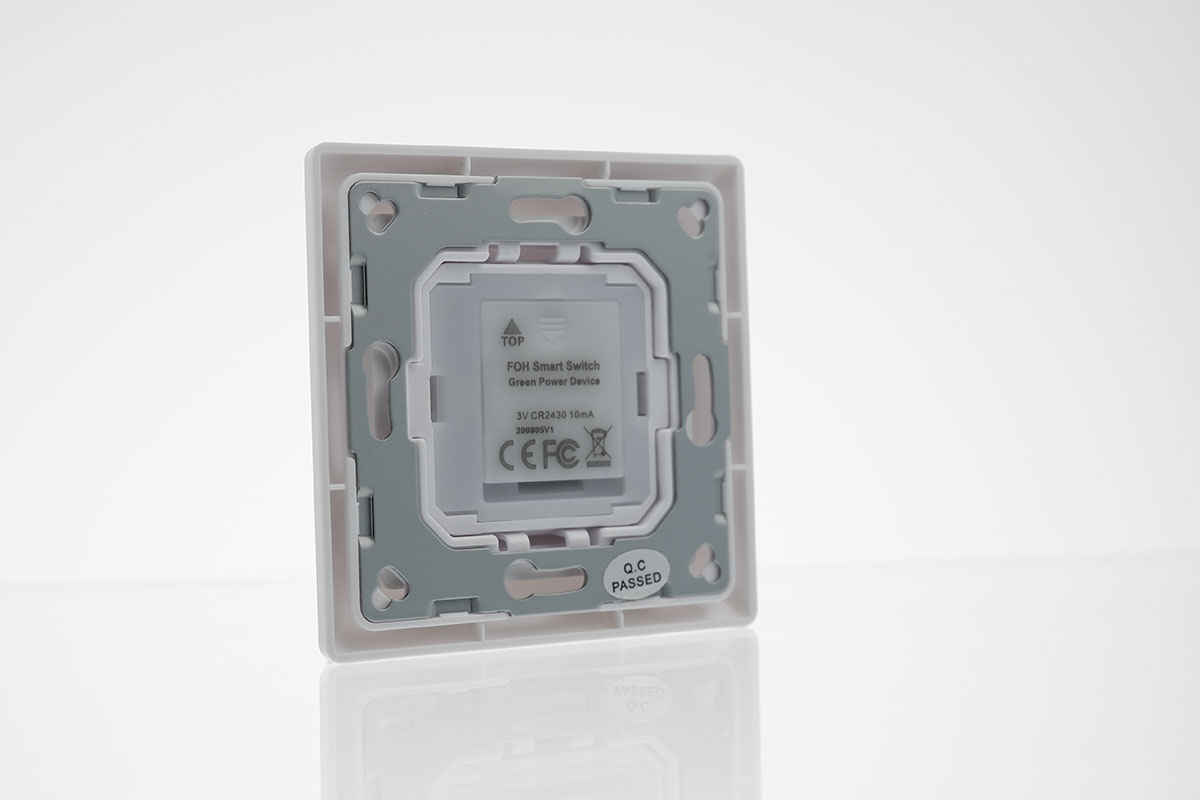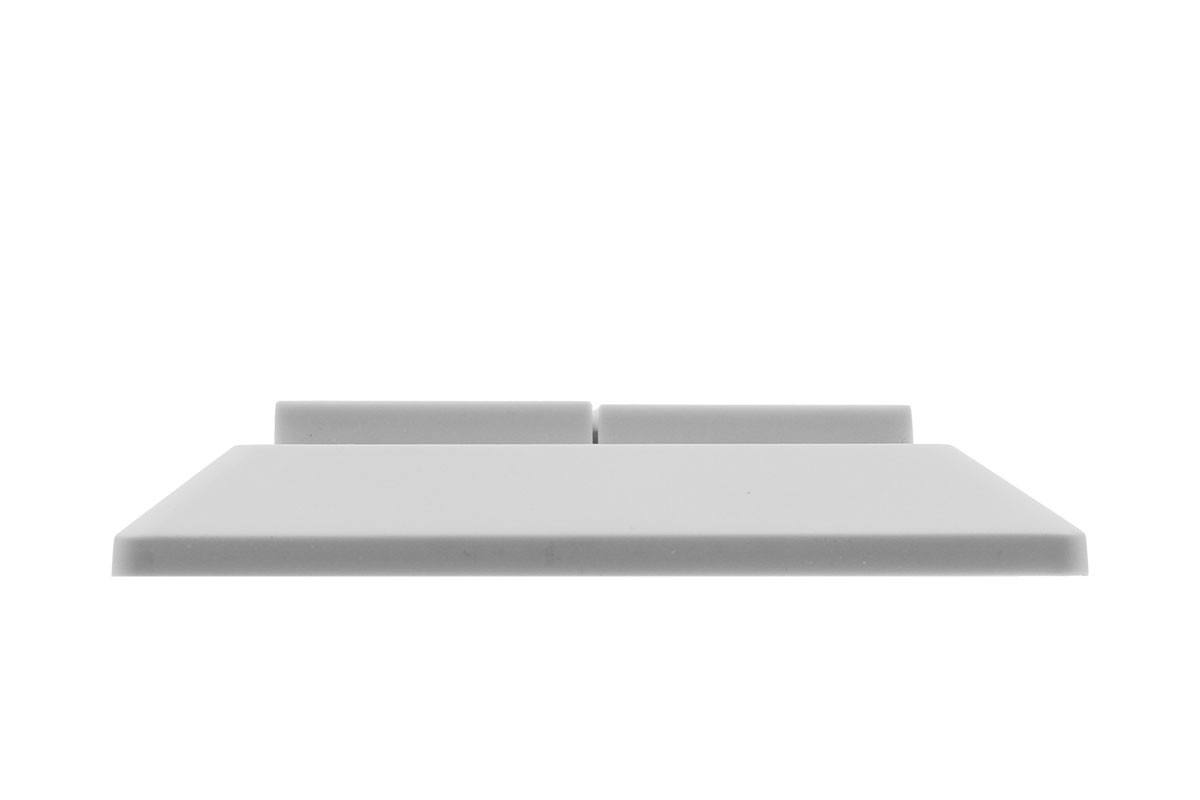 Available, delivery time: 3-5 days
Product number:
LK115-K2w
ZigBee remote with 4 freely assignable buttons.
The function of the individual buttons can be set in the ZigBee app (e.g. PHILIPS HUE). A distinction is also made between long and short presses.
For example, the 2 left buttons can switch the light on and off with a short press and dim up and down with a long press. The 2 right buttons can then be assigned individual light scenes and color moods.
The pushbutton has an absolutely flat design and can be simply glued to the wall, for example. The button is powered by a 3V coin cell with several years runtime.

Videotutorial to integrate the ZigBee remote into PHILIPS HUE

Technical data:
Keypads: 4 (2 double buttons)
Radio technology: ZigBee, 2,4Ghz
Range: max. 30m with clear view
Power supply: 3V button cell CR2430
Moisture protection: IP20, not waterproof
Dimensions: 81x81mm, depth: 15mm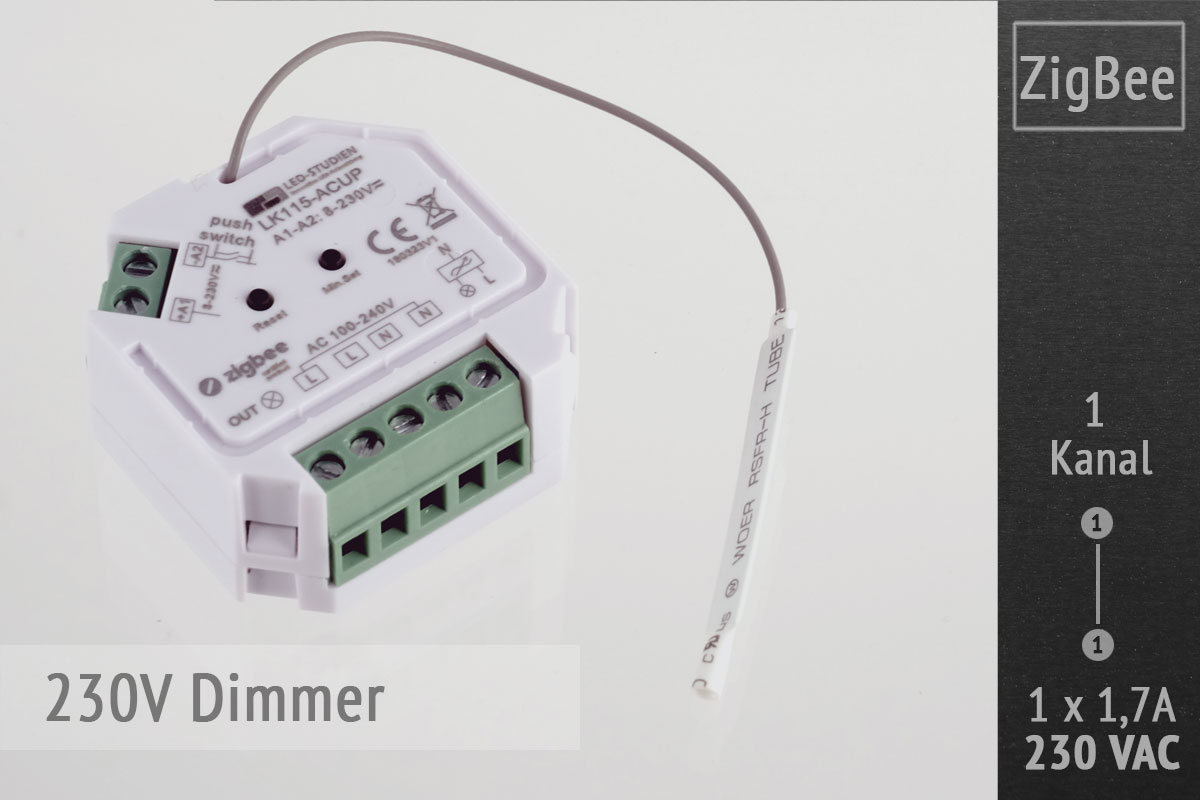 ZIGBEE 230V AC switch | 1 X 400Watt
ZigBee 230V switch for PHILIPS HUE, OSRAM LIGHTIFY, IKEA TRADFRI oder AMAZON ALEXA. The LK115 series allows control via the ZigBee 3.0 standard. This makes it compatible with established systems such as Philips HUE or Ikea TRADFRI. Normal 230V lamps and luminaires up to 400 watts can be connected to the driver. So you can, for example, indirect lighting with LEDs supplemented by standard pendant or ceiling lights. Max. 400W applies to resistive loads, e.g. normal incandescent and halogen lamps. Max. 200W applies to inductive & capacitive loads (such as LED lamps). The ZigBee switch fits into typical flush-mounted boxes a. I.e. it is suitable for very many modern luminaires with LED lamps. Voice control via AMAZON ALEXA Also the control via voice assistant like AMAZON ALEXA / ECHO is possible. The simplest option here is AMAZON ECHO PLUS or ECHO SHOW with which you can directly control the ZigBee LED driver by voice. For other ALEXA systems you can realize voice control via a gateway. Since there are already corresponding ALEXA Skills for the established gateways of Philips HUE or Ikea TRADFRI, all LED strips connected to the ZigBee driver can also be controlled by voice here. You can find detailed instructions on this in our blog post "Lighting control with Amazon Alexa". Other ZigBee components, such as ZigBee light switches, ZigBee remote controls, etc., which comply with the ZigBee 3.0 standard, can of course also be integrated. Operation via pushbutton input The LK115-sw additionally offers 2 green screw terminals for a pushbutton input. For example, a simple pushbutton can be connected to this input to control the light without radio. Short keystroke switches the LEDs on and off. The ZigBee switch LK115-sw is simply installed between 230V supply line and the lamp / luminaire. Optionally, the push-button input (push switch) can be used to switch the light on and off (short press). Scope of delivery: 1 x ZigBee LED Dimmer LK115-sw Technical data: Channels: 1Voltage: 100 - 240 VACOutput: 100 - 240 VAC, max. 400 WattConnection: Input: L,N | Output: 1 x L,NIP class: IP 20Dimensions (L*W*H): 46*46*21mm Max. Output power for resistive loads: 400W Max. Output power for inductive & capacitive loads: 200W
ZigBee universal LED driver
ZigBee universal LED driver for PHILIPS HUE, OSRAM LIGHTIFY, IKEA TRADFRI oder AMAZON ALEXA. The LK115-U can be used for all LED applications. Depending on the setting, it works as: ZigBee LED dimmer for white and single color LEDs ZigBee CCT driver for LED lighting with adjustable color temperature ZigBee RGB driver for color effects ZigBee RGBW driver for solutions with color effects and extra white ZigBee RGB+CCT driver The respective function can be set at the beginning via a DIP switch. The LK115 series works with the ZigBee 3.0 standard. This makes it compatible with established systems such as Philips HUE or Ikea TRADFRI. LED strips with 12V or 24V can be connected to the driver. Also LED spots, LED panels and other components with this function and constant voltage can be operated. Video instructions for integration with PHILIPS HUE Voice control via AMAZON ALEXA Also the control via voice assistant like AMAZON ALEXA / ECHO is possible. The simplest option here is AMAZON ECHO PLUS or ECHO SHOW with which you can directly control the ZigBee LED driver by voice. For other ALEXA systems you can realize voice control via a gateway. Since there are already corresponding ALEXA Skills for the established gateways of Philips HUE or Ikea TRADFRI, all LED strips connected to the ZigBee driver can also be controlled by voice here. You can find detailed instructions on this in our blog post "Lighting control with Amazon Alexa". Other ZigBee components, such as ZigBee light switches, ZigBee remote controls, etc., which comply with the ZigBee 3.0 standard, can of course also be integrated. Scope of delivery: 1 x ZigBee Universal LED driver LK115-U Technical data: Modes: Dim | CCT | RGBW | RGB+CCTVoltage: 12V-24V DCPower: Power supply via external switching power supply (not included)Outputs: 5 x 4A Connection: Input (V+ | Ground) Output (5 channels | V+)IP class: IP 20Dimensions (L*W*H): 145*47*16mm ​Note: The driver has double voltage inputs (++--). For high connected load (> 200 Watt), use our special connection cables for high connected loads (> 200 watts) in order to divide the current load between the two inputs. The large power supplies HLG-480 and HLG-600 already have double voltage outputs, so that both voltage inputs of the driver can be used directly here. The driver is integrated as 1 luminaire in all modes. In RGBW mode, for example, the options for setting color effects and controlling white light are then available for 1 luminaire. See also our instruction videos above. Dimensions: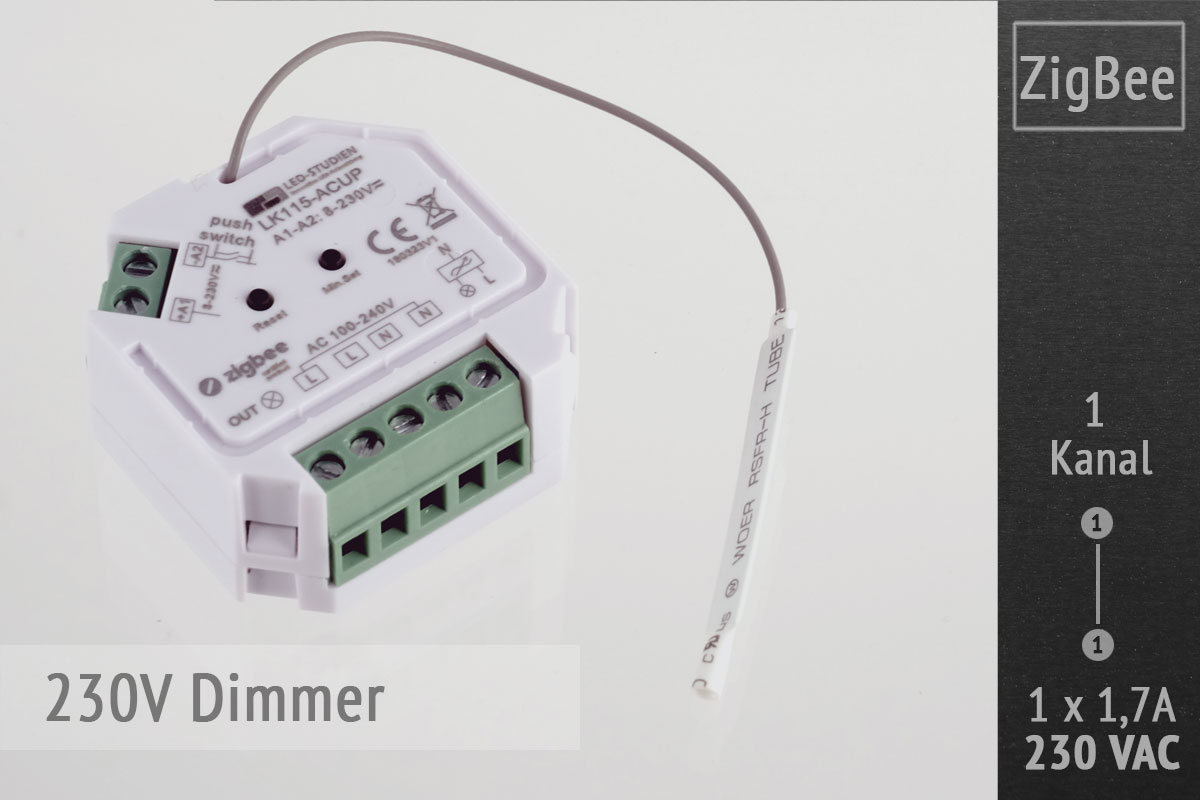 ZigBee 230V AC dimmer | 1 x 400Watt
ZigBee 230V dimmer for PHILIPS HUE, OSRAM LIGHTIFY, IKEA TRADFRI oder AMAZON ALEXA. The LK115 series allows control via the ZigBee 3.0 standard. This makes it compatible with established systems such as Philips HUE or Ikea TRADFRI. Normal 230V lamps and luminaires up to 400 watts can be connected to the driver. So you can, for example, indirect lighting with LEDs supplemented by standard pendant or ceiling lights. Max. 400W applies to resistive loads, e.g. normal incandescent and halogen lamps. Max. 200W applies to inductive & capacitive loads (such as LED lamps). The ZigBee dimmer fits into typical flush-mounted boxes and works with the trailing edge dimming method. I.e. it is suitable for very many modern luminaires with LED lamps. Voice control via AMAZON ALEXA Also the control via voice assistant like AMAZON ALEXA / ECHO is possible. The simplest option here is AMAZON ECHO PLUS or ECHO SHOW with which you can directly control the ZigBee LED driver by voice. For other ALEXA systems you can realize voice control via a gateway. Since there are already corresponding ALEXA Skills for the established gateways of Philips HUE or Ikea TRADFRI, all LED strips connected to the ZigBee driver can also be controlled by voice here. You can find detailed instructions on this in our blog post "Lighting control with Amazon Alexa". Other ZigBee components, such as ZigBee light switches, ZigBee remote controls, etc., which comply with the ZigBee 3.0 standard, can of course also be integrated. Operation via pushbutton input The LK115-acup additionally offers 2 green screw terminals for a pushbutton input. For example, a simple pushbutton can be connected to this input to control the light without radio. Short keystroke switches the LEDs on and off. Long button press dims the LEDs up and down. The ZigBee dimmer LK115-ACUP is simply installed between 230V supply line and the lamp / luminaire to be dimmed. Optionally, the push-button input (push switch) can be used to switch the dimmer and thus the light on and off (short press) or to dim (long press). Scope of delivery: 1 x ZigBee LED Dimmer LK115-ACUP Technical data: Channels: 1Voltage: 100 - 240 VACOutput: 100 - 240 VAC, max. 400 WattConnection: Input: L,N, PUSH DIM | Output: 1 x L,NIP class: IP 20Dimensions (L*W*H): 46*46*21mm Max. Output power for resistive loads: 400W Max. Output power for inductive & capacitive loads: 200W
Product number:
LK115-ACUP