ZigBee DC LED dimmer | 12 - 36 VDC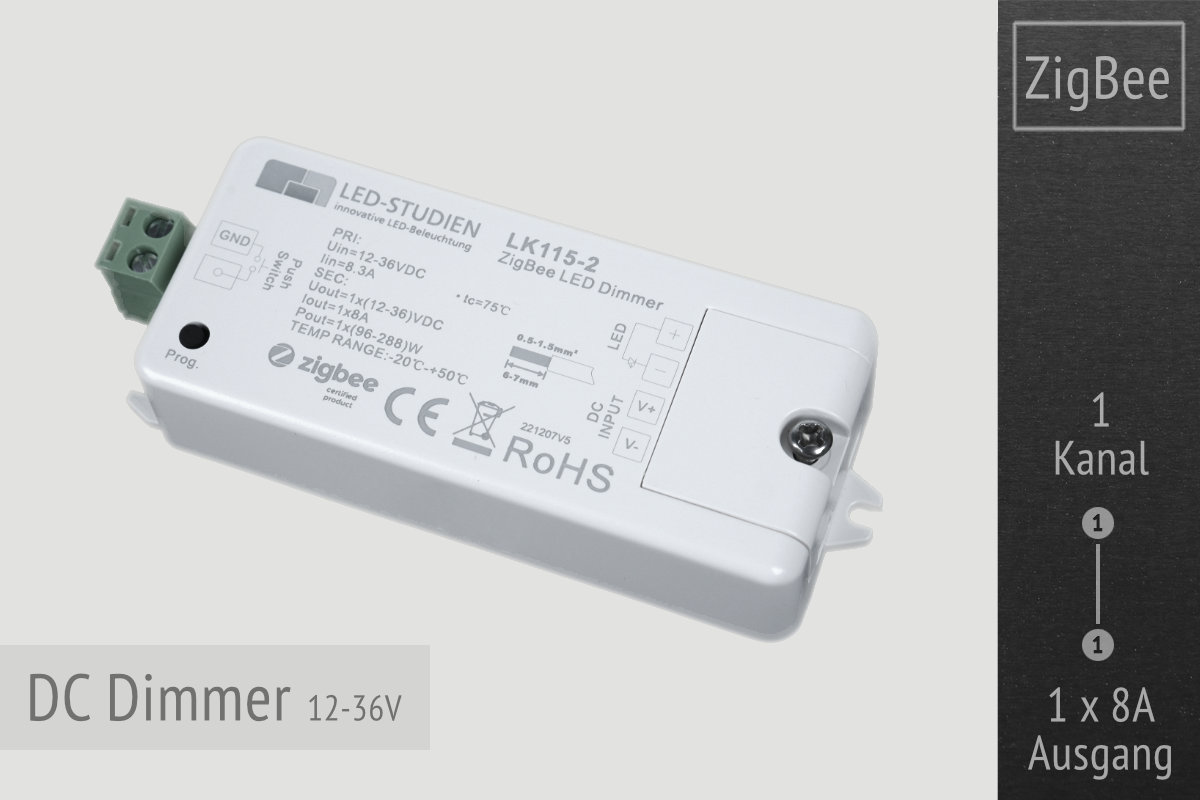 Available, delivery time 3-5 days
ZigBee DC LED dimmer, e.g. for white or single color LED strips.
Allows operating via PHILIPS HUE, IKEA TRADFRI, AMAZON ALEXA and many other ZigBee systems.
The LK115 series works with the ZigBee 3.0 standard. This makes it compatible with established systems such as Philips HUE or Ikea TRADFRI. LED strips with 12V - 36V can be connected to the driver. Also LED spots, LED panels and other components with this function and constant voltage can be operated.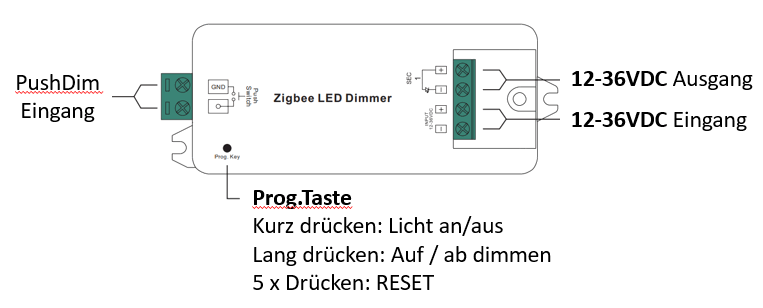 The LK115-2 offers an additional PushDim input for alternative operation.
---

Voice control via AMAZON ALEXA

Also the control via voice assistant like AMAZON ALEXA / ECHO is possible. The simplest option here is AMAZON ECHO PLUS or ECHO SHOW with which you can directly control the ZigBee LED driver by voice. For other ALEXA systems you can realize voice control via a gateway. Since there are already corresponding ALEXA Skills for the established gateways of Philips HUE or Ikea TRADFRI, all LED strips connected to the ZigBee driver can also be controlled by voice here. You can find detailed instructions on this in our blog post "Lighting control with Amazon Alexa".
Other ZigBee components, such as ZigBee light switches, ZigBee remote controls, etc., which comply with the ZigBee 3.0 standard, can of course also be integrated.
---

Scope of delivery:
1 x ZigBee DC LED dimmer LK115-2


---

Technical data:
Voltage: 12V-36V DC
Power: Power supply via external switching power supply (not included)
Outputs: 1 x 8A
Connection: Input (V+ | Ground) Output (V+ | Ground)
IP class: IP 20
Dimensions (L*W*H): 95*37*20mm


---
Properties "ZigBee DC LED dimmer | 12 - 36 VDC"
Driver version:

Universal 5x4A

, Universal 5x6A
Data according to manufacturer. Errors and changes reserved.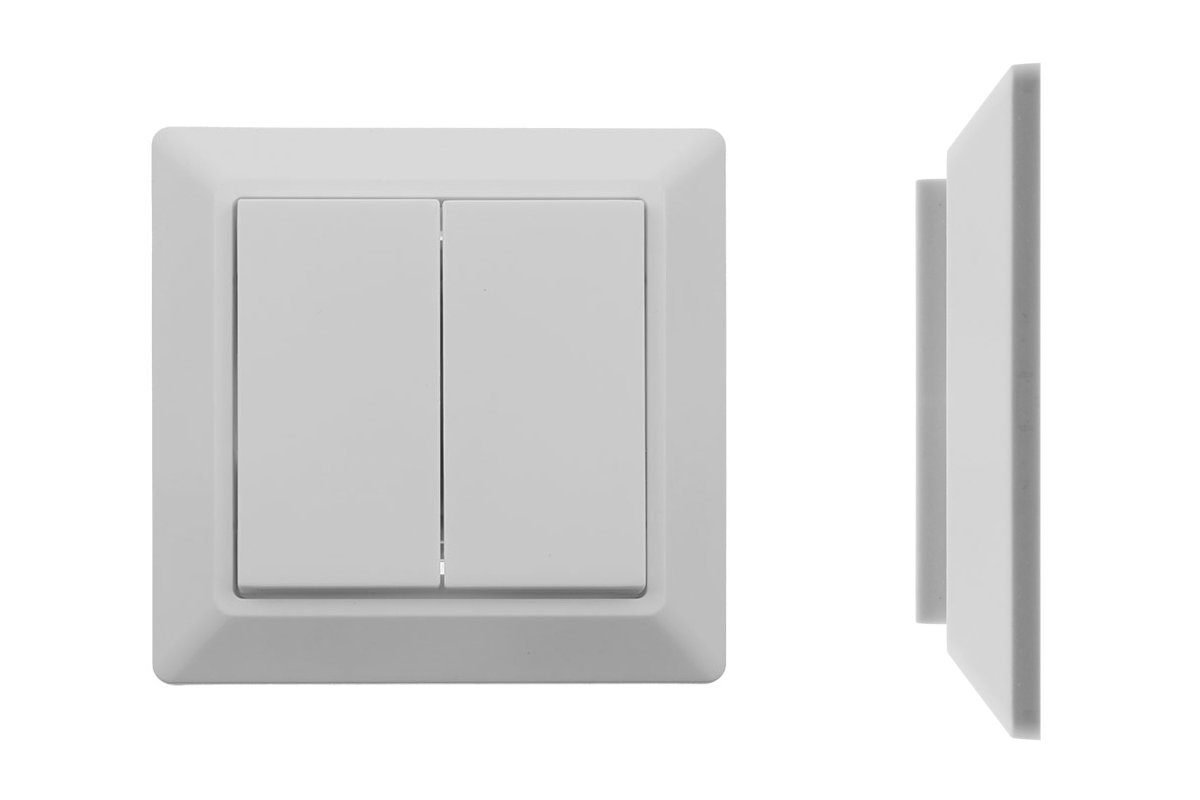 ZIGBEE remote with 4 push buttons
ZigBee pushbutton with 4 freely assignable buttons. The function of the individual buttons can be set in a ZigBee app (e.g. PHILIPS HUE). A distinction is also made between long and short presses. For example, the 2 left buttons can switch the light on and off with a short press and dim up and down with a long press. The 2 right buttons can then be assigned individual light scenes and color moods. The pushbutton has an absolutely flat design and can be simply glued to the wall, for example. The pushbutton is powered by a 3V coin cell with several years runtime. ATTENTION: The ZigBee buttons require a PHILIPS HUE BRIDGE and app for integration. A direct teach-in e.g. on AMAZON ECHO is not possible. The HUE BRIDGE is always required as an intermediary. Video tutorial on how to integrate ZigBee push button with PHILIPS HUE https://www.youtube.com/watch?v=cCtbLEkXJkc Technical data Button fields: 4 (2 double buttons) Radio technology: ZigBee, 2.4Ghz Range: max. 30m with clear view Power supply: 3V button cell CR2430 Moisture protection: IP20, not waterproof Dimensions: 81x81mm, depth: 15mm
Product number:
LK115-pbmas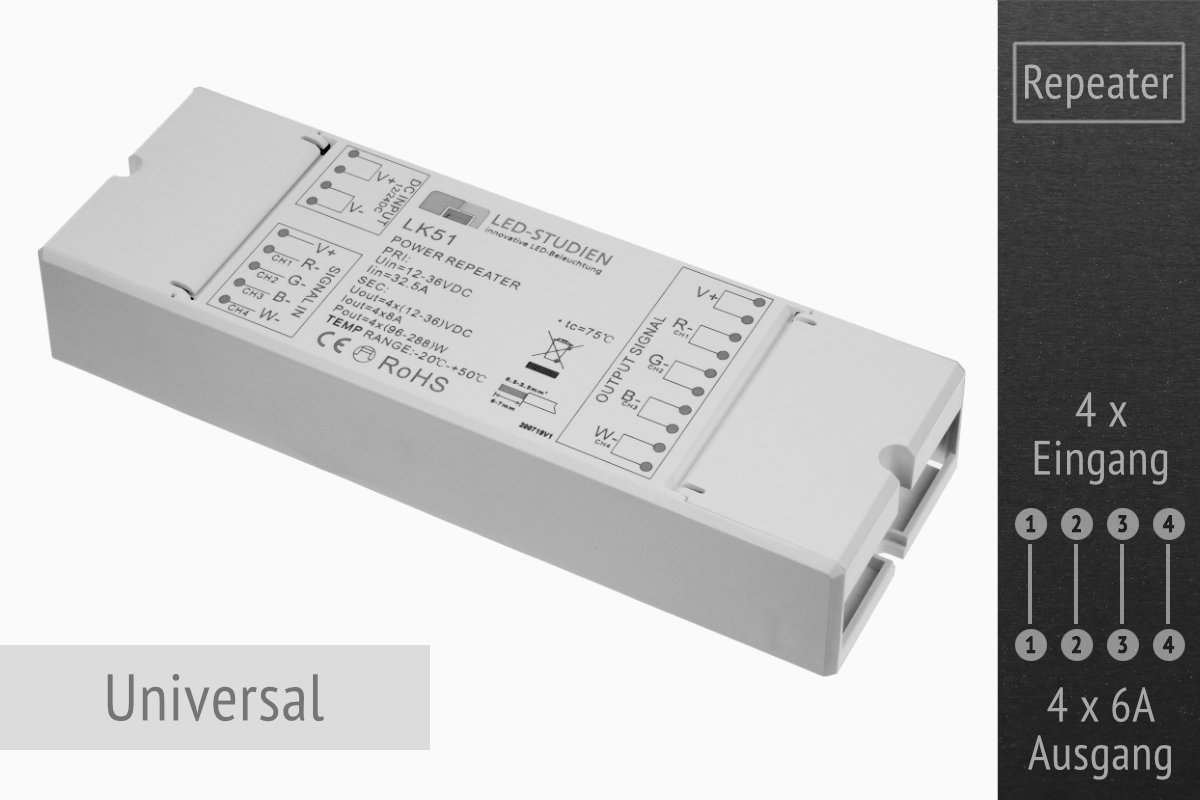 LED Repeater / Amplifier | 4 x 6A
This LED amplifier works with an operating voltage of 12V to 36V DC. It offers 4 channels with 6 amps output power each. Repeaters are used when the output power of the controller is not sufficient. For example, you want to use a controller with a certain control technology (DALI, KNX, radio or other), but your LED installation needs more amperage (amps) than the controller can provide. In this case, connect the controller to a repeater and run all LED strips through the repeater. Note: We do not recommend running LED strips in parallel on controllers AND repeaters, as this may result in brightness and/or color deviations. The basic rule is: Either connect everything to controllers or everything to repeaters. Technical data: Dimensions: 170*58*29mmVoltage: 12-24V DCPower: 4 x 6AIP class: IP20 Note: The driver has double voltage inputs (++--). For high connected load (> 200 Watt), use our special connection cables for high connected loads (> 200 watts) in order to divide the current load between the two inputs. The large power supplies HLG-480 and HLG-600 already have double voltage outputs, so that both voltage inputs of the driver can be used directly here.