Programmable RGBW remote control | 4 zones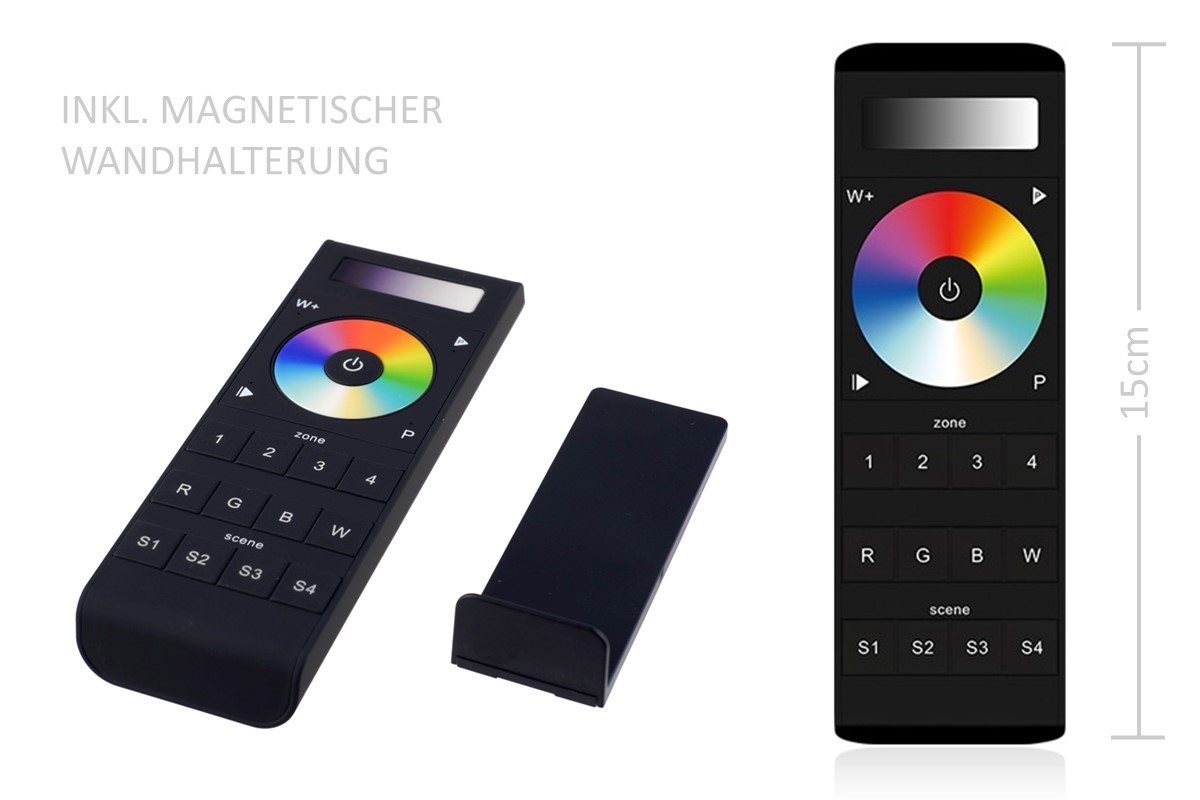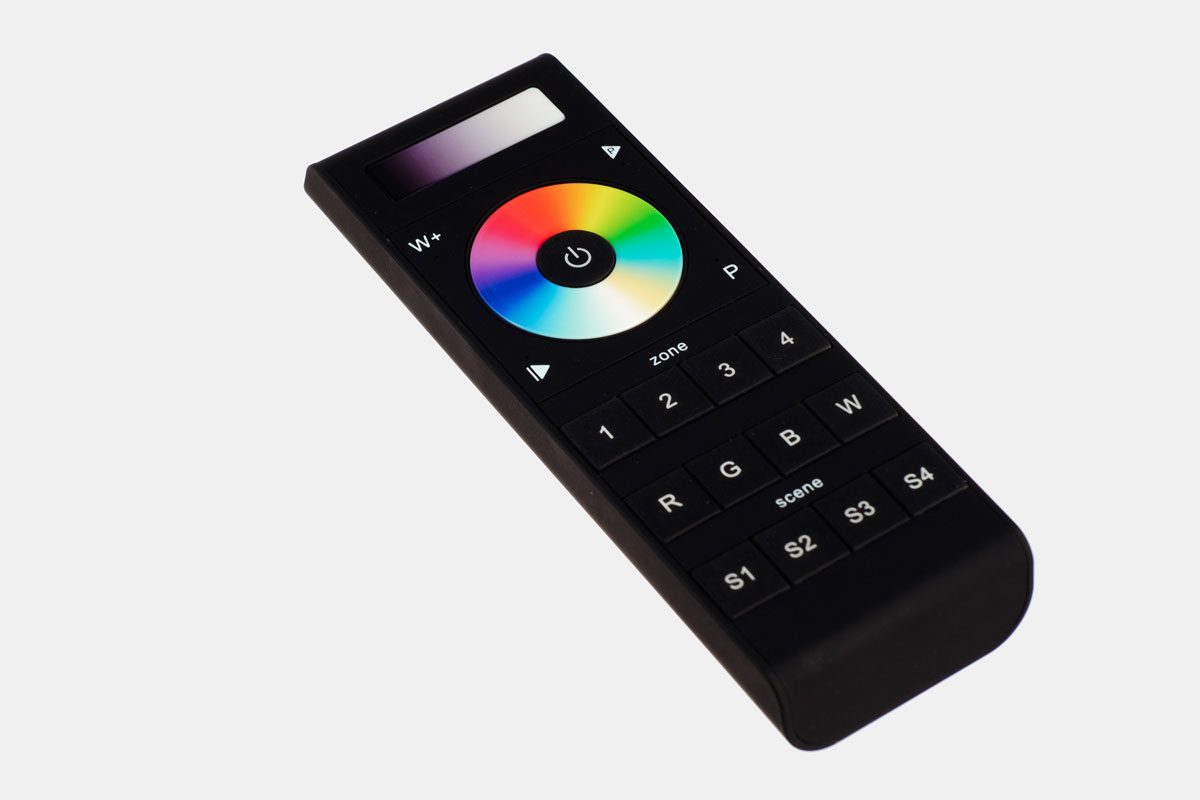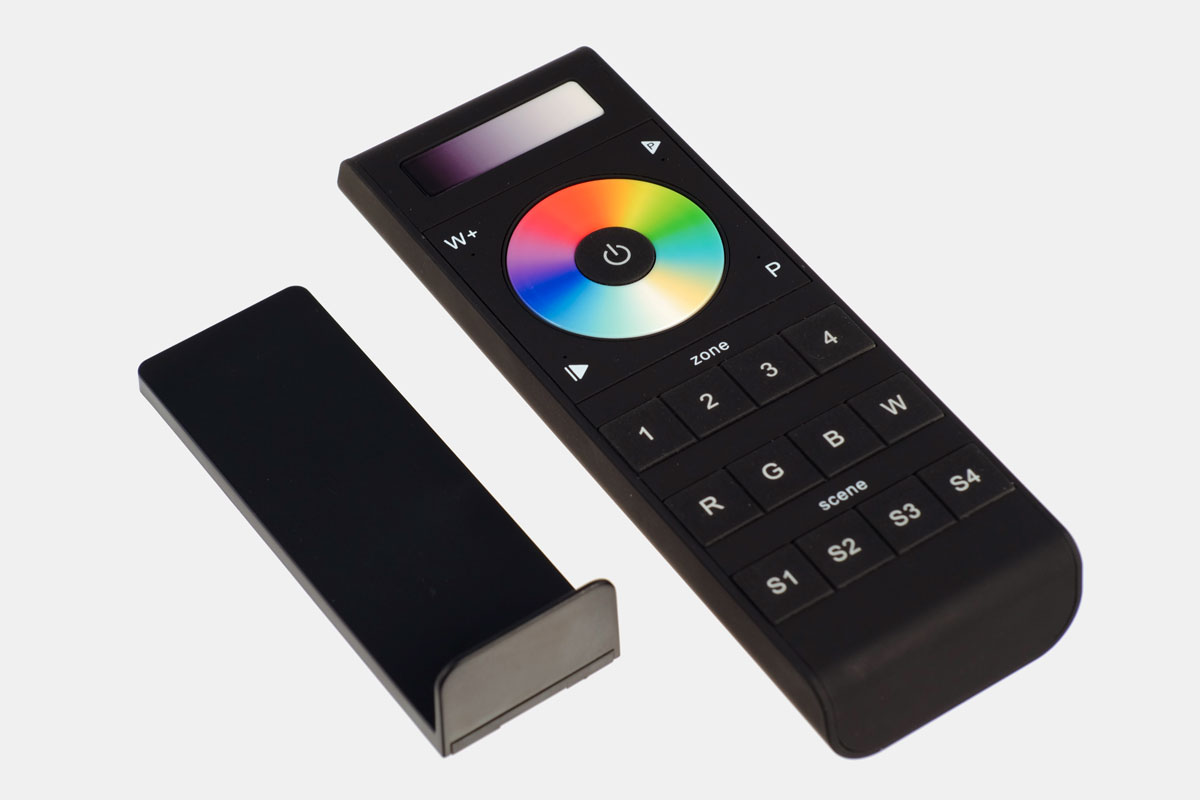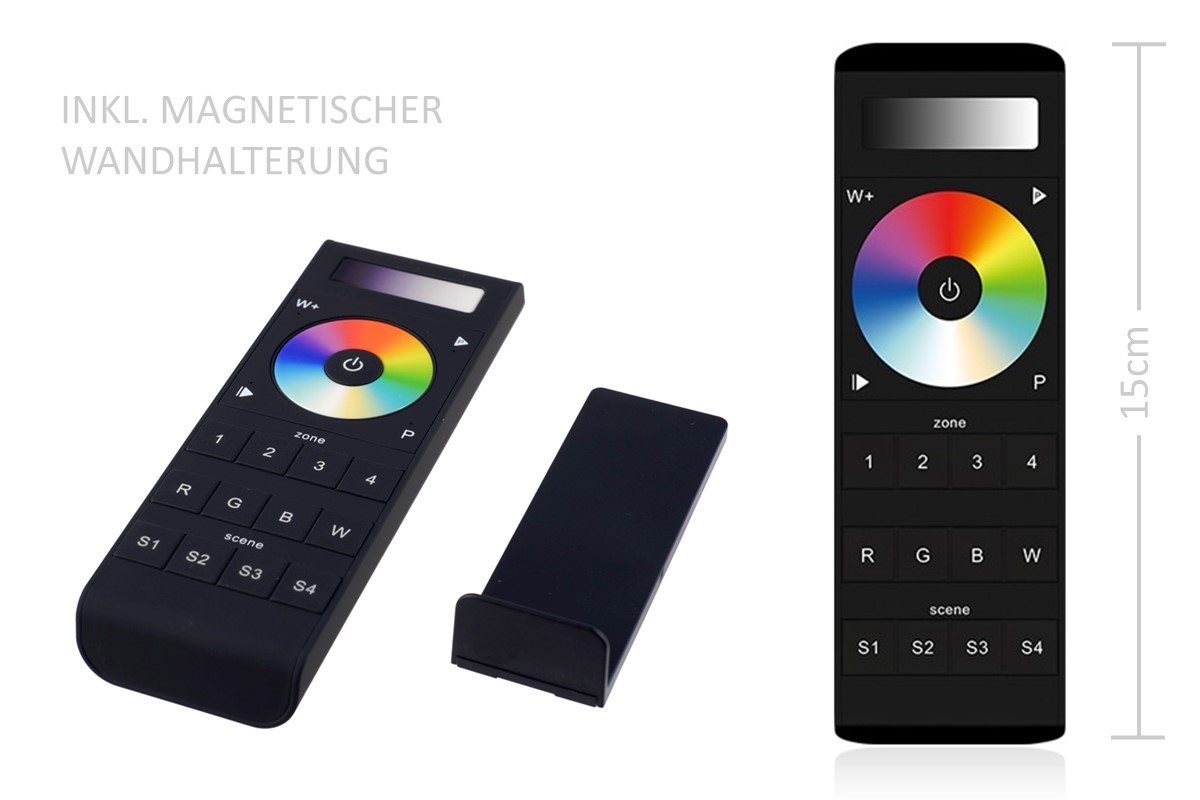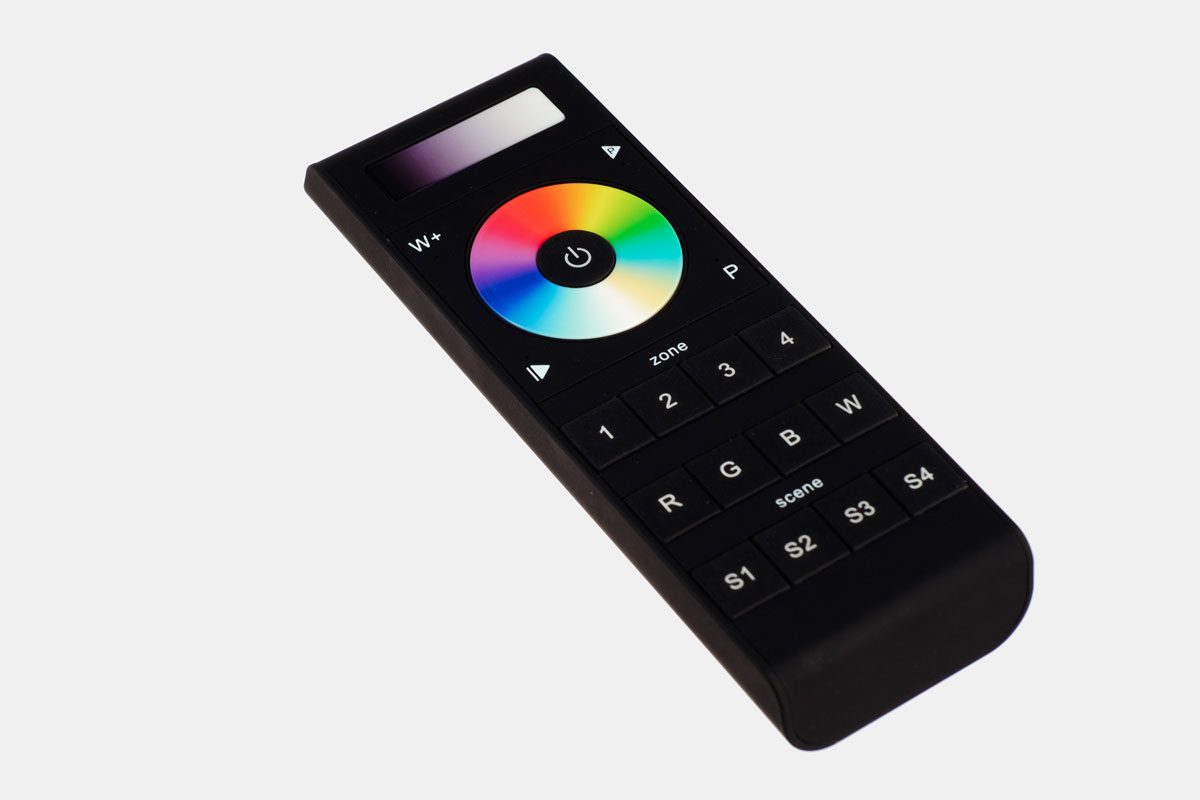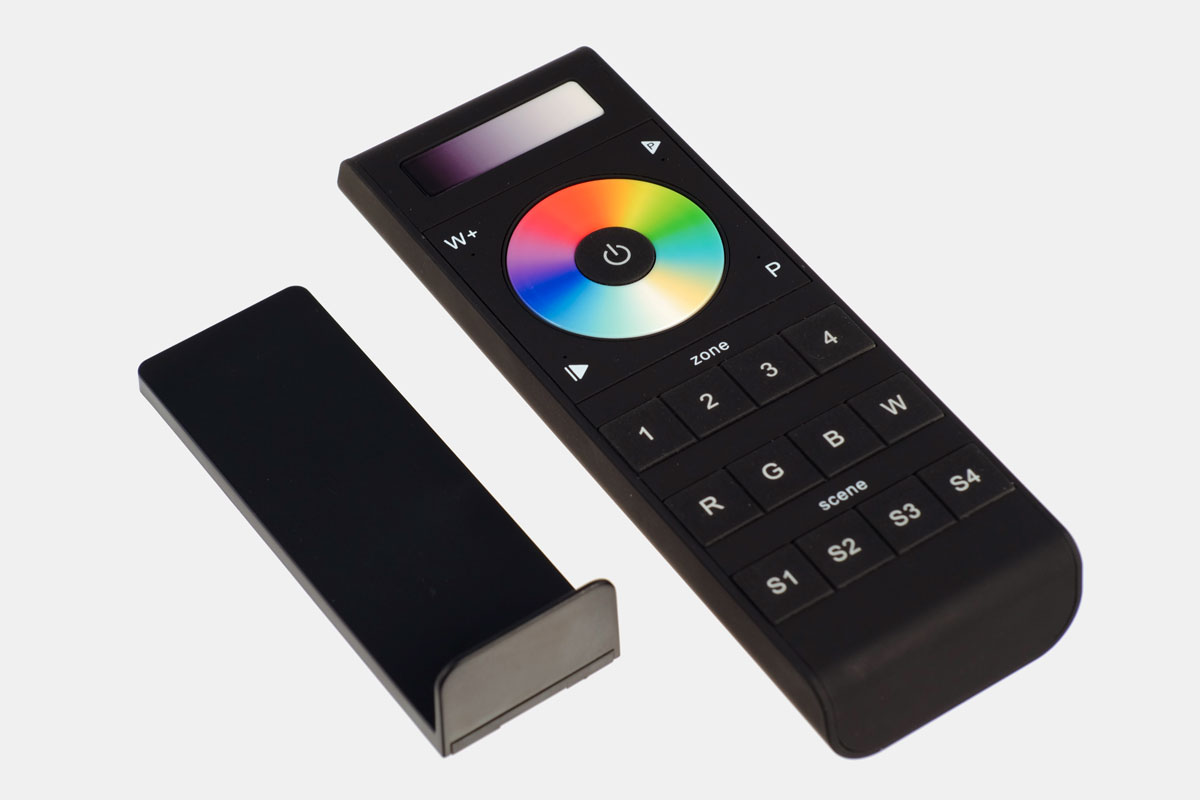 Available, delivery time: 3-5 days
Control of color & brightness,
up to 4 light zones controllable
Touch wheel for color selection
Touch field for dimming
Individual buttons for RGBW
4 memory buttons for individual colors
programmable color gradients and effects


---

All remote controls can operate all drivers / receivers of the LK55 series and, if required, also the WiFi driver LK35.
It is also possible for several remote controls to operate one driver. E.g. a handheld remote control and an additional wireless wall panel or several wireless wall panels at different positions in the room. If required, up to 8 remote controls can operate 1 driver.
The range of the radio signal is up to 25m. Visual contact is not necessary. Solid walls made of concrete, brick or similar naturally weaken the radio signal.


---

Technical data:

| | |
| --- | --- |
| Item no. | LK55FB5 |
| Power supply | 3 x 1,5V AAA batteries |
| Dimensions (LxWxH) | 153x53x19mm |
---

Operation: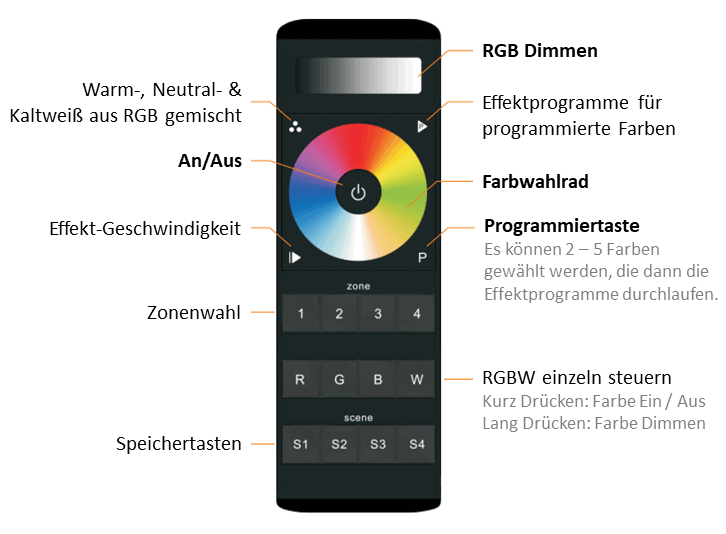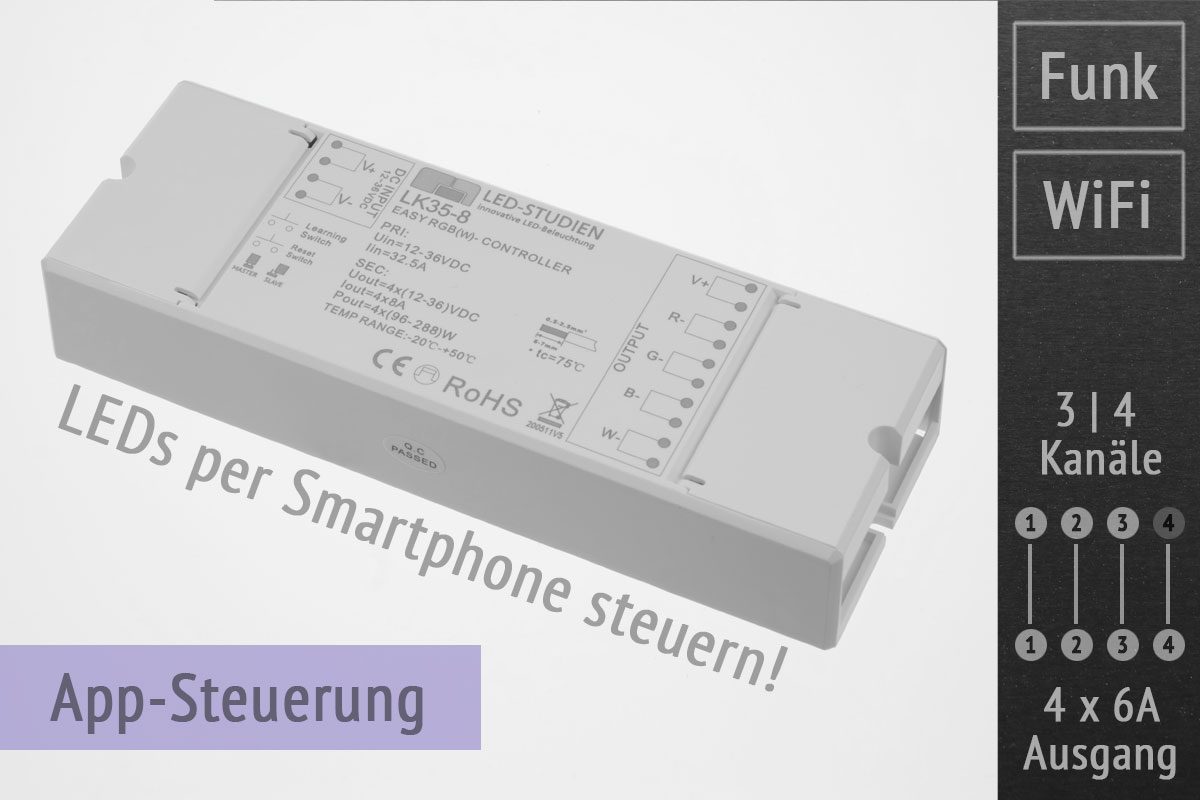 Control via app with the WLAN variant of the LK55 | 4 x 6A
The combined radio/WiFi driver is a classic LK55 with built-in WLAN receiver and sets standards in this field. It can be operated with a radio remote control (LK55 series) or also via smartphone with iOS or Android. Corresponding apps are available: EasyLighting App for Android / für IOS RealColor App for Android / für IOS In the standard version, the receiver has its own integrated access point for WLAN control. However, the receiver can also be set as a WLAN client via an integrated configuration page. This connects the receiver to an existing WLAN at home and provides its services without changing the network. If several cell phones or tablets are used, a simple share function can be used to transfer the learned drivers from one app to another. This means that it is not necessary to retrain the drivers, even if the cell phone is changed, for example. The driver can additionally be operated with remote controls. The hand- and wall controls of the LK55 series are suitable for this purpose. Notes: All drivers of our LK35/55 series remember the last setting even in case of power loss. If you want to operate several light zones independently of each other, several drivers are always necessary. drivers with several outputs (like here 4 x 6A) are not suitable to operate several zones, because the outputs can only be controlled together (parallel). Technical data: Channels: 3/4 (e.g. RGBW) switchableVoltage: 12V-36V DCPower: up to 24A power supply via external switching power supply (not included), max. 6A per channelConnection: input: V+/ground; output: Ch.1-4 (R,G,B,W) ,V+IP class: IP 20 Dimensions (L*W*H): 171x58x28mm Note: The driver has double voltage inputs (++--). For high connected load (> 200 Watt), use our special connection cables for high connected loads (> 200 watts) in order to divide the current load between the two inputs. The large power supplies HLG-480 and HLG-600 already have double voltage outputs, so that both voltage inputs of the driver can be used directly here. Instruction video for the installation of the LK35-8