KNX LED controller for DIN rail 4-channel | 4x4A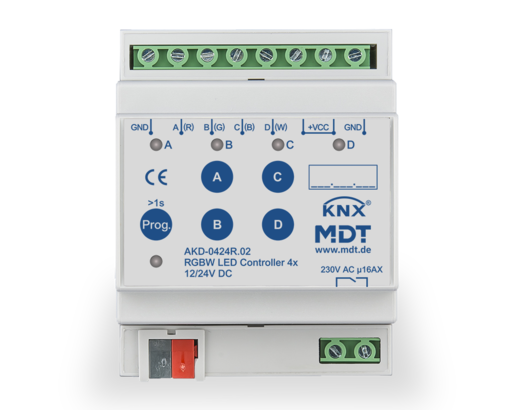 Available, delivery time 3-5 days
This controller can universally be used for white lighting installations with up to four zones, lighting installations with correlated color temperature (CCT) with up to zwo zones as well as RGB or RGBW lighting istallations. It supports absolute and relative dimming in the HSV and RGB color spaces with a configurable gamma curve. Furthermore, the following convenient functions are supported:
automatic dim2warm color temperature control
dynamic daylight control HCL (biologically effective light)
automatic time-dependent dimming
day/night function
dimming via PWM (600/1,000 Hz settable)
Moreover, the controller is equipped with internal overcurrent and temperature protection as well as an intelligent 16A/230V AC-load relais for switching the external LED power supply.

Download the ETS application.:
technical data:
- channels: 4x, max. 4A each (power supplied by an external power supply, not inculded)
- channels A/B and C/D can be operated in parallel (Bridging the channels directly on the output screw-terminals is strictly required!)
- dimming via PWM (600/1.000Hz, adjustable)
- operating modes: 4x white, 2xCCT, RGB, RGBW
- specification of the KNX-interface: TP-256
- available KXN-databases: ETS4/5/6
- voltage: 12V-24V DC
- power supply via KNX-bus (solid wire Ø0,8mm, power consumption typ. <0,3W)
- connectors DC-input: 2x screw-terminal: +, - (0,5-4,0mm² solid, 0,5-2,5mm² flexible); + shared with LED-stripe
- connectors LED-stripe: 4x screw-terminal: A, B, C, D (0,5-4,0mm² solid, 0,5-2,5mm² flexible)
- connectors 230V-relais: 2x screw-terminal : L(IN), L(OUT) (0,5-4,0mm² solid , 0,5-2,5mm² flexible)
- IP-class: 20
- operating temperature: 0 - 45 °C
- measurements :4SU