KNX LED controller 3-channel | 3x3A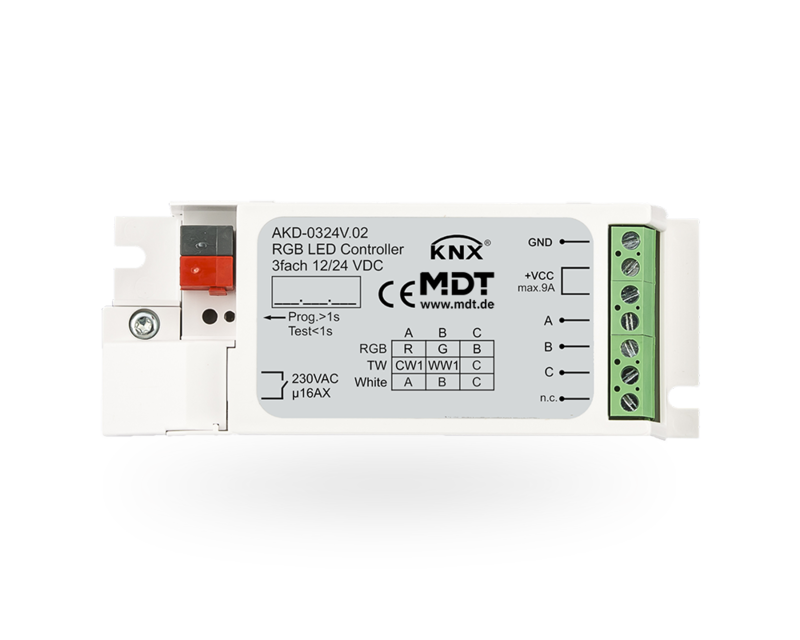 Currently not available, please sign up to get notified
This controller can universally be used for white lighting installations with up to three zones, lighting installations with correlated color temperature (CCT) or RGB lighting istallations. It supports absolute and relative dimming in the HSV and RGB color spaces with a configurable gamma curve. Furthermore, the following convenient functions are supported:
automatic dim2warm color temperature control
dynamic daylight control HCL (biologically effective light)
automatic time-dependent dimming
day/night function
dimming via PWM (600/1,000 Hz settable)
Moreover, the controller is equipped with internal overcurrent and temperature protection as well as an intelligent 16A/230V AC-load relais for switching the external LED power supply.

Download the ETS application.:
technical data:
- channels: 3x, max. 3A each (power supplied by an external power supply, not inculded)
- channels A and B can be operated in parallel (Bridging the channels directly on the output screw-terminals is strictly required!)
- dimming via PWM (600/1.000Hz, adjustable)
- operating modes: 3x white, CCT, RGB
- specification of the KNX-interface: TP-256
- available KXN-databases: ETS4/5/6
- voltage: 12V-24V DC
- power supply via KNX-bus (solid wire Ø0,8mm, power consumption typ. <0,3W)
- connectors DC-input: 2x screw-terminal: +, - (0,5-4,0mm² solid, 0,5-2,5mm² flexible)
- connectors LED-stripe: 4x screw-terminal: +, A, B, C (0,5-4,0mm² solid, 0,5-2,5mm² flexible)
- connectors 230V-relais: 2x screw-terminal : L(IN), L(OUT) (0,5-4,0mm² solid , 0,5-2,5mm² flexible)
- IP-class: 20
- operating temperature: 0 - 45 °C
- measurements : 46 mm x 25 mm x 113 mm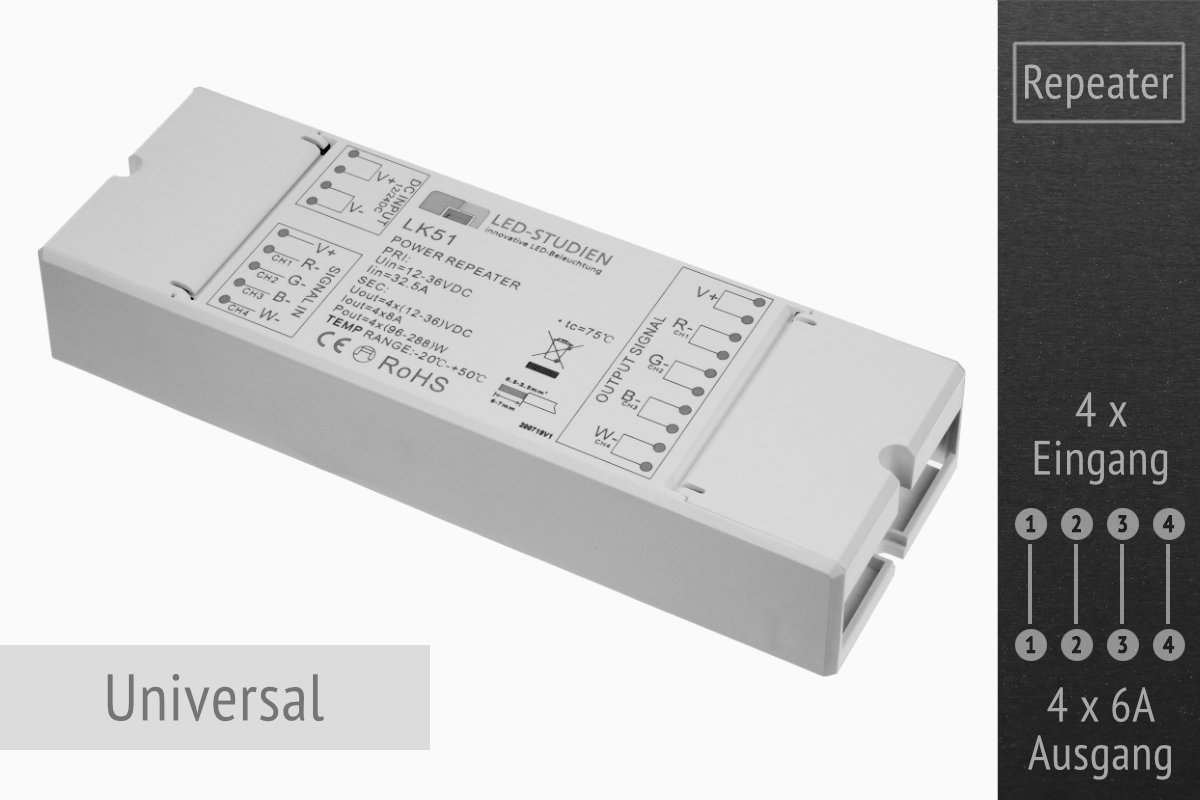 LED Repeater / Amplifier | 4 x 6A
This LED amplifier works with an operating voltage of 12V to 36V DC. It offers 4 channels with 6 amps output power each. Repeaters are used when the output power of the controller is not sufficient. For example, you want to use a controller with a certain control technology (DALI, KNX, radio or other), but your LED installation needs more amperage (amps) than the controller can provide. In this case, connect the controller to a repeater and run all LED strips through the repeater. Note: We do not recommend running LED strips in parallel on controllers AND repeaters, as this may result in brightness and/or color deviations. The basic rule is: Either connect everything to controllers or everything to repeaters. Technical data: Dimensions: 170*58*29mmVoltage: 12-24V DCPower: 4 x 6AIP class: IP20 Note: The driver has double voltage inputs (++--). For high connected load (> 200 Watt), use our special connection cables for high connected loads (> 200 watts) in order to divide the current load between the two inputs. The large power supplies HLG-480 and HLG-600 already have double voltage outputs, so that both voltage inputs of the driver can be used directly here.