EnOcean LED dimmer 1-channel | 4x4A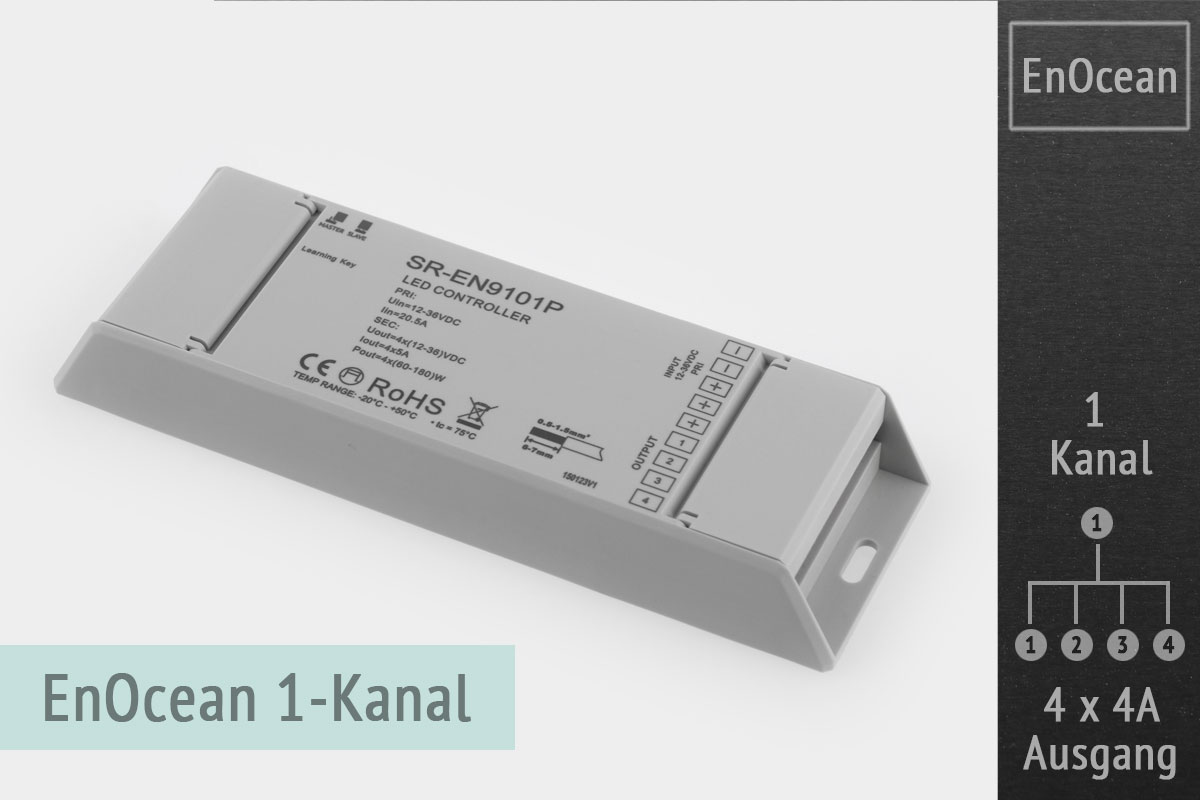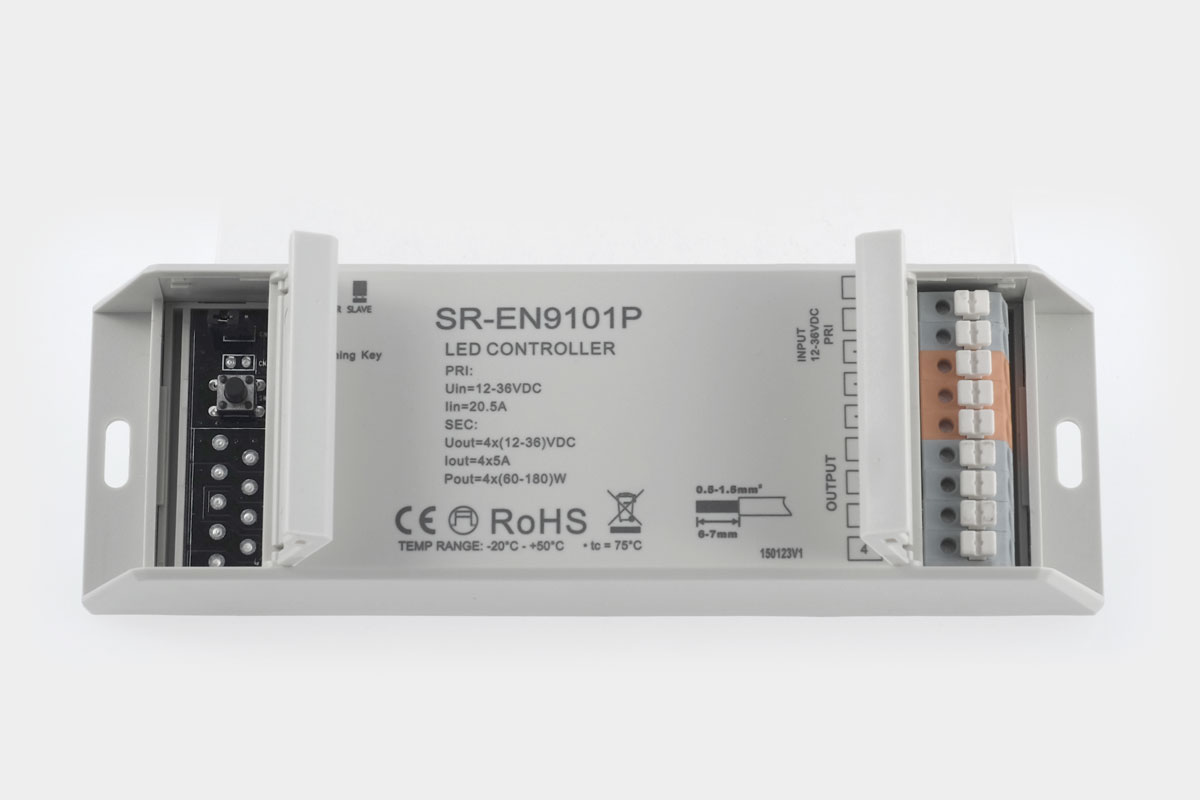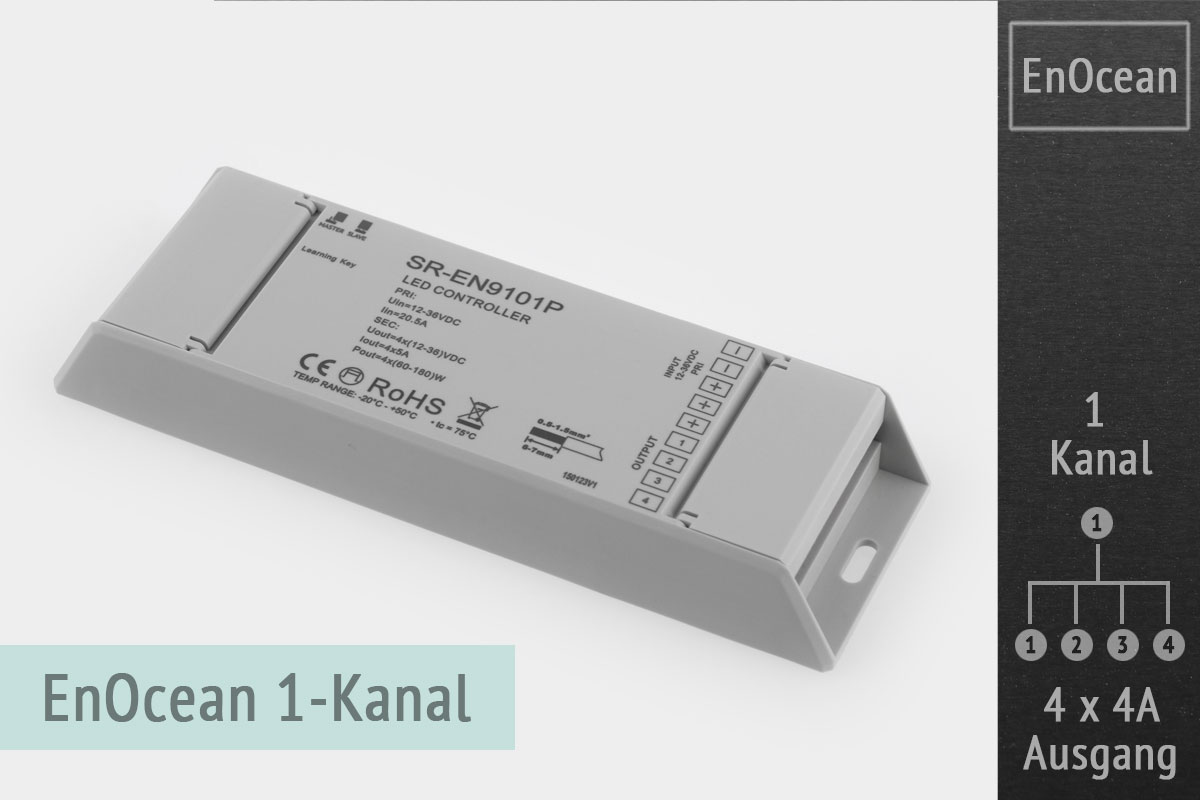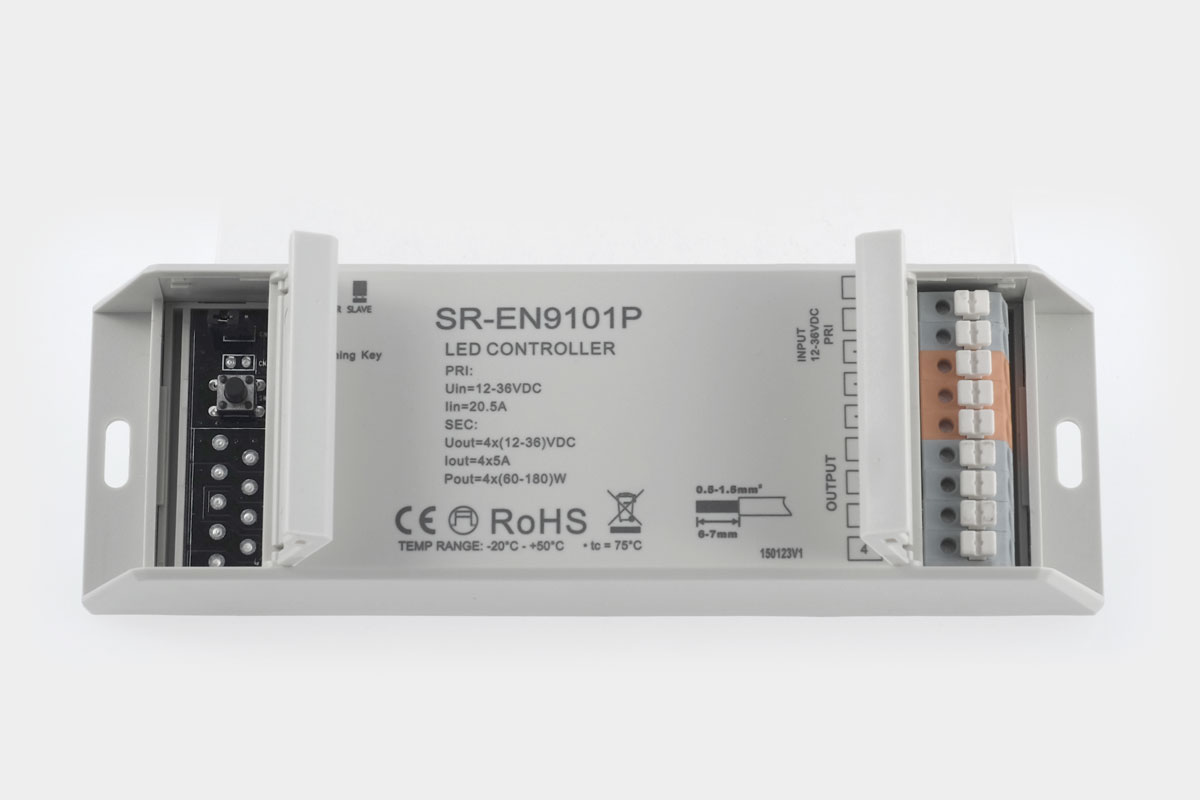 Available, delivery time 3-5 days
This EnOcean dimmer is designed for 1-channel LED applications, e.g. for dimming white LED strips. There are 4 outputs on the receiver, which are controlled in parallel. Each output can be loaded with 4A, which makes even very large installations feasible.
The LED dimmer works e.g. with the EnOcean wall switches from our program. The advantage of all EnOcean switches is that they are completely maintenance-free without batteries and generate the minimum power requirement by micro-dynamo from the few switch movements.


---

Scope of delivery:
1x Receiver LK83


---

Notes:
All drivers of the EnOcean series remember the last setting even in case of power loss.
If you want to control several light zones independently of each other, several drivers are always necessary. Drivers with several outputs (like here 4 x 4A) are not suitable to control several zones, because the outputs can only be controlled together (parallel).


---

Technical data:
Channels: 1
Voltage: 12V-36V DC
Power: Power connection via external switching power supply (not included)
Load: 4A per output port
Connection: input (V+/ground) output (4xLED channel, V+)
IP class: IP 20
Dimensions: LxWxH 166x54x23mm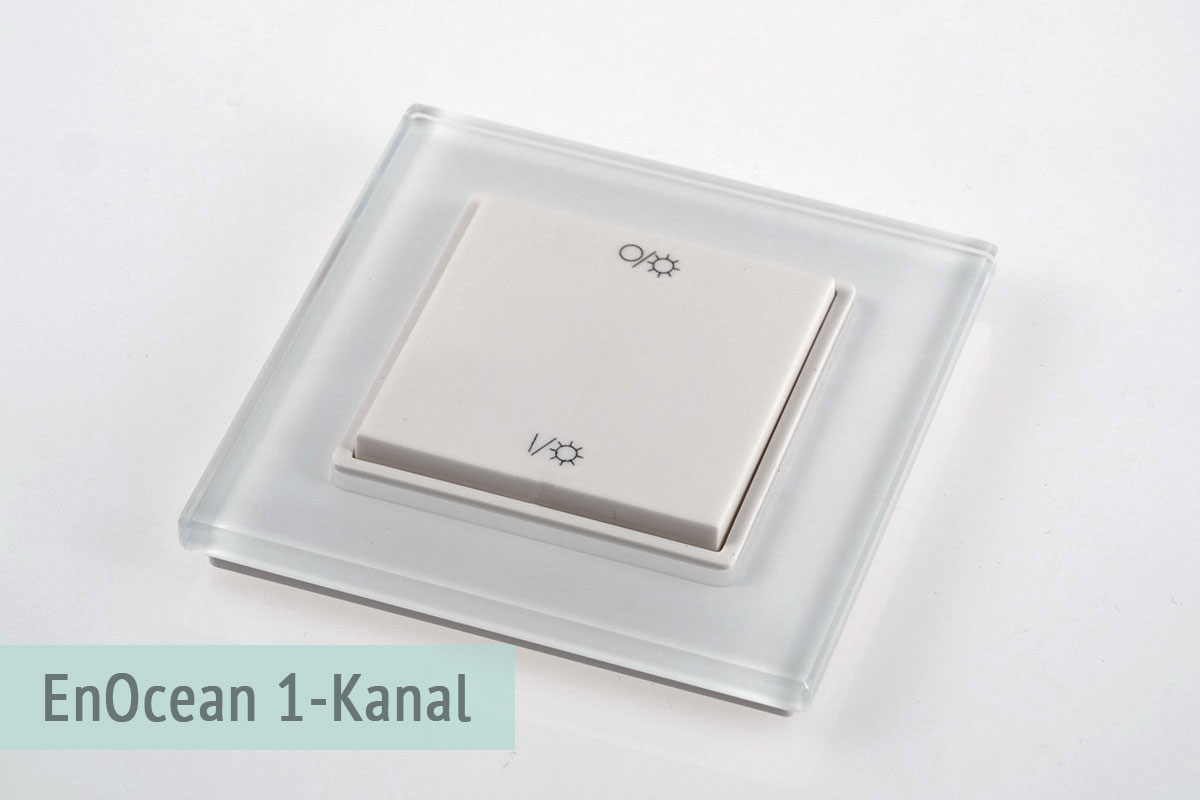 EnOcean wall-mounted remote control | 1 channel
Battery-free EnOcean remote control for use with the 1-channel LED dimmer LK83 from our program. Like all EnOcean remote controls, this wall switch is completely maintenance-free and draws its minimum power requirements from the switch movements themselves via micro-dynamo. Via the 1-channel remote control (in combination with the dimmer LK83) e.g. white, warm white or monochrome LED installations can be controlled. Scope of delivery: 1x Remote control LK83FB1 Technical data: Dimensions: LxWxH 86x86x14mm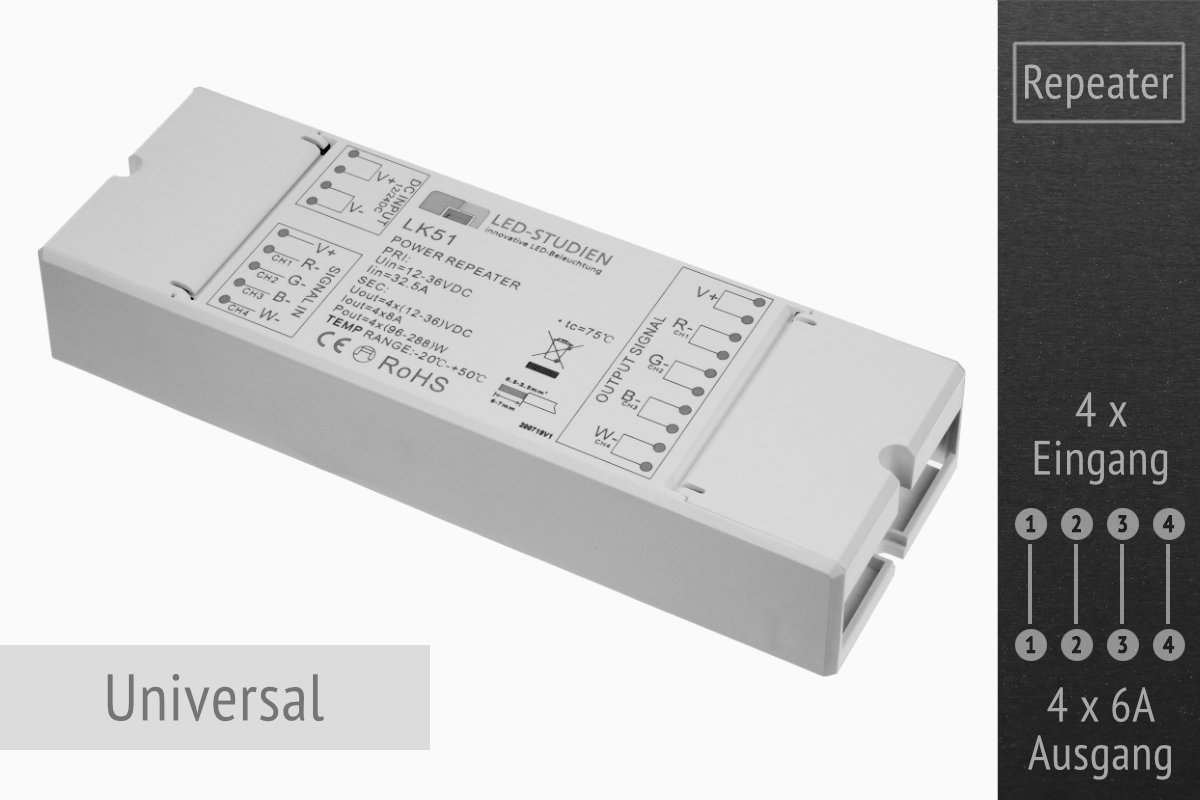 LED Repeater / Amplifier | 4 x 6A
This LED amplifier works with an operating voltage of 12V to 36V DC. It offers 4 channels with 6 amps output power each. Repeaters are used when the output power of the controller is not sufficient. For example, you want to use a controller with a certain control technology (DALI, KNX, radio or other), but your LED installation needs more amperage (amps) than the controller can provide. In this case, connect the controller to a repeater and run all LED strips through the repeater. Note: We do not recommend running LED strips in parallel on controllers AND repeaters, as this may result in brightness and/or color deviations. The basic rule is: Either connect everything to controllers or everything to repeaters. Technical data: Dimensions: 170*58*29mmVoltage: 12-24V DCPower: 4 x 6AIP class: IP20 Note: The driver has double voltage inputs (++--). For high connected load (> 200 Watt), use our special connection cables for high connected loads (> 200 watts) in order to divide the current load between the two inputs. The large power supplies HLG-480 and HLG-600 already have double voltage outputs, so that both voltage inputs of the driver can be used directly here.