Artnet LED Pixel-Controller for up to 2.720 Pixel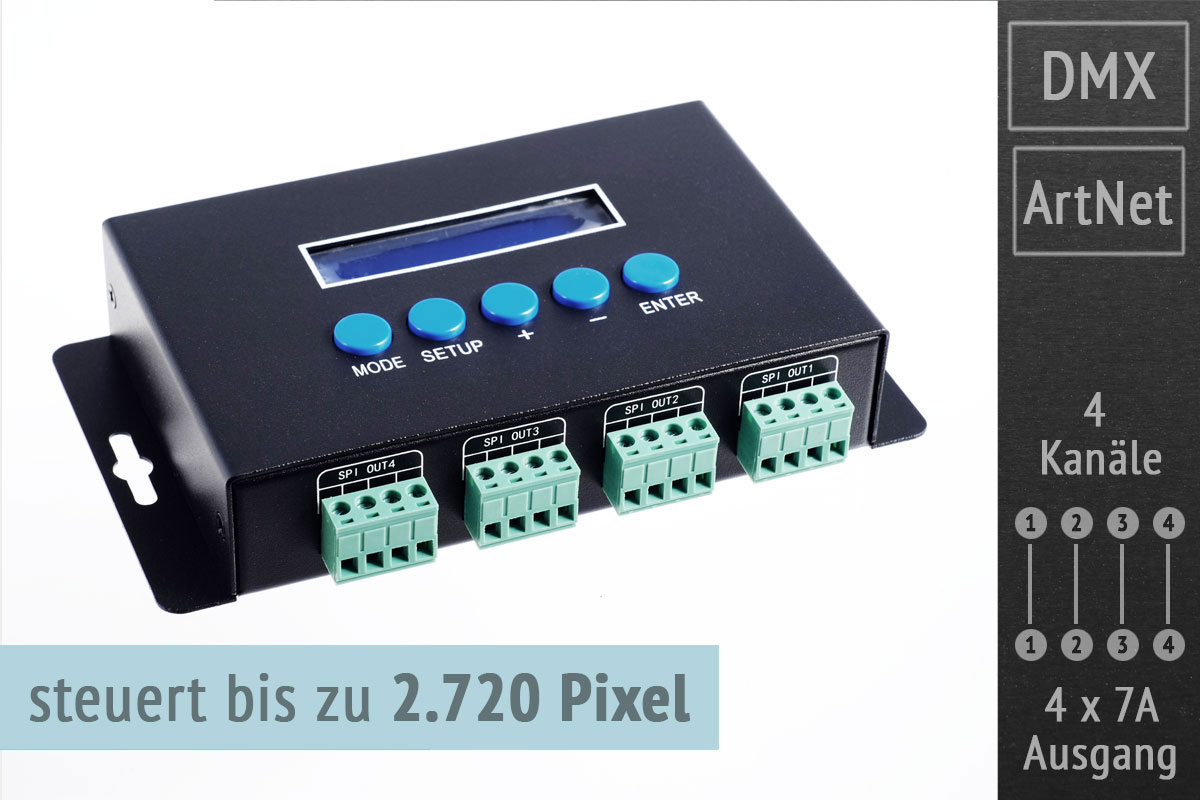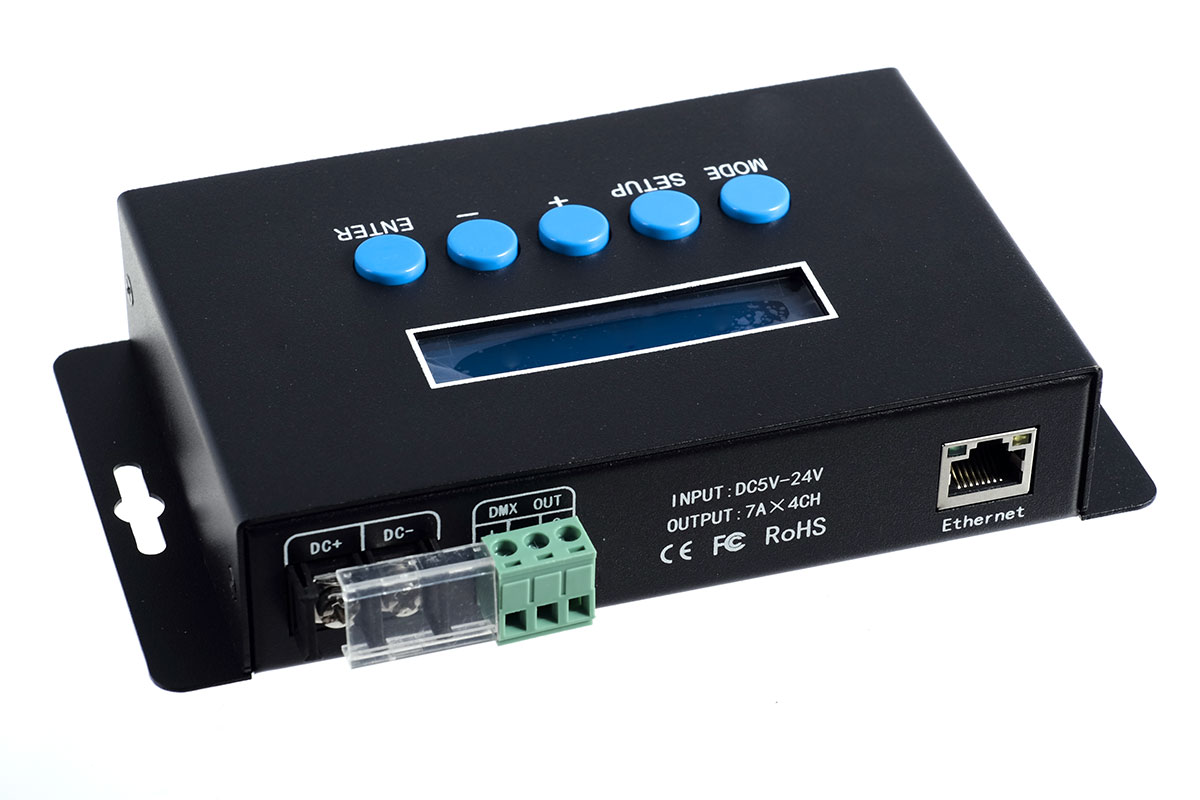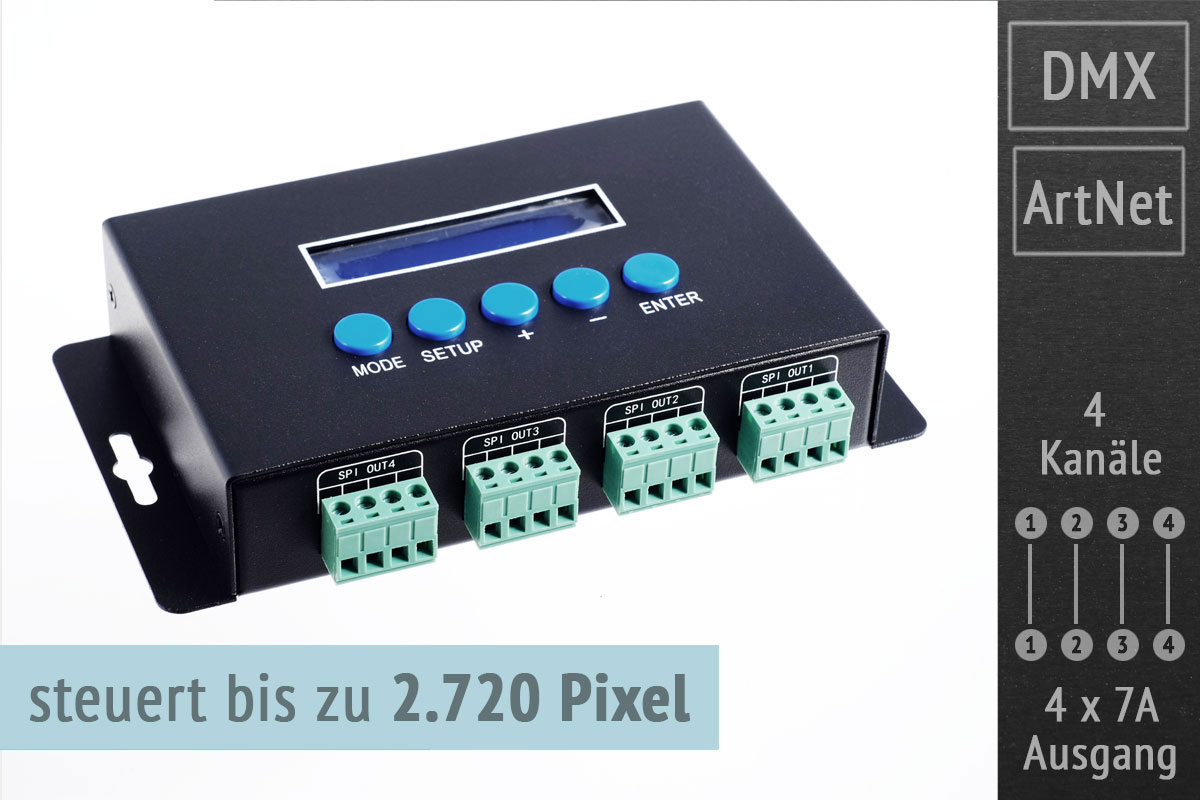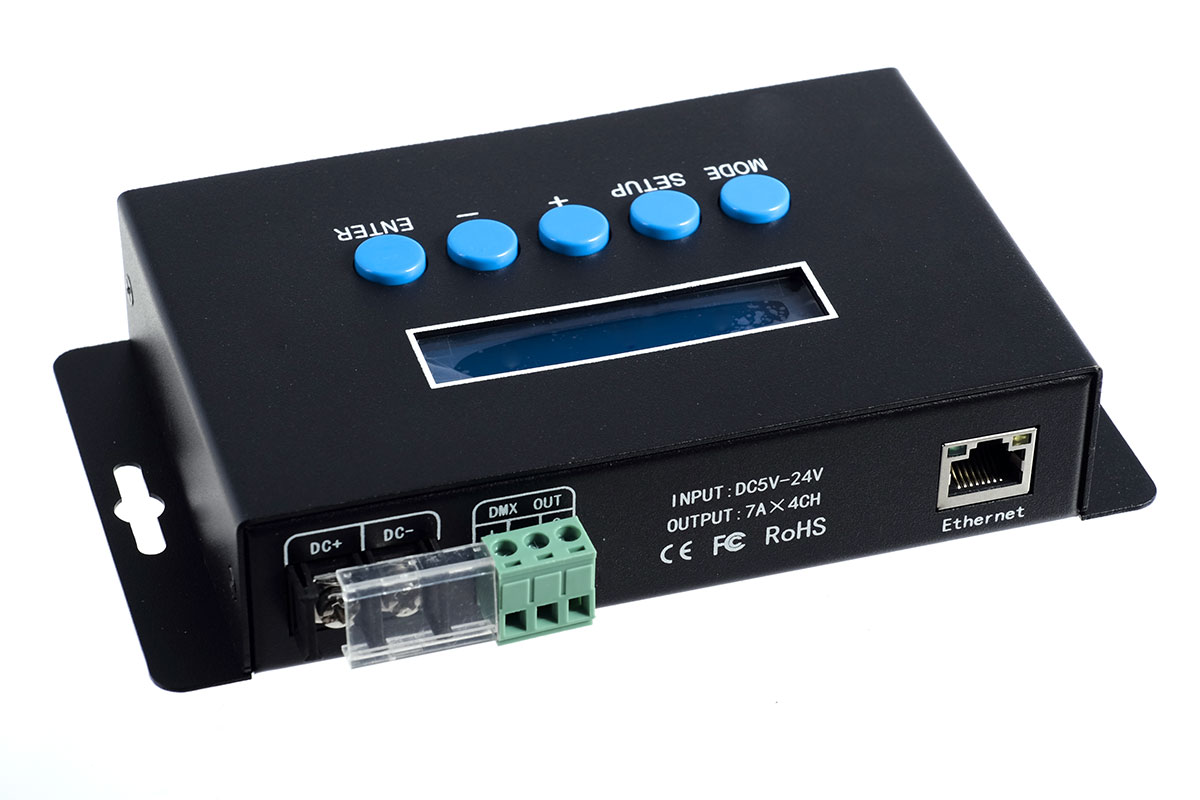 Available, delivery time: 3-5 days
The drivers for digital LED strips are specially designed to control as many RGB pixels as possible individually.
With the LK99, up to 2,720 pixels are possible, divided into 4 channels with 680 RGB pixels each. This corresponds to a total of 16 DMX universes, which are transmitted via LAN/ArtNet.
The 4 pixel outputs can be loaded with max. 7 amps per channel. For larger installations, the pixels can and should be powered separately. The controller then supplies only the data signal (DATA).
Pixels with and without CLOCK signal (CLK) can be controlled. Pixel types with CLK are e.g. WS2801 or APA102.
The controller can be controlled via ArtNet and offers an additional DMX-OUT port with 512 channels on the output side. For configuration, the controller has an integrated web interface as an alternative to direct input on the display.
The configuration options are very extensive:
selection of pixel type and color sequence (RGB, RGB, GRB etc.)
flexible addressing (DMX-Universe and start address individually for each of the 4 outputs)
number of pixels to control per channel (0-680 pixels - e.g. to save DMX universes)
number of zero pixels to skip first unused pixels in an installation
Zig-zag or backward addressing of pixels for matrix applications
Brightness limitation per channel
In addition, the controller offers a
test mode
to test the installation with various effects (Chase, Dots, Rainbow, ...) and static programs (all pixels red, all pixels white, ...) even without an applied ArtNet signal. The speed of the effects can be varied.
---

Technical data:

Item no.

LK99

Output spots

4 x 7 Ampere (Multi SPI)

Controllable pixels

4 x 680 = 2,720

Controllable ICs

WS2801, 2803, 2811, 2812, 2813, 2815
SK6812 (RGBW)
TM1803, 1804, 1809, 1812, 1814 (RGBW)
UCS1903, 1909, 1912, 2903, 2909, 2912, 5603
UCS6909, 6912 9812, 2904 (RGBW), 8904 (RGBW)
LPD6803, 1101, 8803, 8806
TLS3001, 3002
APA102
P9813

Voltage input

5 - 24VDC

DMX outputs

1 x 512 Channels

Dimensions

L166×W110×H31(mm)

Weight

510g