Meanwell PWM power supply-200-24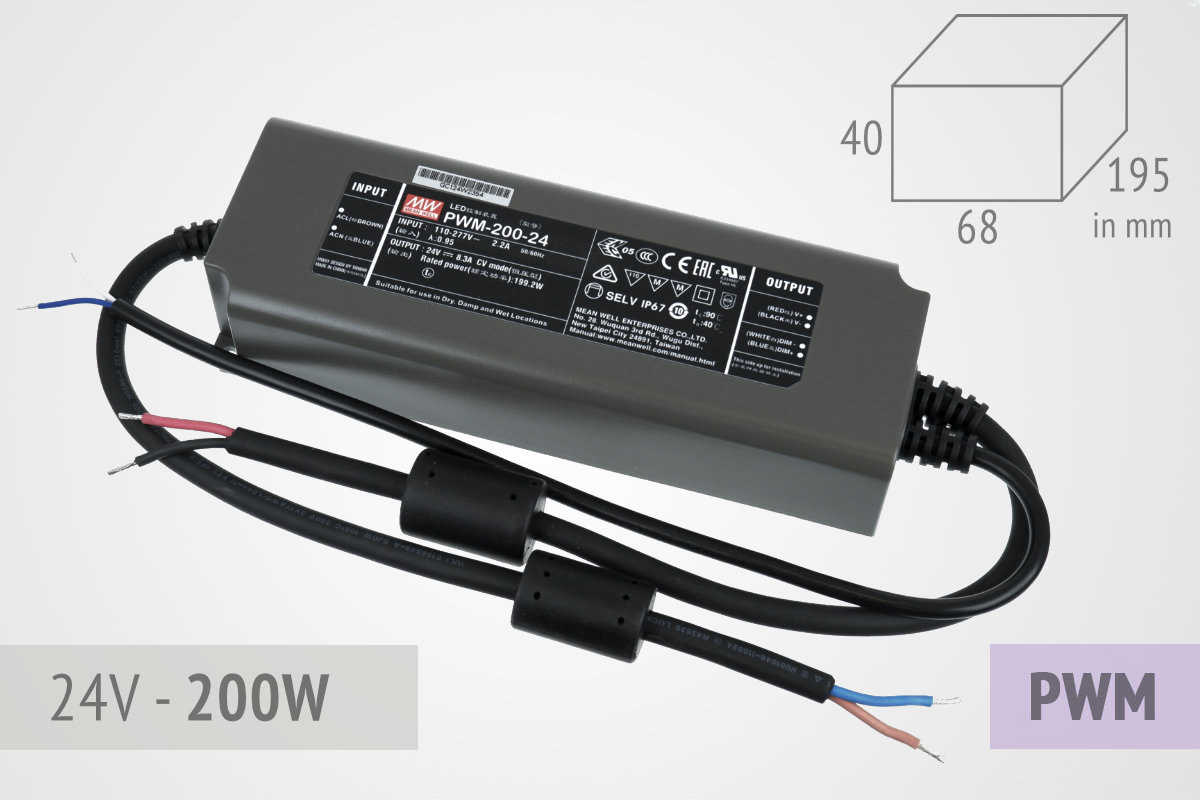 Available, delivery time 3-5 days
Meanwell's PWM dimmable power supplies are the only dimmable power supplies that LED Studies recommends for dimming LEDs. Unlike other dimmable power supplies that only control current, the PWM power supplies use the same technology as our LED drivers: positive width modulation (PWM).
The PWM-200-24 can dim all LED lighting with 24 volts and maximum 200 watts connected load comfortably from 1 - 100%.
Dimming via: 0-10V, 100K potentiometer or PWM
PWM frequency at output: 1.47kHz
overload protection by shutdown, auto recovery
protected against short circuit, overload, overvoltage
IP67, for indoor and outdoor applications
for LED and lighting applications


---

Dimming via 1-10V
1-10V is a very simple system for remote control of lighting. The LED drivers can be connected to a standard 1-10V driver and controlled with it.
1-10V drivers are available e.g. from all well-known switch manufacturers (JUNG, GIRA, MERTEN, BUSCH JÄGER etc.) as a built-in module for the flush-mounted box. These modules only need to be connected to the driver via a 2-wire cable and the light can be controlled directly on the wall. As an example, a 1-10V driver for the flush-mounted box from GIRA: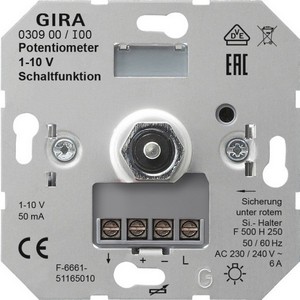 The 1-10V control voltage is supplied by the driver. I.e. the 1-10V driver does not have to be connected to the mains here.
However, many drivers for the flush-mounted box can also switch 230V at the same time. This is usually done by pressing on the driver. Here, for example, with one and the same driver, the LED power supply can be switched via 230V and dimmed at the same time via 1-10V at the LED driver.


---

Technical data:
| | |
| --- | --- |
| Model | PWM-200-24 |
| Voltage | 24V |
| Maximum power | 200W |
| Current | 8.3A |
| Dimensions | 195xx68x39.5mm (LxWxH) |
| Weight | 1030g |