Wall-mounted RGB+CCT remote control | touchpanel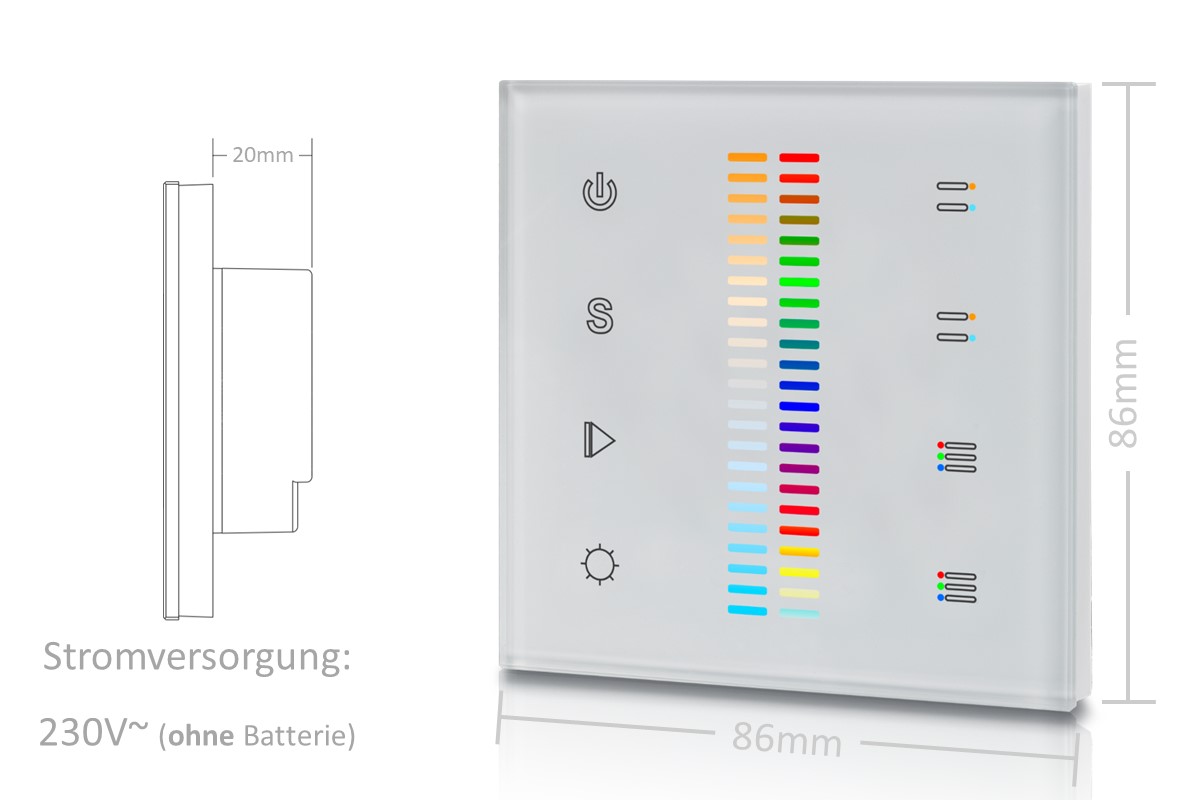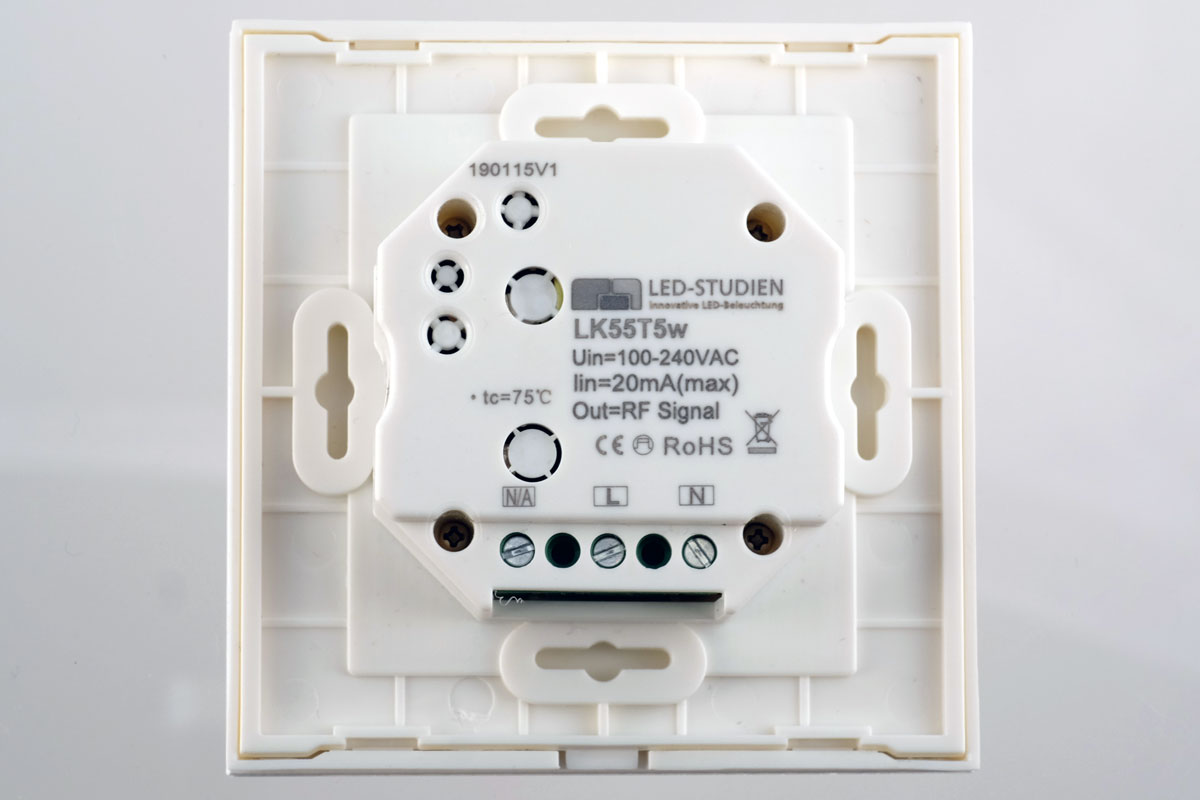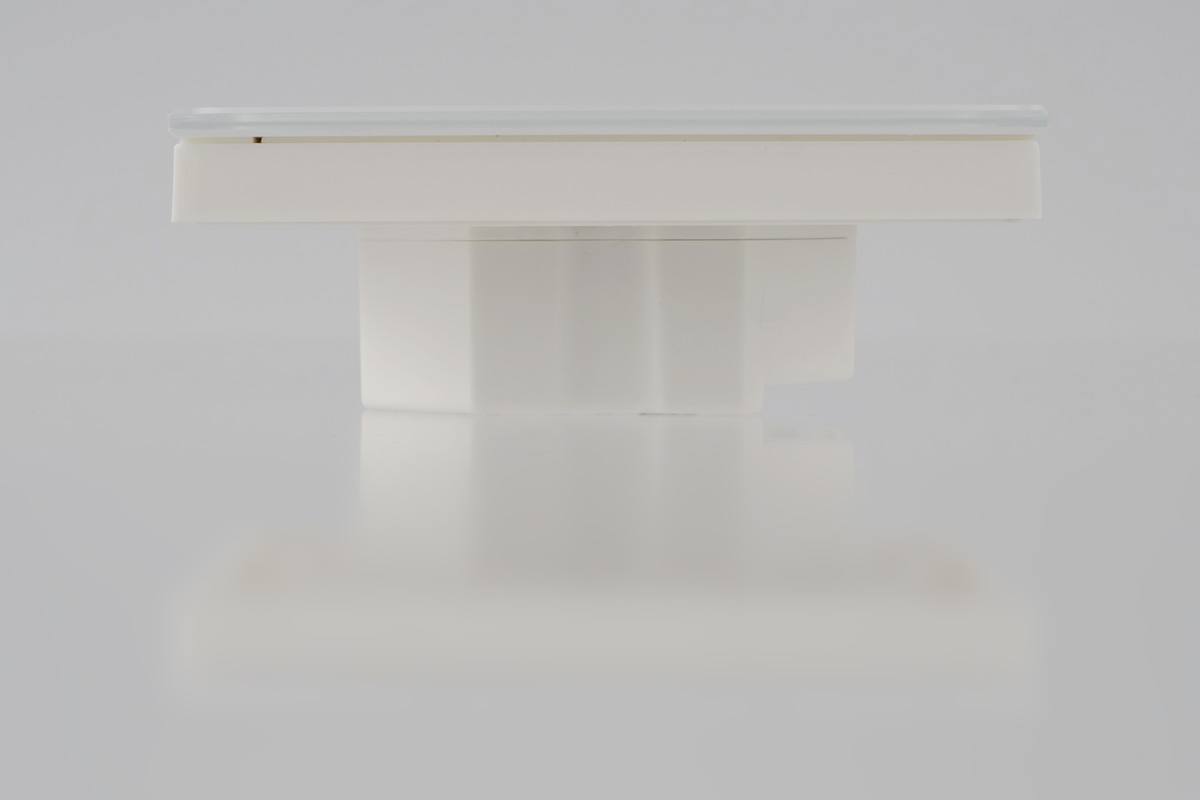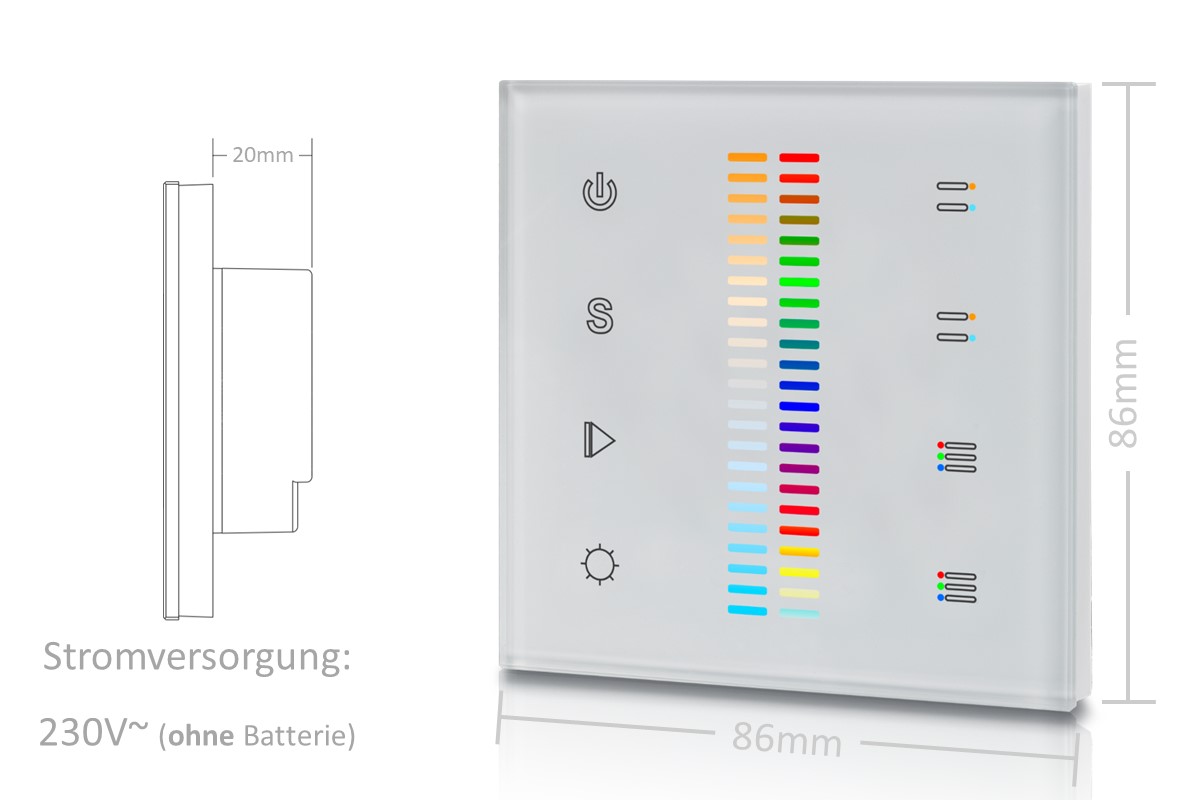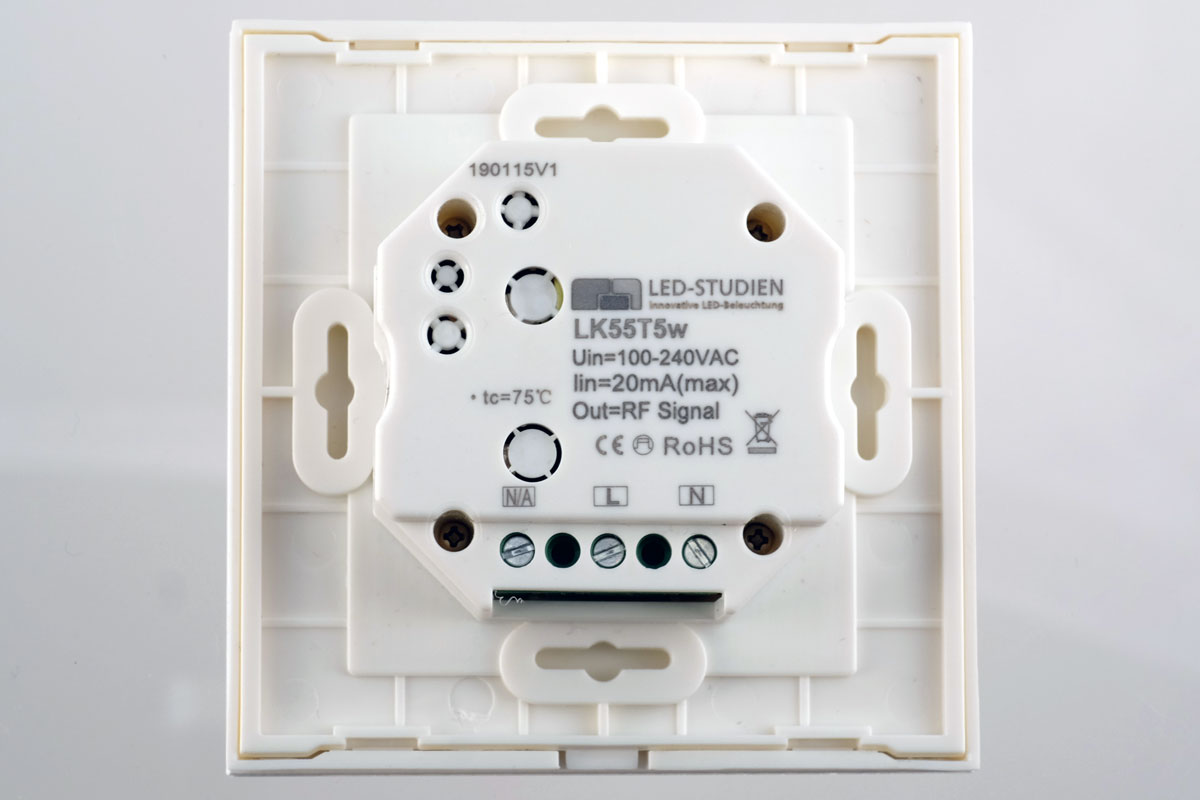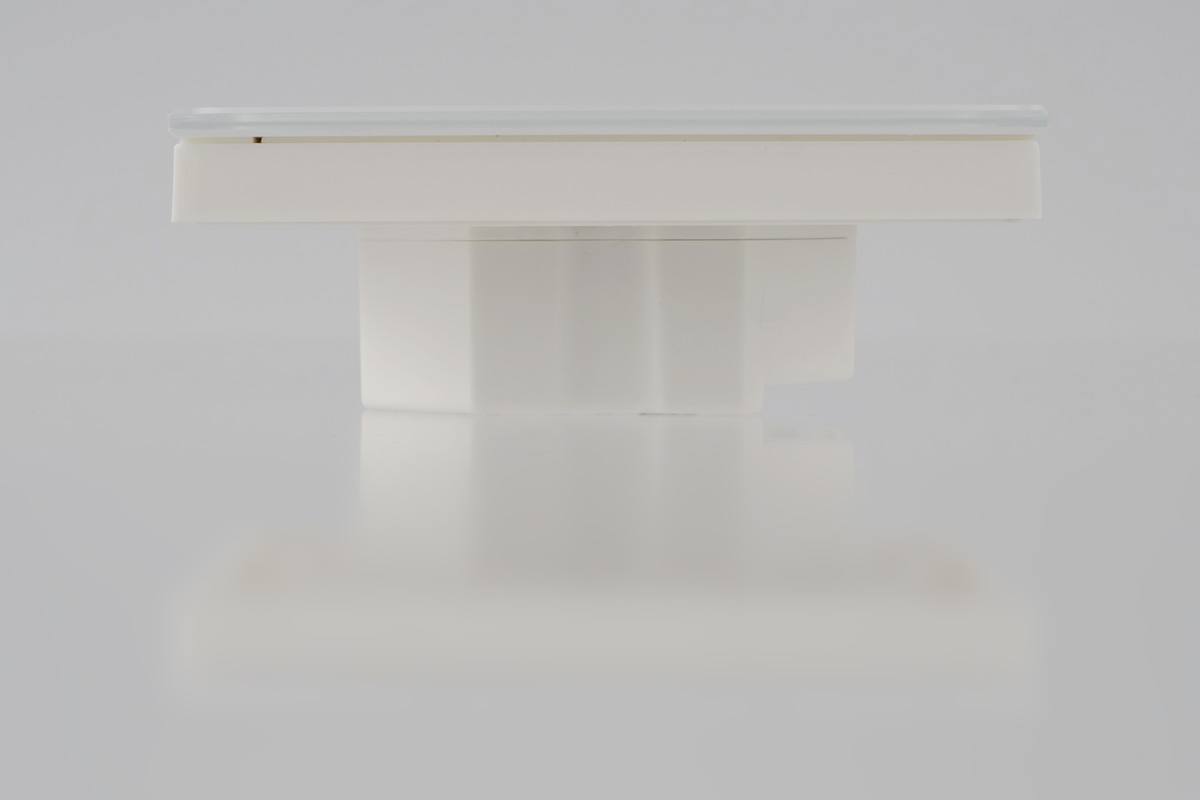 Available, delivery time 3-5 days
for LED controller LK55-8-5
Controllable zones: 2
Color: White


---

With this wall control in the design of a touch panel, RGB color effects and the color temperature of an LED installation can be controlled, e.g. with RGB+CCT LED strips (5-channel). Either the color temperature OR RGB colors can be set via the control. Not both at the same time. So it is always switched between CCT and RGB modes by pressing a button.
The touch control can control 2 different light zones separately. A quick selection button allows you to save a frequently used color setting.
The range of the radio signal is up to 30m. No visual contact is necessary. Solid walls made of concrete, brick or similar naturally weaken the radio signal.


---

Combination with switch series of well-known manufacturers

The housing frame of the controls measures 86x86mm with a depth of 12mm. In case you want to combine the wall control with light switches, sockets etc., the following switch series are similar in design and dimensions:
MERTEN M-Plan
GIRA E2 (flat installation)
JUNG Serie A Creation
KOPP HK i8
ROHDE+ROHDE
Check the exact dimensions directly with the manufacturers.
---

Combination of controls & drivers

One controller can control any number of drivers and up to 8 wall controllers can address the same driver. Thus, for example, wall controllers can be placed at several locations in the room or, if necessary, combined with classic hand-held remote controls.


---

Technical data:

| | |
| --- | --- |
| Item no. | LK55t5w |
| Power supply | 110-240VAC |
| Dimensions (WxHxD) | 86x86x12mm, Installation depth: 20mm |
---

Operation: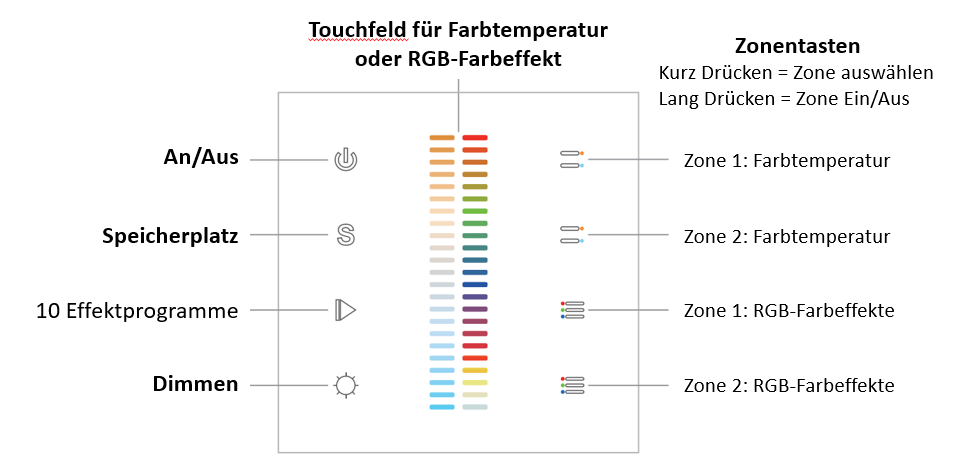 ATTENTION:
The control can be used to selectively set either the color temperature OR RGB colors. Not both at the same time. It is therefore always switched between CCT and RGB modes at the touch of a button.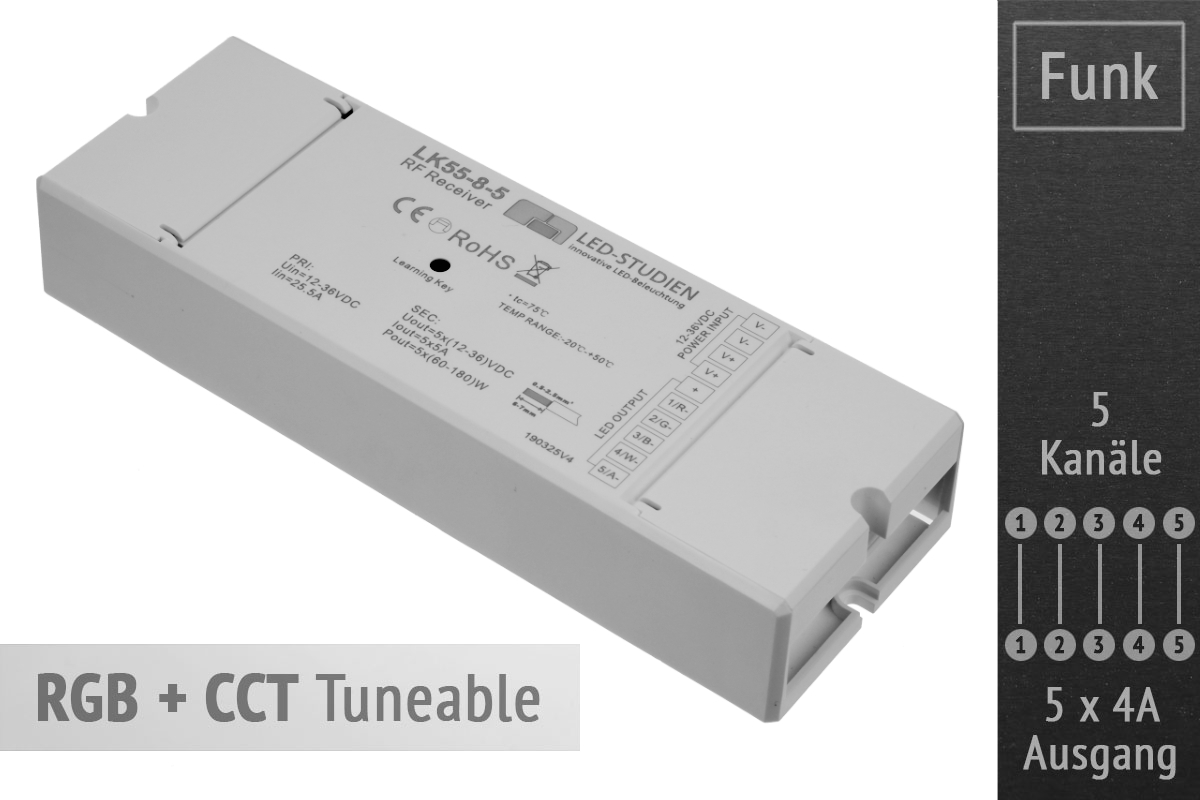 RGB + CCT driver | 5 x 4A
Extra powerful universal driver with 4 outputs of 6 amps each loadable. When used as a dimmer, 4 parallel outputs are available, which are controlled identically. You can ignore the designations "RGBW" and "cw" and "ww" in this case. When used as a color temperature driver, 2 outputs each are available for warm white ("ww") and cool white ("kw") LEDs. Note the corresponding labeling on the driver. When used as an RGB(W) driver, the 4 outputs take over the separate control of the red (R), green (G), blue (B) and possibly white (W) LEDs. The outputs are labeled accordingly. The driver is installed between the power supply and the LED components (e.g. LED strips, LED panels). Notes: All drivers of our LK55 series remember the last setting even in case of power loss. If you want to operate several light zones independently of each other, several drivers are always necessary. Drivers with several outputs (like here 4 x 4A) are not suitable to operate several zones, because the outputs can only be controlled together (parallel). Technical data: Voltage: 12V-36V DCPower: Power connection via external switching power supply (not included)Load: 6A per output portMin. dim level: <1% (for RGB/W <3%)Connection: input: V+/ground; output: 4x minus,V+IP class: IP 20 Dimensions: LxWxH 171x58x28mm ​Note: The driver has double voltage inputs (++--). For high connected load (> 200 Watt), use our special connection cables for high connected loads (> 200 watts) in order to divide the current load between the two inputs. The large power supplies HLG-480 and HLG-600 already have double voltage outputs, so that both voltage inputs of the driver can be used directly here.